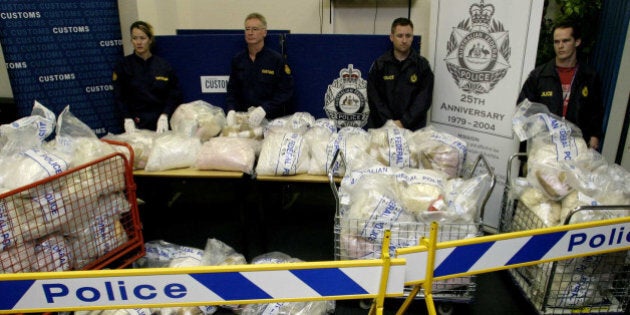 The ink on the Final Report of the Australian National Ice Taskforce is now dry. The report made it clear that Australia wasn't going to arrest its way out of the ice epidemic. So now we're waiting for the Turnbull government's new softer harm minimisation and demand reduction strategies.
With only two months past, new strategies are still likely a while off materialising. So it would be manifestly unfair to provide any analysis on how new ice strategies are working: because there's only one new strategy at present. But in light of recent mega drug busts, and associated media coverage, it's an appropriate juncture to provide some commentary on recent supply reduction efforts.
Since December 2015, supply reduction efforts have continued at a striking pace. We've had the announcement of the new 'dob in an ice dealer' hotline and a number of remarkable mega drug busts.
The 'dob in an ice dealer' hotline idea was a Tony Abbott policy: and I am surprised that the Turnbull government continued with its implementation.
Don't get me wrong, a 'hotline' approach is a great political announcement. It presented a tangible initial deliverable for the federal government's investment in the National Ice Task Force.
The hotline will succeed. Its key performance measures will most likely be linked to the number of seizures and arrests. With the hotline information, Australia's cops will, of course, make arrests and seize drugs and cash. But with no new funding for the various agencies involved in responding to the increase in public information, this new work will come at the cost of other police work.
But will it reduce the availability of ice in Australian communities? Unlikely. Will it reduce harm? Unlikely also.
This otherwise well-intentioned idea will most likely just divert police resources to the investigation, disruption and prosecution of low-level ice dealers. And it will increase the number of such dealers in Australian prisons, not an altogether bad outcome, but these guys are easily replaced on our streets.
The good news is, Australia's law enforcement agencies have continued doing their bit trying to reduce the availability of ice in our communities. And they've done a stellar job already this year. Two weeks ago we saw an estimated $1.26 billion worth of the drug removed from our streets in a single operation.
Australian Crime Commission reporting highlights the pivotal role of China in the production and shipment of ice and its precursors. This is made possible because of China's enormous chemical and pharmaceutical industries. The importance of the Chinese connection for ice supply reduction shouldn't be underestimated. The recent seizures all have a Chinese connection.
After the recent seizures, I was contacted by a number of international journalists wanting to know how Australia established a joint taskforce with the Chinese. Both the American and Mexican authorities are desperate to stem the flow of precursors and finished drugs from China to their countries. Both have been unable to establish the necessary cooperation -- and there's probably more than a little bit of envy involved now.
Taskforce Blaze is a collaborative effort between Australian and Chinese police focused on stemming the flow of ice to Australia. The Australian Federal Police has had permanent liaison officers in Hong Kong, Beijing and Guangzhou for many years. Through financial investments in activities such as joint training, the Australian Federal Police has established a privileged relationship. Taskforce Blaze is only possible because of Australia's long-term investment in building trust between the Australian Federal Police and Chinese police.
Taskforce Blaze is likely to be a pivotal component of Australia's supply reduction strategy for some time to come. In addition to intelligence sharing for investigations, the taskforce allows for the transnational disruption of criminal syndicates in Australia and China.
To have a lasting impact on the availability of ice, the Australian Federal Police will now need to pursue less tangible, but more complex and difficult strategies focused on addressing the diversion of drugs and precursors in the Chinese chemical and pharmaceutical industry. This will also need careful diplomatic moves from the Department of Foreign Affairs and Trade. There are positive signs that Australia's efforts will be welcomed by the Chinese government. Cooperation is in China's interest as well: they also have a substantial domestic drug problem.
On their own, our law enforcement successes and hotline won't resolve our country's ice epidemic. The National Ice Taskforce has told us as much.
Our supply reduction efforts need to be enhanced with demand reduction and harm minimisation successes. For this to occur, the Federal government is going to have to provide further funding for education and health services, such as rehabilitation.
But let's be frank, even with new money it's going to take time, and a lot of effort, to address Australia's ice epidemic. In the meantime, Australia's law enforcement agencies need to strategically focus their supply reduction strategy on China.