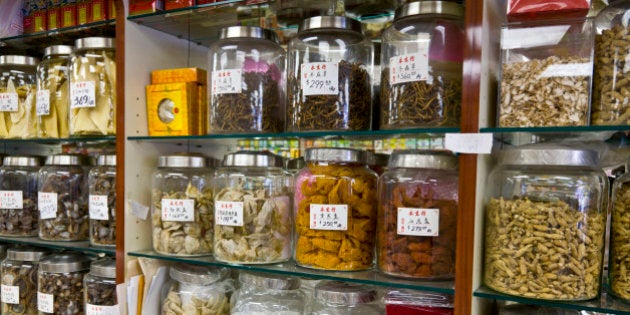 Some Chinese medicines have been found to contain toxic heavy metals, undisclosed prescription medications, and the DNA of snow leopards, cats, and dogs, new research has found.
"The most concerning finding was snow leopard DNA (snow leopards are an endangered species), which was detected in one medicine," study co-authors Dr Ian Musgrave and Professor Michael Bunce wrote on The Conversation.
"DNA from pit viper, frog, rat, cat and dog was also detected in several medicines."
The number of traditional Chinese medicines which included undeclared substances was extremely high, a fact the researchers said was concerning.
"Nearly nine in ten of these medicines had some form of undeclared substance in them as either adulteration or contamination," the authors wrote.
"Ninety percent of them are really not fit for human consumption," Curtin University's Professor Bunce told the ABC.
Adulteration is the process in medicine-making where the substance is added deliberately. Contamination, as the name suggests, is where the substance is accidentally added.
The researchers used DNA sequencing, heavy metal testing, and toxicology to find the chemical composition of 26 traditional Chinese medicines they'd bought randomly from the Adelaide Markets.
In addition to the animal DNA detected, toxic heavy metals like arsenic and lead were found in more than half the medicines analysed.
"In at least four of these medicines following the directions on the label would expose you to over ten times the TGA's regulatory limit for heavy metals in medicines," Musgrave and Bunce wrote.
The researchers highlighted the scheme by which traditional Chinese medicines are regulated in Australia as problematic.
Chinese medicines are overseen by the Therapeutic Goods Association (TGA) and considered a medicine. The TGA's regulatory scheme has two lists of approved medicines -- "registered" or "listed," with listed medicines requiring less evidence for their approval than registered ones.
"The herbal medicine industry is a billion dollar international industry, with products travelling all over the world," Musgrave and Bunce wrote.
"Globally, we need a better auditing "toolkit" to ensure consumers of herbal medicines, as well as people testing their efficacy, are not being misled."