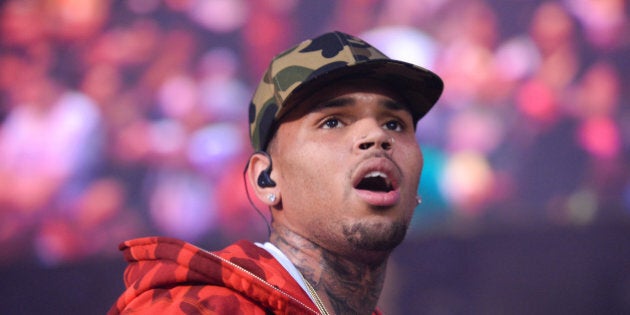 Pop superstar Chris Brown last week announced an Australian tour for December, but already a concerted wave of criticism has swelled in opposition to the singer's arrival.
Brown, who in 2009 was convicted of assaulting then-girlfriend and fellow singer Rihanna, is slated to play four big concerts in Perth, Sydney, Brisbane and Melbourne in December. The news was not welcomed warmly, however, with a number of posters allegedly defaced in Melbourne.
Furthermore, advocacy organisation GetUp! has published a petition calling on Immigration Minister Peter Dutton to deny Brown a visa to enter Australia. The petition reads:
"Speaking out against Chris Brown has nothing to do with pop music, and everything to do with men's violence against women. We're speaking out against Chris Brown because his casual visit our country would have enormous symbolic significance, which will only be amplified by our silence."

"By turning a blind eye to his tour, we send a message to survivors of family violence that it's not that important and that you should just get over it. If we stand by and do nothing while he performs around the country (even if we don't have the faintest interest in Brown's career or pop music in general) we are implicitly sending the message that if you brutally beat a woman, in a short amount of time you will be forgiven, or even celebrated."
Supporters of the petition are asked to sign a statement to Dutton which reads:
"We urge you to refuse Chris Brown a visa to visit Australia. Due to his conviction of felony assault (a criminal charge), we believe he is in breach of the Australian visa character test, for having 'a substantial criminal record'.

Allowing his entry into Australia sends the message that the Turnbull government does not place significant weight and condemnation on men's violence against women."
In a statement to The Huffington Post Australia, GetUp! campaigner Sally Rugg said Brown should not be granted an Australian visa.
"GetUp members and supporters are urging Federal Immigration Minister Peter Dutton to refuse performer Chris Brown a visa to Australia, as they believe he is in breach of the character test for a visa. The character test states a person is ineligible for an Australian visa if they have a "substantive criminal record". Chris Brown was convicted of felony assault in the US after he violently attacked his girlfriend at the time, sending her to hospital," Rugg said.
"Men's violence against women is at crisis levels across the nation. This campaign has nothing to do with music, and everything to do with Australia's attitude towards gendered violence. If we stand by in silence while Brown tours the country, we are implicitly sending the message to young people, to survivors of violence, and to the men who perpetrate this violence -- if you brutally assault a woman, it won't be too long before all is forgiven and forgotten."
Brown was also scheduled to play in New Zealand around the same time as his Australian dates, but may also face visa troubles there. The New Zealand Herald reports that, due to Brown being denied a visa to the United Kingdom in 2010, he may not be able to enter NZ.
"If Chris Brown has been excluded from another country he will be ineligible to be granted a visa to enter New Zealand unless given a special direction," Immigration New Zealand spokesman Marc Piercey said.
The Huffington Post Australia has contacted GetUp! for comment.