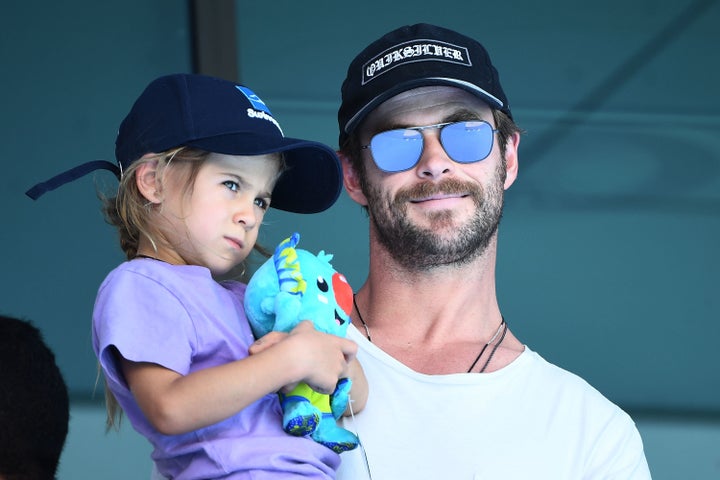 Chris Hemsworth said he doesn't regret becoming a dad, but acknowledged he has thought about what his career would be like if he didn't have a family.
The "Thor" actor, who has three children with his wife, the actress and model Elsa Pataky, got candid about his internal struggles in the latest issue of the quarterly mag GQ Australia.
"I do wonder sometimes, if we hadn't met, what my career would look like. Have I made decisions based on that? How has that influenced me?" Hemsworth, 35, said.
"There's times when I've thought, 'Wow, because having kids is more important to me, some of my roles have suffered.' There's definitely a couple of films I could've put way more energy into but I was like, 'No, I'd rather be with my kids,'" he added.
Hemsworth and Pataky married in 2010, and share daughter India Rose, and twin boys Sasha and Tristan. He told the magazine he doesn't "regret" having a family, but he's "aware" of the choices he's made.
"I often find myself saying it's all for my family but in all this I definitely have personal things I need to achieve, too," he said. "The difference is you have to open yourself up and go, 'Well, you had kids so you forfeited a bit of that.'"
The actor added: "It can't be a truly individual, selfish endeavor but we still need to take care of our own. Now my identity is another team, another community – the community being the family. You have to adapt and be malleable."
Pataky has spoken about Hemsworth grappling with becoming a father just as his career began to take off.
"I think any time you start a family without knowing each other that much, it can be complicated," she said in the February issue of Elle Australia. "He was very young to be starting a family, and at the same time he was juggling that with his career and it was sometimes difficult, there was so much going on."
She added: "But he was always trying to be the best dad and has never failed to make me feel like his family is the most important thing to him and [going through that] is how we've become so strong together."
Pataky also knows what it's like to balance having a career and a family.
"It's interesting how you can be a successful woman who has been working her whole life, and then you have kids and suddenly your career isn't as important and you don't appreciate it as much," she told Elle.
"You just think, 'What am I doing? I have been fighting all my life for this and now I don't know if I really want it?'" Pataky added. "It's unfair in a way, because I don't think men go through that."
Head to GQ Australia to read more of Hemsworth's interview.