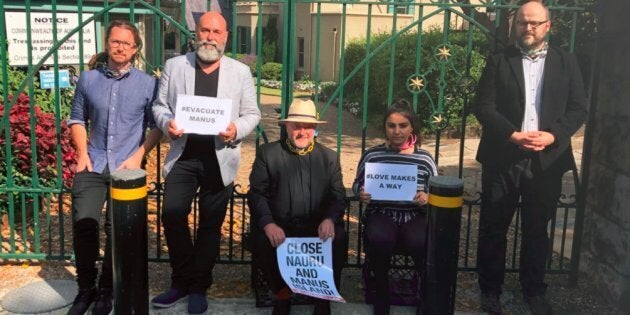 Five Christian protesters who locked themselves to the gates of Kirribilli House in Sydney in protest of the Federal Government's treatment of asylum seekers on Manus Island have been arrested.
NSW Police used bolt cutters and an angle grinder to remove the chains and padlocks tying the five protesters to the gates of the Prime Minister's second residence after the group refused police directions to remove themselves until "the men on Manus are guaranteed safety".
The protesters who included Father Rod Bower, Archdeacon of the Central Coast in the Anglican Diocese of Newcastle, said they chained themselves to the gates to pressure the government into releasing the more than 400 asylum seekers who remain stranded on Manus Island in Papua New Guinea.
"We are here to try and plead with the Australian people to pressure our government to release the Manus men and evacuate now. Evacuate now. Evacuate now," Bower said.
"All humanity is connected and when one suffers we all suffer."
Following their removal from the gates of Kirribilli House, Jarrod McKenna, Rev. Dr. Michael Frost, Fr. Rod Bower, Hwvar Khoshnow and Byron Smith were taken to the police station where they were released shortly afterwards.
The protest action comes as part of the non-violent 'Love Makes A Way' prayer protest movement that seeks to help put an end to "Australia's cruel refugee policies".
It also follows a day of action across the country's major cities after thousands of people reacted in protest to the news that humanitarian organisation Médecins Sans Frontières (Doctors without Borders) were denied access to the Manus Island detention centre by Papua New Guinea immigration.
Despite MSF receiving approval to enter the centre to assess the men on November 19, the organisation was reportedly prevented from entering since its arrival on Wednesday.
The collective, national action comes days after PNG police and Immigration moved into the closed detention camp to shut down the makeshift refuge asylum seekers had established there and to start moving them away from the location.
It's been almost four weeks since local authorities closed the centre, shutting off electricity, water and supplies of food, despite widespread, international condemnation.