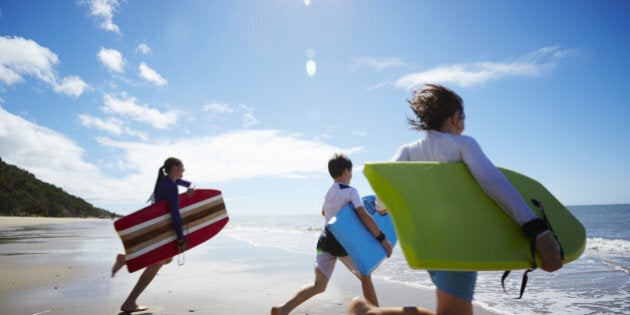 Aussies will be curbing their spending this Christmas and more of us will be opting for staycations, according to a new poll that's also found 61 percent of us will put a price limit on presents for each family member.
The Christmas Spending Survey by mortgage provider Homeloans.com.au showed that the rising cost of living is cutting into our spending habits, with 63 per cent of people saying it's impacting on how much they spend.
Homeloans national marketing manager Will Keall said more than half of the respondents admitted to purchasing gifts at retail sales during the year.
"We had people tell us that as their children grow older they don't need to buy as much, and therefore are spending less. Some have just bought new homes so are watching their budgets, while others are saving for big expenses such as holidays or because their families are expanding," Keall said.
"Cash is definitely not king this year, and the number of people who say they will be using credit cards to purchase gifts has risen from 59 per cent in 2012 to 61 percent this year. Online shopping is also proving popular this year, with three quarters of respondents doing some shopping online, compared with under 60 per cent in 2012."
Staycations are here to stay: the survey reveals holidaying at home is high on the agenda, with almost three quarters saying they won't be going away for Christmas. Of those who decide to travel, more than half are staying in their home state, over a quarter will travel interstate, while 17 pe cent plan to go overseas. WA residents are most likely to go overseas (37 percent), compared with the rest of Australia (13 percent), and they're also least likely to go interstate (7 percent).
NSW residents are most likely to go away (35 percent), and are also among the most likely to stay within their own state (57 percent). Victorians are the least likely to holiday within their own state, with 49 percent of those going away opting to travel interstate. This is much higher than the rest of Australians, with just 23 percent of people planning on travelling interstate.
"There was a strong response to this question, with many people simply stating they can't afford to go away for the holidays. Also, a lot of people said they are working over this period, while others responded that they're building or renovating homes, waiting for the birth of a baby, or simply staying home to watch the cricket on TV," Keall said.
43 percent of respondents set a budget for presents -- compared with 48 percent in 2012.
61 percent put a limit on each Christmas present for each family member -- down from 69 percent in 2012.
62 percent of people will buy presents for their kids, in addition to Santa gifts.
Just 10 percent have dedicated bank accounts for Christmas presents -- up marginally from 9 percent in 2012.