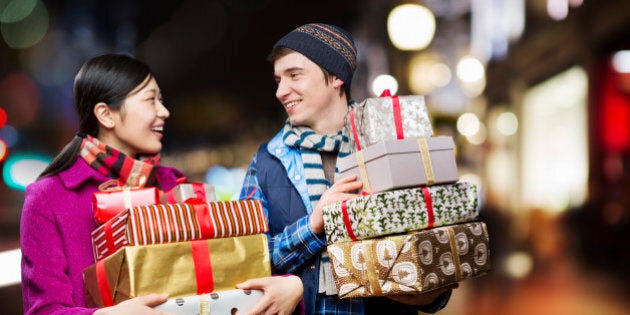 We all know Christmas is just three weeks away but few of us are so incredibly organised that our shopping list is done and dusted. Retailers across Australia are now seeing an increase in foot traffic and spending, a sure sign that the silly season is well and truly underway in the retail world.
The Australian Retailers Association (ARA) said consumers will spend 3.6 per cent more on Christmas this year than last, between November 15 and December 24 for a record of $46.8 billion.
ARA Executive Director Russell Zimmerman told HuffPost Australia retailers are be preparing for longer trading hours in some areas and ensuring well maintained stock levels.
"The organised shoppers among us kick off their Christmas gift buying as early as November, but for the rest of us, the first three weeks in December, and especially the week before Christmas, is where we see the bulk of Christmas spending," Zimmerman said.
"The worst time to shop is when you leave it until the last minute. You might have an idea to buy a child a Star Wars, Lego or a Frozen gift, only to turn up to the shops and find it's sold out. Two years ago Samsung phones were blasting out of the stores but a week before Christmas they were very hard to find. So the lesson here is don't leave it til the week, or days leading up to Christmas. Stores will be open late, even on Christmas Eve, but it's not a good idea to leave it that late!"
People planning on entertaining family and friends over the festive season will also begin stocking up on groceries and other festive goodies in the coming weeks, with Aussies to spend almost $19 billion on grocery items alone this Christmas -- an increase of 2.4 per cent on last year.
Books are clearly on the wish-list of many of us, with Dymocks reporting an increase in monthly sales of seven percent this year on the same time last year. The bookseller expects 2015 to be the biggest Christmas for books in five years, based on record pre-Christmas sales.
Dymocks Head of Marketing and Merchandise, Sophie Higgins said fast sellers include adult colouring-in books, as well as cookbooks.
"I've never seen such a diverse Christmas list. Usually there are four or five standouts that everyone will buy as that special gift. This year, though, there are books to suit every taste," Higgins said.
"Shoppers looking to beat the Christmas chaos at the shops are reminded to plan ahead as Christmas gets closer and to shop early and shop often to avoid disappointment".
Major shopping centres and department stores will be offering extended opening hours to cater for shift workers, as well as the disorganised masses.
CommBank has compiled transaction data from December last year to show when shoppers can potentially avoid the rush ahead of Christmas. Put simply; avoid shopping on December 23 and 24.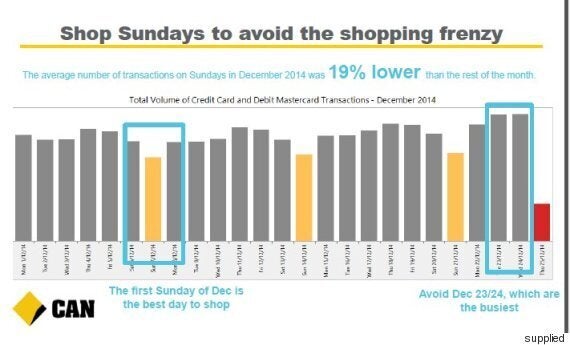 CBA graph showing the worst days to shop before Xmas. Picture supplied