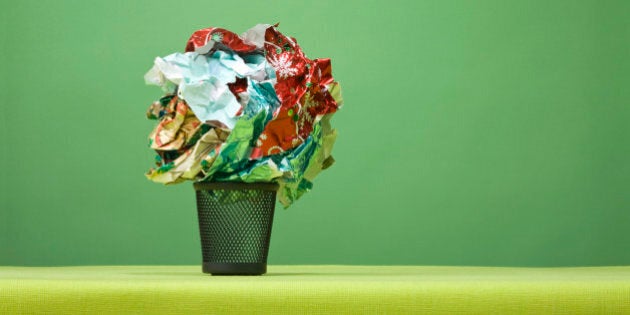 Christmas wouldn't be Christmas without the overflowing dining table, bowls of chocolate scattered around the house, piles of scrunched up wrapping paper and wine. Let's not forget the wine.
But it seems it's not enough that we chop down millions of trees and purchase enough useless gifts to feed a country around Christmastime. Australian councils also report a 30 percent increase in household waste over the silly season as people shop, spend, eat and drink more than any other time of year.
Worse, we're all so confused by the whole recycling palava that we end up putting the leftover prawns in the green bin or wine bottles in the general waste (because the bottles bin is full, obviously) and we're left with a stinky, environmentally unfriendly Christmas mess.
So whether you're on the anti-consumption, anti-waste, greenie bandwagon, or you simply care about keeping our planet in good shape, a bit of forethought when it comes to your festive footprint is going to go a long way.
1. Ditch the sticky and recycle that paper.
As a kid I was always embarrassed about my Mum's annoying habit of wrapping sans sticky tape so she could fold and re-use the gift wrapping for a future gift. I mean, what's Christmas without the sweet, satisfying sound of wrapping ripping open to reveal a delicious new piece of plastic junk?
But is your brief nostalgic pleasure worth damaging the trees? (No. The correct answer is no, people.)
Brad Gray, Head of Campaigns at Planet Ark, said it's also good to use wrapping paper that has already served a purpose.
"You can use comics from the newspaper, kids' paintings you're sick of seeing on the fridge, gift bags that you can re-use again and again," he said.
"Some people use pillowcases as well, decorated pillow cases -- you get the excitement of opening up a gift, but none of the waste, and it saves you money as well."
So put the tape away, learn to wrap with gorgeous ribbons (also re-usable) and recycled paper and you'll find you save both cash, time and the world. Winning.
2. Buy awesome decorations that you'll cherish forever
Investing in high quality Christmas decorations when your wallet has already taken a festive flog might seem tough, but in the long run it's going to save you money and help the environment.
As an added bonus, you get to establish a nice tradition of brushing the dust off your favourite ornaments and hanging them on December 1st!
3. Make a (shopping) list and check it twice.
Christmastime is notorious for food waste, as since nobody wants to be seen as stingy we always buy, cook and serve more food than we can stomach (even with a scheduled, post-lunch nap).
Grey recommends writing a list so you know exactly what you're getting at the supermarket, rather than being tempted by sparkly Christmas treats that will end up going to waste or leaving you feeling rubbish.
"Be realistic about serving sizes, write a list and put things out as you go, rather than all at once," Gray said.
"If you've bought 6 packets of chips, put three out first and wait until they're finished before putting the rest out. That way, if they don't get eaten, you don't get left with soggy, wasted food."
Gray also reminds us that leftover Christmas lunch is perfect for Boxing Day.
"Stick it in a tupperware in the fridge as soon as possible and it'll be great the following day," he said.
4. Don't drop your good habits just because it's Christmas
Holidays are a great time to kick back and relax, but it doesn't mean it is okay to relax your recycling habits. The rules don't change in the silly season, but it might be worth a look at your councils website to brush up on all the details.
"Australians are actually really good at recycling, it's just about maintaining our habits and Christmastime," Gray said.
He said the most important thing is to have an overflow plan, so if any of your bins get full there is somewhere else for people to put their rubbish.
Gray also said it's good to think about buying stuff in recyclable packaging.
"You're better off buying cans than bottles of beer, for example," he said.
If you can't quite stomach the idea of cans at your Chrissy lunch, opt for a keg instead of a case, or stick to the big bottles of bubbly for a smaller environmental footprint.
5. Make is easy for your guests to do the right thing
People are pretty good at following the rules if you make it easy for them. Printing out signs and labeling your bins or overflow buckets is a great way to encourage your guests to recycle -- and it'll save you time come clean up.