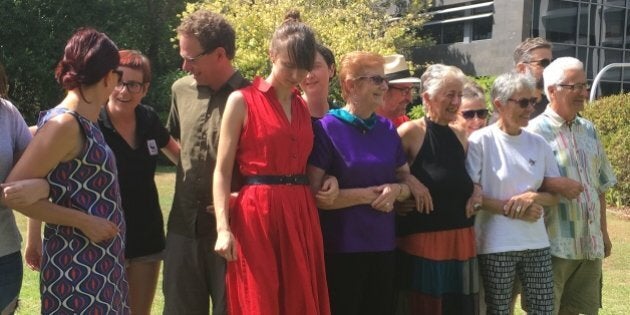 In the peaceful heart of Mary MacKillop Place, near where the tomb of Australia's first saint rests, people -- including nuns -- gathered on Sunday to learn the principles of non-violent resistance.
They were shown how to body block and deal with police in preparation for the possibility they would need to protect asylum seekers looking for sanctuary in the church from being taken by Australian Border Force officers.
The North Sydney-based Sisters of St Joseph, along with more than 100 other church groups across Australia, have pledged to provide help to asylum seekers in the community who may seek refuge.
This includes the 267 asylum seekers in community detention in Australia who are slated for return to Nauru.
Sister Jan Barnett, social justice coordinator for the Sisters of St Joseph, said the Church's tradition of providing sanctuary for those in need went back to the Middle Ages.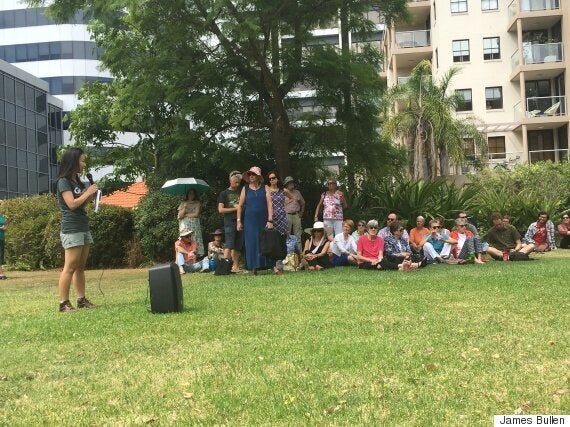 People gathered at Mary MacKillop Place on Sunday
"It's been used throughout the centuries. Our congregation offered sanctuary in the 90s to the Timorese people," she told The Huffington Post Australia.
"It's part of our culture, really. For us to be involved in it at this moment is, I think, really critical and it's a real inspiration to me that we can do this.
"It seems to me that in no way can it be moral for us to send people to situations of danger. It can't be moral for us to abdicate our responsibility and hand it on to other countries that are really poor."
Those attending discussed ways they could non-violently act to prevent asylum seekers being taken from sanctuary if the government tried to deport them.
The lessons were based learned from the campaign to prevent baby asylum seeker, Asha, from being deported back to Nauru.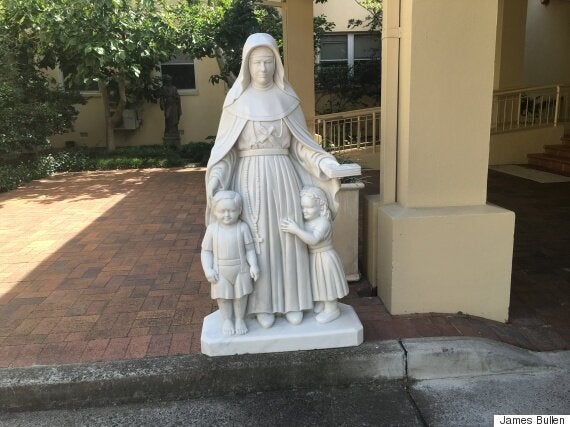 A statue of Saint Mary MacKillop stands in the centre of the Place
One participant, Ricci Bartels, said she wanted to feel proud to be an Australian again.
"I'm here to support ourselves, myself. I love being an Australian. This is un-Australian. This is not tolerable, this is unacceptable, it's cruelty and it has to stop," she told HuffPost Australia.
"I want to be a proud Australian. What we're currently doing with asylum seekers and refugees does not make me proud."
Asha was treated at Brisbane's Lady Cilento hospital after being burned in detention.
She's has since been moved to community detention, though Immigration Minister Peter Dutton has indicated it's likely Asha will be returned to detention with her family.
Protests and action to prevent the baby being taken from the hospital were also part of a larger 'Let Them Stay' campaign, which aims to prevent the return of 267 asylum seekers, including 37 babies and more than 50 children, to detention on Nauru.
The campaign began after the High Court ruled against a challenge to the lawfulness of the government's offshore detention policy.
"If it wasn't for the groundswell of community protest they would have been on a plane to Nauru already," a speaker at the Sydney sanctuary training event said on Sunday.
Sanctuary training was held across Australia over the weekend, with events in every state and territory.
Ridah Hassan, who attended in Sydney, said people needed to directly intervene to show the government what they thought of Australia's refugee policy.
"One of the messages of the Let Them Stay campaign has been that we have to be prepared to get in the way, to disrupt the operations of what the government is trying to do, like the workers at the Lady Cilento hospital did, like the churches are doing by offering sanctuary to refugees," she told HuffPost Australia.
"Churches provide lots of assistance to refugees and they feel very strongly about this issue," he said.
"In the end, people have to abide by Australian law, regardless of who they are."