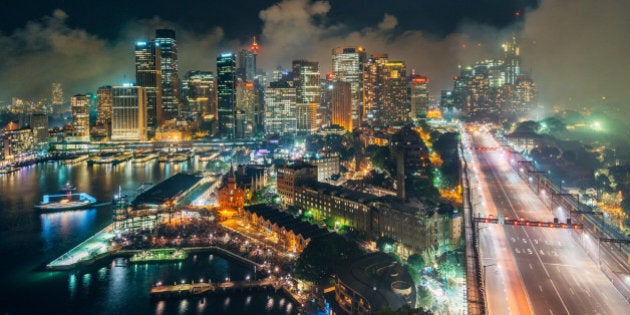 Recent reports have suggested the government will soon release its cities agenda. Australians will -- finally -- get to see exactly what Malcolm Turnbull has in mind for urban Australia.
Credit where it's due: Mr Turnbull, unlike his predecessor, has followed Labor's lead in recognising that our national government must take the state of our cities seriously. Infrastructure Australia reinforces this imperative: stating that the government "needs to play a more active role in the development and governance of cities than ever before".
The Prime Minister can't rest his laurels on not being Tony Abbott, though. This means not just thinking of our cities as economic abstractions, but also about the role they play in the wider context of the principal challenges confronting Australians today.
Inequality in Australia is at a 75-year high. This is not evenly distributed around the nation. The pattern is different between cities, and also within them. Increasingly, place matters: where you live is shaping how you live.
The University of Sydney's Urban Lab points to the fact that while bigger cities are wealthier cities, in these places lower incomes tend to grow significantly slower than higher incomes. So, while there are economic advantages to inner-city population growth, these tend to be advantages for those already doing well. It's deeply concerning to see postcodes within cities becoming more homogenous: we have far fewer socio-economically diverse communities than a generation ago.
For some, it really is an exciting time to be a Sydneysider or Melbournian. Their experiences are reflected in the liveability indexes of bodies such as the Economist Intelligence Unit which tell a story of life in the prosperous and connected inner city. This is a far cry from the experience of many families making their lives in the growth corridors, remote from the features marking the world's most liveable cities.
We confront the prospect of entrenched divisions in our major cities -- with outer areas missing out on access to jobs, amenities and infrastructure.
We must keep this in mind when we talk about Australia's massive infrastructure backlog, as exposed by Infrastructure Australia. This disproportionately affects suburban, and especially outer-suburban, residents of our major cities. The phenomenon of 'drive in, drive out' suburbs must be addressed if we're serious about supporting quality of life, and balanced lives.
It's pleasing that Mr Turnbull has adopted much of Labor's language when it comes to cities, especially, in recent weeks, the 30-minute city concept advocated by Anthony Albanese.
This is an implicit recognition of the fact that how our cities work shapes, to a very great degree, how our lives function.
The policies must make this explicit, so we can be assured that all citizens are getting a fair look in, regardless of where they live, their gender or their age.
These 'three gs' are important markers of how to consider (and respond to) inequality: geography; gender; generation.
I've already set out my concerns about how geography within cities is affecting life opportunities, and why we need place-based approaches if we are serious about tackling inequality.
We must also be mindful of gender when we assess urban policies. Women are disproportionately affected by failures of urban policy -- often driving exclusion from the formal workforce, and, particularly in growth areas, denying access to services people should be able to take for granted.
Australia isn't alone when it comes to this, but we are behind some comparable societies in responding. There are good examples to consider if we are prepared to accept that women's experiences of cities matter just as much as men's.
And then there's generational inequality. Questions of housing affordability highlight this, as well as providing a stark reminder of the disparities in wealth in Australia today. If our social compact is to reach across generations, we must look seriously at all the barriers to younger Australians having housing security as the foundation for secure lives.
Cities policy isn't just about funding roads and rail; getting it right requires taking a broad view of how these complicated organisms work -- and how they might work better for those who live in them. There's little evidence the government is taking such a view, despite encouragement.
Since taking the reduced role of Assistant Minister for Cities, Angus Taylor has put out three press releases in total, and no policy. He hasn't mentioned inequality as something that matters.
Australians can't afford this to continue to be the case.
In the U.S., the Brookings Institution is arguing for urban policies directed at growth, prosperity and inclusion. This must be our approach, too: because better, more equal cities mean better lives for the vast majority of Australians.