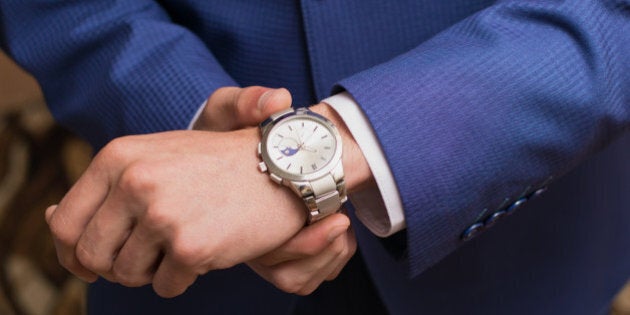 These days, there is so much more to the modern gentleman's watch than telling the time. Watches can act as alarm clocks, fitness trackers, sleep monitors, cameras and even as tools to access emails and social media accounts. In fact, there's not much a smart watch in 2016 can't do, except for maybe launch a space shuttle.
While there's nothing wrong with having the world at your wrist, is there also a place for the more classic pieces with only the one function -- to tell the time?
According to Luc Wiesman of D'MARGE, the answer is a resounding yes. Check out our Q&A with Wiesman below -- and ladies, don't despair. There's no reason why you can't rock a men's watch, too.
We've seen a lot of new 'smart' watches hit the market lately. Is there an argument for the old-school, more traditional men's watches?
"For some guys technology helps them get more out of life. This is where smartwatches have seen massive growth. For these men the watch is less of a tool to tell time, rather it helps them track fitness, meetings, etc. A friend of mine competes against his girlfriend to see who can burn more calories via their smartwatches... Now that's true love," Wiesman told The Huffington Post Australia.
"On the 'old school' or classic side of the spectrum, it's more about telling time, the tradition of watchmaking, internal movements and materials. They're also a status symbol of a man's taste, style, successes and failures.
"We're actually finding guys will have the smart watches for functional everyday wear and aspire to own a Rolex or IWC when finances or wife allows."
What, in your opinion, makes a good gentleman's watch?
"Watches are like art. Some guys like certain brands, others like them based on the technology and people like me because it looks good.
"Swiss made will always be the benchmark for watch quality, however Japanese brands have also created some incredible timepieces over the years.
"A watch should be a celebration of a moment in your life. A birth, a marriage or in my case a breakup. I also believe a watch should be purchased for the long term.
"Always buy quality. These $100 watches people are slinging on the interweb are rubbish. Save your money. You'll appreciate it more."
What should a watch say about its owner?
"Whether they're douchebag or not. Some brands scream 'bell-end', where as others tell people that you have taste and you're not too much of a tosser.
"Understated watches will always be our preference when talking to readers. "
What do you personally look for when selecting a watch?
"I look for watches that only other watch enthusiasts would notice. Gold is not for me. Diamonds are definitely out too."
"Understated, collectable but also wearable. There's no point buying an everyday watch you can only wear when you go jelly wrestling."
Are there any brands or Instagram accounts you could recommend?
How should a man best care for his watch?
"Like shoes, it's good to have a few watches in rotation. This will help avoid them looking shabby from over wear. Avoid wearing your $10,000 special watch on the building site too. Keep them in a cool dry place in a watch box and get them serviced every five or so years. Be prepared -- servicing can be expensive."
Any watch 'style don'ts'?
"Stay away from overly large watches. They're tacky and you're better than that. These are also slowly going out of fashion."
"Try wearing your watch on the outside of your shirt like the great Gianni Agnelli used to do. People will think you're a tosser but those in the know will understand your coolness.
"Also choose the right watch for the right occasion. Yes that's right, leave the Micky Mouse watch at home on your wedding day, bro."
Need some inspo? Check out these Instagram accounts to get you started.