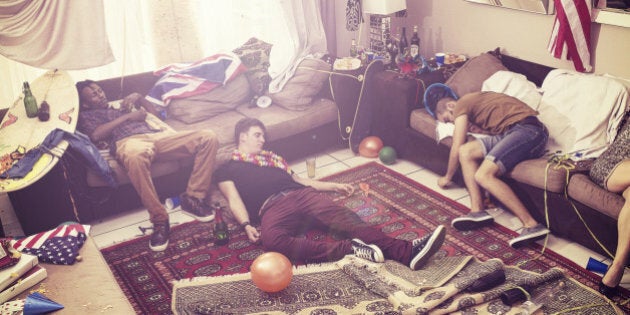 Having Christmas at yours, or hosting a New Year's Eve bash? Fun! But also, messy.
Planning ahead and being strategic can mean all the difference when it comes to the next day cleanup when you've got a pounding headache and your living room looks like a bombsite.
"First of all, choose decorations that double as party favours so guests can take cute name cards and flowers with them when they leave, essentially helping with the clean," Emma Rosen, Director of Party Affairs told The Huffington Post Australia.
Regarding food, plan tasty items that don't require too much attention. Food stations are a trend, but tend to get messy, so stick to canapes instead.
"Multi-course meals will keep you stuck in the kitchen, plus create piles of dishes. Stick to bite-sized, grab-as-you-go foods for easy entertaining. Anything cooked in oven should be done so on an aluminium tray or dish so it can be thrown away after -- no washing up. And if you're cooking, clean up in the kitchen as you go as the less mess you can have to deal with at the end, the better," Rosen said.
While keeping on top of dished in the kitchen is advised, Rosen suggests not doing the same amidst the actual party.
"Collect plates and empties by all means, but never start to clean up while guests are there. It's rude and indicates you're anxious and not enjoying yourself, or are wanting people to start leaving," Rosen said.
"Thankfully times have changed and you can now get some fantastic disposable glassware and tableware, some of which can even be rinsed and recycled. The Party Affairs directory houses a great selection of businesses that provide cute and stylish tableware settings, so you don't have to go with boring and flimsy white plastic."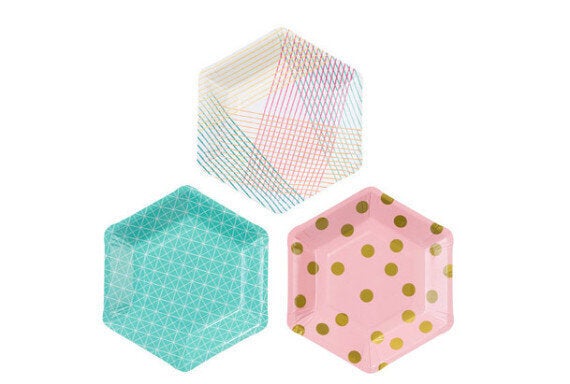 Alexis Teasdale of The Festive Co makes the point that if your bins are outside the nearest door it will mean less clutter for the busy kitchen, and visually things will look nicer.
"Place big bin bags outside your front door and take all the rubbish out there so you can visibly see your place getting cleaner before your eyes. Though for empties, have plastic tubs handy. Even the strongest bin bags won't handle piles of wine bottles -- and will be very hard to carry," Teasdale said.
"Leave some dishes scattered around that are clearly for rubbish like dirty napkins, toothpicks and olive pips. That way, your guests are doing half of the cleaning up job for you," adds Rosen.
It's also advisable to have a trusty spot cleaner on hand, for any spills if they happen, or coaches or carpet. When the party is over, Rosen suggests tackling as much as you can -- you'll thank yourself the next day.
"Even better, have the party outside if you can. Summer is a great time for alfresco entertaining, and if you're worried about seating just grab some affordable cushions and have people perch on the ground, picnic-style," Teasdale said.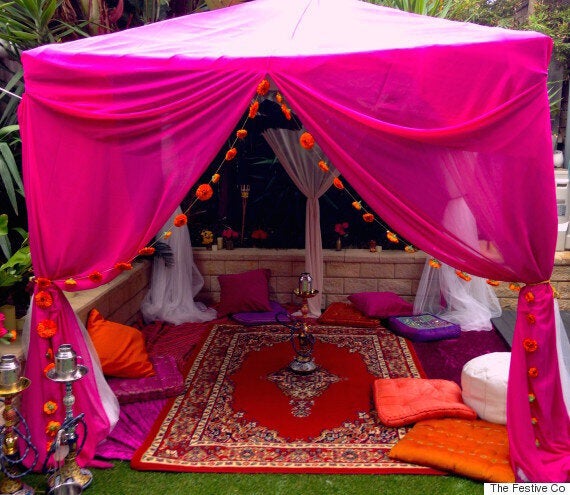 "A Moroccan theme lends itself to floor seating," Teasdale said
"Avoid disappearing into the kitchen until all of your guests have left. Once they do, get to it. If you can get a start it will make the next day so much easier. And cleaning while you're tipsy is much less painful than cleaning with a hangover."
First, pick up food and drinks, so kids, pets or even unwelcome bugs don't get into them.
"Fill the sink with hot soapy water and throw in all cutlery and cooking utensils to soak," Teasdale said.
"Consider if you really want to keep the leftovers. If food has been sitting out for a while or has possibly had many hands dipping in and out, it might be best to chuck it out."
"Gather up as much as possible in one spot to make final cleanup easier in the morning, and put the first load of the dishwasher on," Rosen said.
The next morning, Teasdale advises against trying to tackle anything before having a good feed and a coffee.
"Go out for breakfast (or maybe brunch) to fuel yourself to lessen the hangover. On the way home buy a big ol' bunch of flowers before you start. There's something about having pretty flowers in a messy place that makes me feel guilty and kick-starts the clean. Plus it's your 'I-have-to-clean-with-a-hangover' treat," Teasdale said.
Once you've had breakfast, empty the clean dishwater and load it up again.
"You might like to light a candle or two, as well. The post-party smell isn't always nice, so a scented candle can help deodorise," Teasdale said.
"If you haven't had an opportunity to take out the garbage the night before, it's a good place to start. Get rid of any food scraps that were left out overnight first as they'll start to smell. If you've used actual glassware and crockery, wine glasses should be washed before plates," Rosen said.
If you've hosted a rager, consider hiring a professional to help with the clean up. Especially if you own cream carpets. Cleaning app Whizz is ideal for these situations.