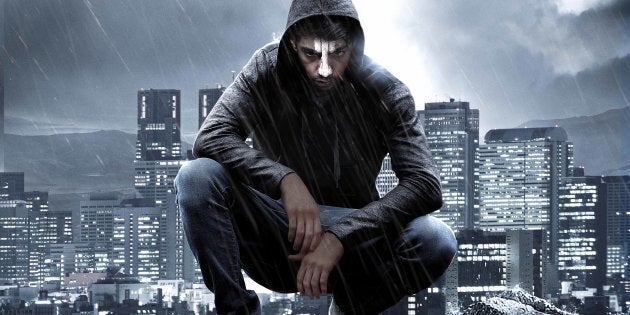 The term "landmark series" doesn't get thrown around very often, but in the case of 'Cleverman' a heightened sense of expectation swirled around it before the first episode had even aired.
From its initial announcement, the series not only attempted to merge Indigenous Australian culture with sci-fi tropes, but planned to overhaul diversity on Australian screens.
The series uses Aboriginal storytelling and Dreamtime as a launch point of inspiration for their characters and plots, placing them in a dystopian future. While 'Cleverman' is rooted in sci-fi and supernatural themes, it also explores universal ideas around refugees, discrimination and overcoming adversity.
At the core of the series is Koen, played by Hunter Page-Lochard, who is reluctantly bestowed the title of Cleverman, and who is gifted the power and abilities to unite warring worlds.
Ryan Griffen's 'Cleverman' not only set a new benchmark for diversity and representation on Aussie television, but has set the bar for what it means to create diverse stories in Australia.
Every hero needs an origin story.
Ryan Griffen (Creator, producer and writer): For me, it started when my son, Koen, was three. He and I were playing Ninja Turtles in the backyard. He was dressed up as one of the Ninja Turtles, we were using kitchen utensils as weapons, and it was kind of at that point that I realised I wanted to create an Indigenous superhero that he could connect to like he does any other superhero.
I was at Goalpost Pictures doing an internship and part of that was working on the TV show 'Lockie Leonard' and while I was over there having lunch with two of the people from the company they casually asked what I wanted to do in the industry and I said I wanted to do an Indigenous superhero. It all started to go from there.
Rosemary Blight (Producer): Ryan was over in Western Australia working on 'Lockie' with my business partners, they came back and said Ryan had this really cool idea, so we all just sat in a room with Ryan and spoke about it.
It had quite a journey, and I think because it was for Koen, we were thinking children's television. We all had in our heads something for a three-year-old but as we journeyed through the development of it, we realised that the stories we wanted to tell, and where these stories came from, suited an older audience. The ABC came on and were incredibly supportive of the idea, so we moved it out of children's and into a high-concept, older environment.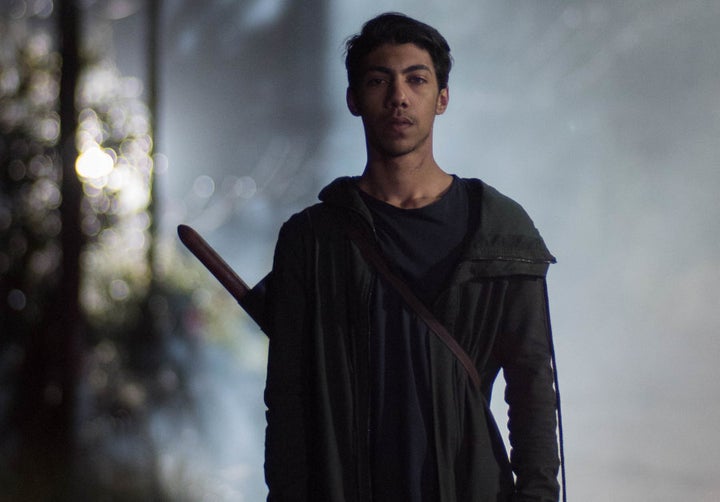 The protocols of heroes.
Blight: A lot of these stories that we were inspired by are Ryan's stories, Ryan's family's stories and stories that we sought permission to jump off from... but some of them end quite tragically, and they're quite tough. People die.
Griffen: A lot of Dreaming stories can be brutal. These are stories that we couldn't just take to kids television without changing the origin of them, and that was never our intent. It was to stay true to culture as much as possible.
When we started to develop our stories I travelled back to my country in North West New South Wales, spoke to my families and reached out to other Elders out that way, travelled all the way up to places like Toomelah on the Queensland-New South Wales border, up to Lismore, to Bundjalung country and then all the way out to the middle of the Northern Territories. There are certain stories that we wanted to gain permission for, so we had to talk through what our intentions were.
Hunter Page-Lochard ("Koen"): I got the script and I read it, and I was very excited to read because it was so different to what you normally get as an actor in Australia -- unfortunately -- but it had so much going for it. It had the sci-fi factor, the spirituality factor, the ground-breaking political message that we were bringing through it and the story tropes of just it being genre.
Griffen: The benefit is that we are putting these stories into a genre world, so the Elders are a bit more open and understanding to talk about them. It's not so much as a retelling of the stories, it's almost like an homage.
One of the things I would say is we're making a "black Harry Potter" and they got that. In a world where we've got so much movies and television content being made, it reaches every corner of the world. Going out in the bush talking about Harry Potter, they understood that. That was one of our big breakthroughs and they all started to tell the stories and really got involved and excited. But even to this day there are Elders who are always a bit uncomfortable sharing stories. Even the name itself, 'Cleverman', is a highly powerful role and sensitive topic. It's very hard to manoeuvre around these protocols but I think the benefit is, when you do look at the protocols and you come up with ways to tell stories without crossing them, you end up with stronger stories.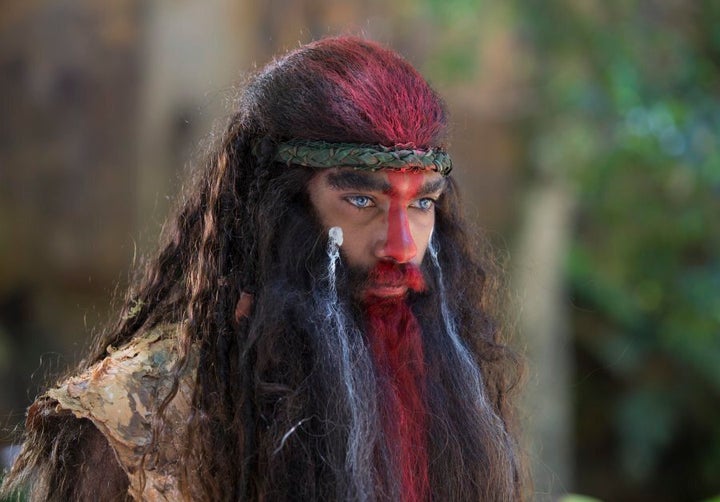 Looking inward, screening outward.
Page-Lochard: I'm a sci-fi, comic book fan – I've always dreamt of being in a Marvel production or something in the likes of that and this is kind of that but, you know, with something I'm very familiar with and very fond of which is the Indigenous culture. So it was a dream come true to get something like this.
Taylor Ferguson ("Audie"): I think especially the unspoken themes, the unspoken class system and racism, all those things we don't speak about or put on TV really resonated with me. I grew up in Cairns in far north Queensland, I witnessed a lot of racism and unacceptance of indigenous culture. It's different up there but I know that world.
The show acts as a mirror of what we are. People can see it as just a genre piece, superheros and powers, but there's so much ingrained in Indigenous culture. I think so many people are unaware of that history and culture, they may distance themselves because it's "just a superhero show" but it's more than that, it's our culture.
Page-Lochard: That was one of the things that was fuelling the comradeship on set between cast and crew. Everyone was there for a reason and everyone knew why we were all there, and it added to the energy, we were all patting each other on the back and trying to get things done to make it work properly, culturally and in the aspect of it being sci-fi. It was very exhilarating to walk on set. Everyone was focused like I had never seen before. We would always have conversations while we were filming like "this is cool" and always talking about what we were doing so there was a constant dialogue throughout the set.
The makings of a Cleverman.
Blight: Casting was one of the joys of the process. The first thing we had to do was find our two brothers, Koen and Waruu, and that was going to be the key. We worked with Hunter with Wayne Blair, on his early short films, ''Black Talk' and 'The Djarn Djarns', so we had a relationship with Hunter.
Page-Lochard: I was actually going for Djukara, the hairy brother to Latani, who Rarriwuy Hick plays. I went for him first and I got him. I was a hairy character for two or three weeks, but they couldn't find their Cleverman. I think it was one of the directors, Wayne or Leah [Purcell], who put me up for another reading for the Cleverman and I came in and I read opposite Rob Collins and after that they gave me the choice. To be honest I was more swaying toward being a hairy.
I first thought to myself, when have I ever had the chance to sit in a makeup chair for three hours, doing a whole transformation? It was something I could have really played around with but I think the lead character crept up on me and I decided to take on that responsibility.
Blight: We're talking about a majority Indigenous cast, so we went into other states, we really searched around the country for the best people for the roles. It was a long process, but I think we did a good job.
Of course there's Iain Glen and Frances O'Connor and other great actors who we cast differently. They read the script and came to it, saying yes almost automatically. That was incredible and makes a huge difference to how we managed to get it into Sundance.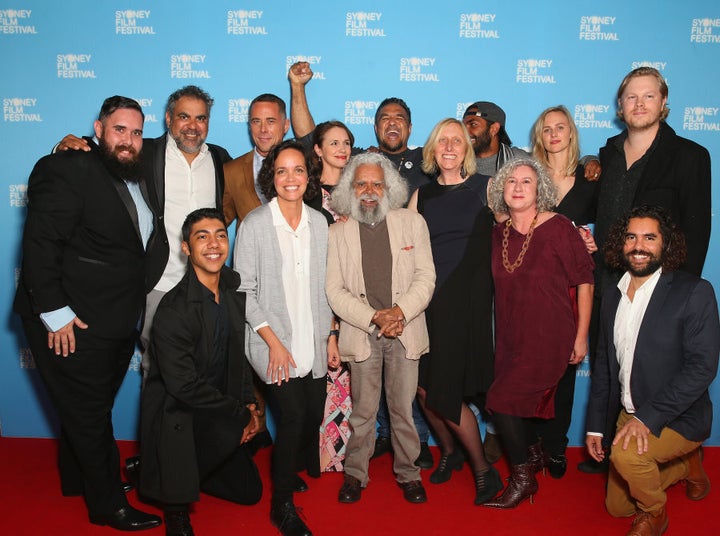 A global stage.
Blight: Sundance were actually really aggressive, in a good way, very proactive in wanting to be part of it. They came on during the edit period of season one. They flew down and we had meetings with them and the ABC, and we basically had a deal with them before we had finished the show. We took it to Berlin for the Berlinale (Berlin International Film Festival) and that was really great fun.
Page-Lochard: I went to Berlin with Ryan, Rosemary, Deb Mailman, Tasma Walton and Stef Dawson and it was a dream come true. I'm a big fan of those big festivals and I had never been to Berlin before. To see the Germans, and to see the international market and an international audience see something so different yet so Australian was quite amazing.
Griffen: I think the show keeps giving in that sense. It's amazing to get these stories out in an international landscape and see what each country gravitates to in the storytelling. To get indigenous characters and aboriginal people on screen seen around the world, it's massive.
Page-Lochard: I remember hearing a German guy in one Q&A who put up his hand and said "my only question is when I can see the rest of the season?"
Bringing ancient stories into a modern world.
Griffen: Now you have the benefit of seeing Netflix and stuff, you get to see people who are coming to the show at a later date tweeting to you and talking about their stories. It feels like its constantly growing. We get to see that interaction thanks to social media really.
Page-Lochard: The show is a lot more popular overseas than in Australia, which is disappointing though not surprising, but it's putting us on the map. Not just Australia, I mean the true culture of Australia. There have been so many tweets from international people saying it's so refreshing to learn new things and to actually want to research what this Australian culture is because they had no idea.
I think Australia is still slowly progressing in a way of acceptance and to not feel so confronted at times. To just enjoy and accept and learn.
Griffen: It's amazing to see what the political stuff the international audience gravitates to, and seeing people want to know more about the culture and language, it's just amazing of where people come to the show and what they get out of it. Social media is an amazing way to get that feedback from the audience first-hand.
Blight: I've never worked on a show where we can sit down and have such a direct relationship with the audience. I think it's particular to the genre of the show, they're very, very vocal and very, very supportive.
It's really hard to get any show out there in the world, our aim is obviously to get all shows to have this kind of traction but it's certainly made it a lot easier. Also it's a very big, ambitious show so it keeps us going.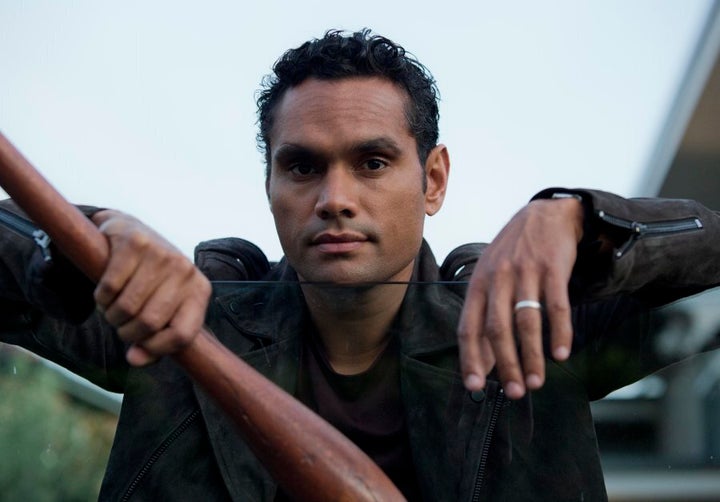 The power of superheroes.
Page-Lochard: I've bumped into kids and they're gobsmacked that I'm standing in front of them, they're just going "Oh my god, you're Koen!"
I've even had a couple of times where I've told kids to stay in school and they're hanging on every single word I'm saying. It's been the biggest privilege and something I hope to grow.
Griffen: Koen, my son, turns 11 this year, and he watches the show here and there. He'll always catch me especially when we're doing the edit and he'll sit down and watch it.
The show achieved its goal of empowering him. One of the stories I've told a few times is that his big thing at the moment is wrestling, he loves the WWE and one afternoon I walked into his room and he had the theme music to 'Cleverman' playing while he was pretending to be a wrestler. I asked him what he was doing and he said his wrestling name was called the Cleverman and that was the music he walked out into the ring to.
It was all about him interpreting what it meant to be a strong black man and to empower him in whatever he loves at the time. That was exactly the goal all the way back when we pitched it as a kid's series.