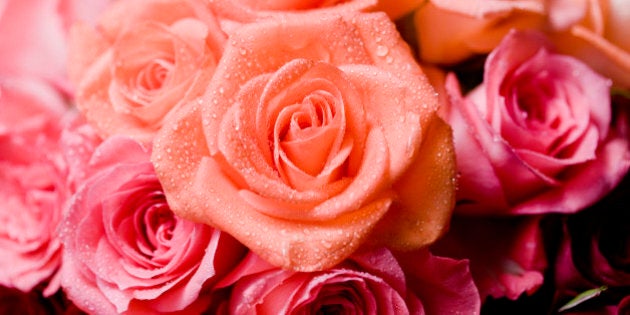 Jay Z might have bought Beyoncé 10,000 roses ahead of her Superbowl performance, but soon it might be the average Joe Blow forking out serious dosh for a bouquet of the romantic blooms.
According to Sarah Sammon of Simply Rose Petals, climate change is wreaking havoc on the growth habits of roses Down Under, which could lead to decreased availability and skyrocketing prices in the future.
Sammon has seen it herself in the 12 years of running her rural Victorian business, which in October last year experienced an average temperature six degrees hotter than any other October in the Swan Hill region.
"October is usually when we begin to see our roses coming in," Sammon told The Huffington Post Australia.
"I was overseas last year representing Australia on the Global Farmer Roundtable. Normally, our roses go into flush from early to mid November.
"But when I returned from overseas on 24 October, the crop was in full flush. All 6,000 rose plants were producing at full capacity. I hadn't even started hiring harvest staff -- to say I was understaffed is an understatement."
Essentially, the consistently warmer weather has meant the growing season is much longer than it has been in the past.
"I mean, we have been producing for 12 years and before that, my mother grew cut flowers and so has been in the industry for over 30 years," Sammon said. "She has definitely noticed the change.
"We used to finish picking around late May. The last couple of years, we've actually picked into July, when we normally start pruning. It's completely bizarre to be picking in July; we are having frosts and still have roses producing."
Though a longer harvest season might sound like a good thing -- more roses for everyone! -- it's actually not that simple.
"In one way it is beneficial, because we have had an increased yield," Sammon said. "But it has made it really challenging for pruning. You can't prune until they have gone into hibernation and shut down in winter. Because they are shutting down for shorter periods of time, the roses are being put under more stress.
"In addition to that, managing staff can be really tricky. Normally we would have staff pruning over the winter, but now, instead of having full-time staff over a shorter period, we are looking at casual staff over a longer period.
"Then add factors such as the fact that water is going to become such a precious resource, we are all going to have to pay higher prices, as well as things like the backpackers tax due to come in later this year -- I do think people are going to have to expect higher prices.
"I don't think it's going to be the case that in five years time, you're not going to be able to buy roses, but I do think it's going to be the case they are going to be much more expensive."
Enjoy your roses this Valentine's Day, ladies. In a couple of years you might just be getting a card.