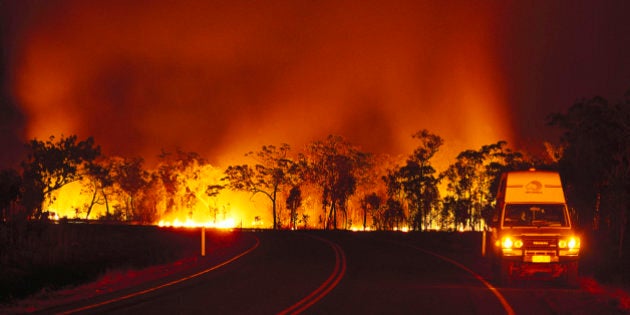 Australia will need to double its firefighting capabilities as climate change causes bushfire seasons overlap and place existing resources under enormous pressure, according to a new Australian report released today.
With fires raging across Western Australia -- with four already dead in blazes burning near Esperance -- and fire danger ratings skyrocketing across the country as a heatwave heads toward the east coast, the Climate Council's report "The Burning Issue: Climate Change and the Australian Bushfire Threat" -- a review of recent reports into climate change and weather patterns -- comes at a sadly fitting time.
The report found global fire seasons had increased in length by almost 20 per cent between 1978 and 2013, meaning fewer opportunities for hazard reduction burns and other fire prevention measures, as well as a strain on powerful firefighting equipment -- such as firefighting aircraft -- which are shared between countries. Northern and southern hemisphere fire seasons are also beginning to overlap, placing strain on firefighting equipment shared between countries.
"Climate change is worsening this bushfire weather. Heatwaves are hotter, longer and occurring more often," Amanda McKenzie, CEO of the Climate Council, told The Huffington Post Australia.
"We've seen long fire seasons in the U.S, also in Australia even in autumn and spring. Australia and the U.S. often share resources, personnel and equipment, so when the seasons overlap, it is harder to share. That's the worry for the future, that it will be more challenging for firefighting services."
"We estimate firefighters numbers need to double by 2030."
McKenzie said the combination of record temperatures and long hot spells drying out bushland had created a "ticking time bomb" for bushfires in Australia as summer 2015 approaches.
"The climate is on steroids. Globally, 2015 is likely to surpass 2014 as the hottest year on record and this past September was the hottest ever recorded, the seventh month this year to break such a record," she said.
The Climate Council report states bushfire seasons in some parts of the U.S. were now a month longer than just a decade ago, placing extra strain on firefighting and fire reduction efforts. The last fire season saw 50,000 fires in the US in one of its worst seasons on record, with fears similar conditions in Australia could produce similar results here.
"We need to prepare for the worsening extreme weather. We need more knowledge about heatwaves and how they are changing. Medical personnel must be better prepared, to ensure resources are adequate," McKenzie said.
"With the bushfires in WA, climate change has exacerbated those fire conditions. Like much of Australia, WA is experiencing a warming climate. October had the hottest minimum, maximum and mean temps for WA on record. The tragedies in Esperance show we need to make sure our emergency services and communities are prepared."
She said efforts to address climate change must be reinforced, in light of the report's findings.
"We must address the root causes of climate change and drive down pollution. If we're not dealing with the root causes, we can't prepare for the escalating threat of climate change," McKenzie said.
"Australia's climate change action is not enough to protect Australians from worsening bushfires. We must join the rest of the world in meaningful action to bring climate change under control. The Paris climate conference provides an ideal opportunity for our country to set stronger emissions reduction targets."