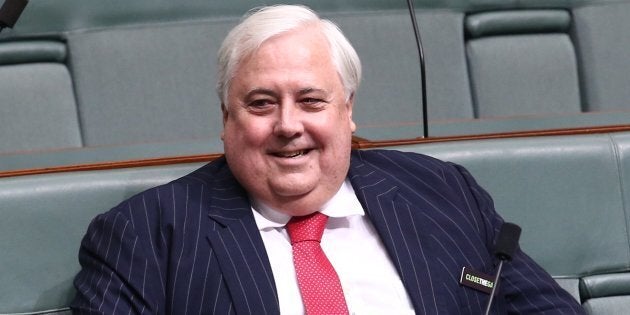 Clive Palmer has lost 49kg in nine months and with Christmas coming up, he's only got one concern about maintaining his diet.
"My granddaughter told me 'you don't look like Santa any more'," Palmer told The Huffington Post Australia.
"I'm doing it for her, really, so I can be alive for my family as long as possible."
The prominent businessman and former politician is down to 104kg from a starting point of 153kg and he told HuffPost Australia his secret was, quite simply, to not focus on the numbers.
In politics, people always gravitate around food and alcohol.Clive Palmer
"I decided to commit to a healthy lifestyle with smaller meal portions for six months, so I wasn't checking my weight every day or every week, I knew I would stick at it for six months," Palmer said.
"That's long enough for your lifestyle to change, so after that time, you might go out for a big meal and you find you only eat half of it."
The weight loss came at a time when Palmer also lost the seat of Fairfax in the house of representatives. While in parliament, it seems ridiculing Palmer's weight became a national past time.
Political cartoonists aren't exactly known for going easy on a politician's physical features.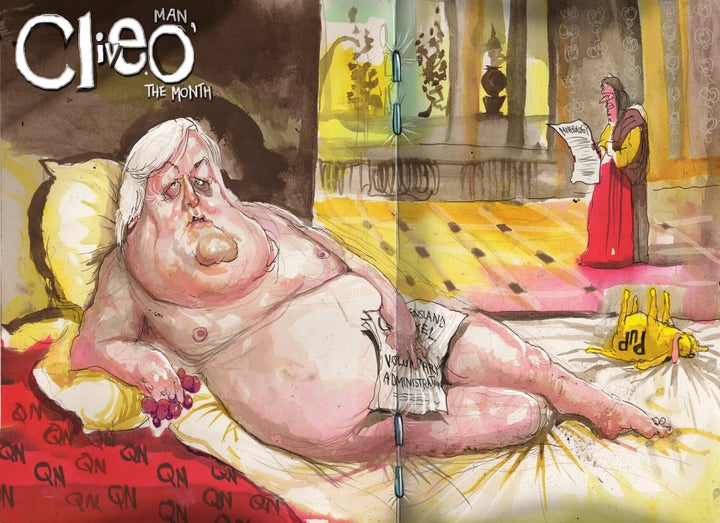 And cheeky fill-in-the-blank game Cards Against Humanity's Australian politics expansion pack included this particularly cutting card:
Then there's the chicken parmy jokes.
Palmer said it was hard to not let it get to him.
"I've probably had about 5000 twits tell me to lose weight on Twitter, so I finally listened to them. I listened to the people," he said.
"In politics, people always gravitate around food and alcohol -- and the press is as guilty as the parliamentarians. The thing about always looking forward to lunch or dinner is it's a constant distraction.
"It means people can't face the challenges in their life. I know people say I wasn't in parliament much but I was actually very busy and I find now that I'm living a healthy lifestyle, I can still do an 18-hour day, but I don't feel tired at the end of it."
He said his weight loss should show anyone it was possible.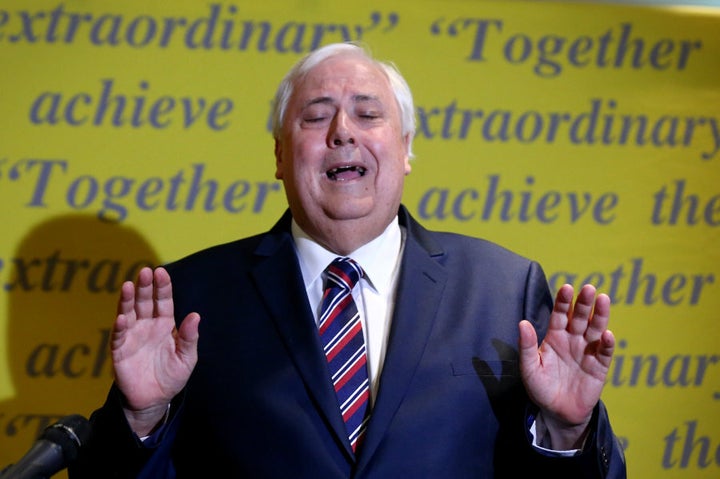 "I'm hoping to inspire people," he said.
"Now I think I have about three times' as much energy as before. My goal is just to enjoy myself.
"When I go out for dinner now, I focus on the person I'm with -- the quality of the conversation, and that's something I never did before. I used to go to a social event and concentrate on the food.
"Now I'm there for the social aspect."
ALSO ON HUFFPOST AUSTRALIA