In Australia, 6,000 kilograms of fashion waste is generated every ten minutes. That could be the sum of that too-small t-shirt that you bought from H&M last week, or that semi-alternate/hideous jumper you tracked down at Salvos (and never wore).
What became of said t-shirt or jumper?
According to H&M Group's Sustainability Director Anna Gedda, about 85 percent of these items are ending up in landfill.
(Here's a pile that ABC TV prepared earlier).
Gedda, from the Swedish fast fashion giant, has an alternative.
"If you buy something new, and have it for a week, why don't you then give it back? Wouldn't that be fantastic? You could essentially be renting clothes and making them into new clothes again," Gedda told The Huffington Post Australia.
The Swedish clothing company has committed to using 100 percent recycled or sustainably sourced materials by 2030 as part of its vow to have a "climate positive" supply chain by 2040.
"When it comes to sustainability work, long-term perspective is crucial. Some of the big challenges we are facing will have huge consequences in the future," H&M Group CEO Karl-Johan Persson told HuffPost Australia.
"As a global company, we have a responsibility here to take the lead in fighting some of these challenges."
Following consecutive annual reports, H&M's new sustainability strategy appears somewhat bolder. It is set out to move towards "100 percent renewable and circular" fashion that, at the same time, "is fair and legal".
The key is moving from a linear system that we have today to one where resources are used within the system, over and over.Anna Gedda
Among other goals related to transparency, supplier wages and working conditions (we'll get to these, later), a "climate positive" strategy by 2040 means H&M wants to reduce greenhouse gas emissions by more than their value chain emits.
This begins with the raw materials themselves.
"We are a producing company, so we will always need a lot of materials. Ten years ago, we set the goal that by 2020 we want all of our cotton to come from organic sources. Today, we are at 43 percent," Gedda said.
H&M remains the biggest global user of cotton certified by the Better Cotton Initiative as well as one of the biggest users of organic cotton, recycled polyester and Tencel Lyocell.
"We are setting a new goal that by 2030, we want to be using 100 percent recycled and sustainably sourced materials."
"We want to go beyond minimising the negative consequences of our business to actually have a positive impact," CEO Persson added.
In 2013, the company introduced its Garment Collective initiative that allows consumers to drop off unwanted clothes and textiles from any brand (for a discounted H&M purchase, in return...)
The initiative has its critics. Yet since its launch, 39,000 tonnes have been collected worldwide, with a new goal aiming to collect at least 25,000 tones by 2020, and each year thereafter.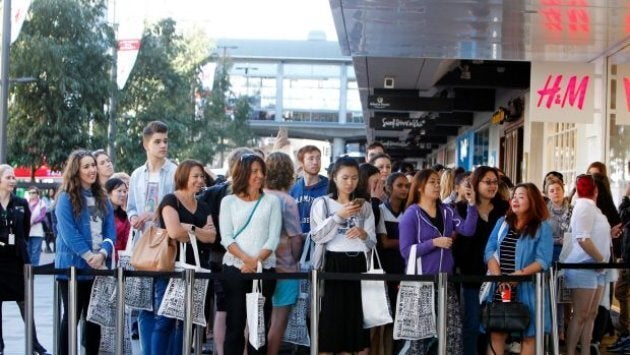 A renewable future?
The rather bold ambition then turns to improving energy efficiency in new and existing stores as well as committing to the use of renewable energy, both internally and externally.
We want to reach 100 percent renewable energy, and we will push for it in our operations and throughout our supply chain. Anna Gedda
"Today, 96 percent of our energy use comes from renewable sources -- that's an increase from 78 percent in 2015. We want to reach 100 percent, and we will push for it in our operations and throughout our supply chain," Gedda said.
"Whilst we have dramatically reduced our carbon emissions, there will always be unavoidable emissions and so the third part of our climate strategy involves compensating for that through innovation and technology programs."
Emma Brancatisano travelled to Sweden to attend the Global Change Awards as a guest of H&M.
ALSO ON HUFFPOST AUSTRALIA
Popular in the Community