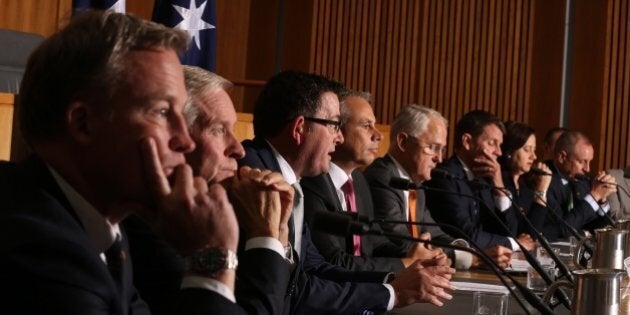 Malcolm Turnbull has sensationally dumped his controversial plan for the states to collect income tax directly, but Council of Australian Government meeting has secured an extra $3 billion to be poured into the nation's hospital system.
"There is simply not a consensus, not anything like a consensus of interest on the part of COAG. So the answer is that proposal is not there. It is withdrawn. It is not acceptable to COAG. And so, there will be no state or territory involvement in levying income tax... we are certainly not proposing to increase income tax ourselves," Turnbull admitted in a press conference after the meeting.
Leaders did, however, agree to consider proposals around a new income tax mix between states and the federal government.
However, the biggest news to come out of the meeting was the Commonwealth agreeing to provide "an estimated additional $2.9 billion in funding" for public hospital services between 2017-2020.
An agreement was reached to reduce demand for hospital services through "better coordinated care for people with complex and chronic disease", improving hospital pricing mechanisms, and reducing the number of avoidable hospital readmissions.
However, despite the large funding increase, Australian Medical Association president Brian Owler said it was not nearly enough. Speaking on Thursday, Owler said he had heard whispers that $3 billion would be given to the states, but said more than double that amount was needed.
"It's not going to meet the problem of the gap that exists. It looks like about $7 billion is really the required figure that's needed over the next three years, and that's the sort of figure that we should be aiming for," he said.
Also agreed at COAG upon was a timetable for discussions for further funding of the education system, in the wake of Turnbull raising the possibility that the federal government would withdraw from funding the public school system; agreements on working toward reducing family violence; and a commitment to a national post-sentence preventative detention scheme for those convicted of terrorism offences.
Northern Territory chief minister Adam Giles also presented an update on the NT's progress toward becoming a state, and it was noted that the NT would bring a formal proposal for statehood to the next COAG meeting.