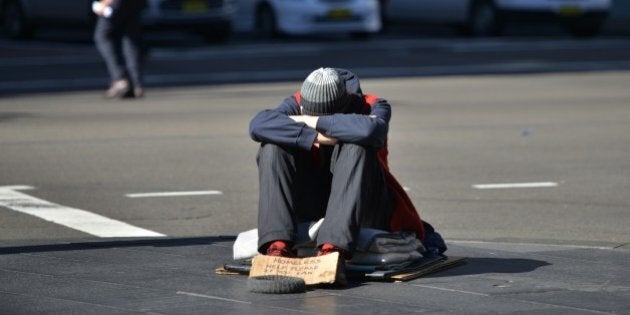 When my father died, I learned that for years he had been offering one of his properties, a 120-room motel on the outskirts of Adelaide, as emergency accommodation for victims of domestic violence, a shelter when the local one was at capacity, and as subsidised housing for pensioners through a local charity.
My father never told me that he was helping people in this way, but it wasn't really a surprise. Dad had always been a philanthropist because he knew it was his duty to take care of people less fortunate than himself, in return for being saved from a similar fate to theirs.
Dad was born into dire poverty in Fiji. He grew up with the risk of homelessness nipping at his heels each day, which is why he was so determined to succeed. Despite a significant lack of resources, Dad became a doctor and moved to Australia, but he never thought he was better than anyone. Dad knew that not everyone was capable of achieving what he had achieved.
My father was a staunchly Liberal-voting Capitalist-Communist. He strongly believed he should share his wealth, because we are not all born equals. His brothers, for example, could never have won a scholarship to attend medical school as he did; they simply did not have the academic aptitude. When they succumbed to various lifestyle factors, Dad did not judge, but unfailingly supported them, because he accepted that they did not have the resilience to rise above their unpredictable and often violent childhood the way he had. My father knew that he could just as easily had their lives, were it not for the good fortune of being academically intelligent and the physical ability to work in a well-paid profession without injury, illness or job loss, for six decades.
Yes, my father understood that life was usually not straightforward, and that most people were simply doing the best they could in their circumstances. It is this compassion that motivated him to offer his vacant rooms for anyone in a dire situation, who otherwise would have few to no options, especially in the remote northern suburbs. Knowing he could so easily help, Dad was determined to not have the desperation of those people on his conscience; and the rest of us need not bear that burden, either.
To understand the magnitude of the emergency accommodation and homelessness problem in Australia, I will share a sobering statistic. According to Mission Australia, on any given night in Australia, 18,000 children are homeless. That many children, homeless, every night in this country. It is a staggering and sobering visual. How is this number possible?
Executive Director of Shelter SA, Dr Alice Clark, explains that "homeless" is a term which describes a number of living scenarios. It can include people sleeping in public places, living in cars, staying in motels, emergency housing, homeless shelters, and under casual arrangements with friends. The term encompasses anyone who involuntarily has no fixed address.
This means that the people we see sleeping on the streets are usually those who have absolutely nowhere else to go, and they are not the only ones who are classified as homeless. There are thousands of people who are homeless, going to work and school every day, who live in insecure accommodation, with society being unaware of their circumstances. There is a solid chance that you regularly cross paths with someone who is or has been homeless; for example at work or the supermarket, at your child's school, or on public transport.
Dr Clark describes the journey into homelessness as a terrifying and isolating one. Asking for help from family or friends is much more difficult than many of us realise, as it is not always understood why someone cannot "get it together". Often there is no one to ask. Then there are issues such as illiteracy, and language and cultural barriers, which present challenges to a person's ability to improve their situation.
The longer life continues this way, the harder it becomes for the individual to function normally. When your last meal and shower was 24 hours ago, when you are exhausted and cold, when your children are scared of sleeping in the car, how do you maintain a fighting spirit day after day?
Dr Clark believes that while crisis accommodation is often criticized as a band-aid, it at least provides temporary and usually safe relief, and access to basic necessities such as food, clothing, showers, and a bed to sleep in. It provides a homeless person, who already feels de-humanized by their displacement, with the chance for some dignity and hope.
So how can we as individuals help if we don't have a spare property to offer, as my dear father did? We lobby the government to establish a crisis care system with private landlords, and we encourage similar community initiatives. We educate people to promote greater compassion towards the homeless and the many obstacles they face, and deeper understanding of the causes of homelessness, so we can all be passionate advocates.
We stimulate discussion and place pressure on the government to constantly seek improved ways of addressing homelessness. Most importantly, we keep those 18,000 thousand children on our minds, and make homelessness a priority on the national agenda.