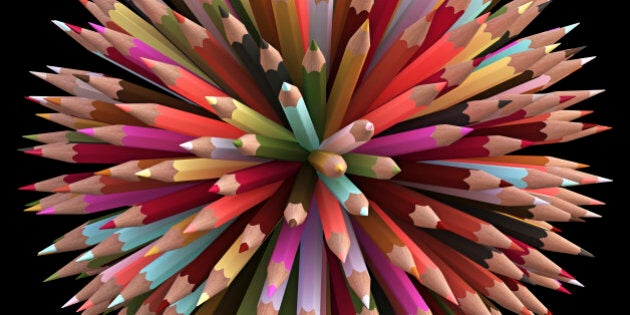 Before it was a publishing phenomenon and a one-way ticket to tranquility, colouring was a blood sport and I was at the Derwent-sharp pointy end, playing to win.
Yes, I was a colouring-in champion.
There. I never thought I'd even type those words, let alone share them publicly. But they're so totally on-trend in an Amazon-smashing, Russell Brand-baiting way that my time has finally come.
Once upon a time, in the days when massive publishing success stories such as The Enchanted Garden, Colour Yourself Calm or The Mindfulness Colouring Book would have seemed like pure fiction, I coloured for neither mindfulness nor stress relief. I coloured to win, dammit: prizes, bikes, fast food vouchers, t-shirts, movie tickets, trophies. Acclaim. Glory!
Colouring-in didn't make me a household name. And if it did, the name would have been Raelene. At the height of my powers, my photo was in the newspaper with a co-winner -- after a year of tough, toe-to-toe colouring, not even a point separated us -- and there was a caption mix up. I was sanguine about the error (a handy response for a journalist-to-be); in the chunky Starsky and Hutch knits favoured in the 70s, 10-year-olds all looked the same anyway.
Often, I coloured at my grandparents' house and my tough-as-boots nana was, frankly, mesmerised by my artistic talent. When she saw that one of my Derwent pencils was blunt, she'd pounce, taking to it with foot on a chair, 'sharpening' the pencil using her menacing 'gardening' knife with all the finesse of a lumberjack felling pine. Chips flew and the pencil was instantly reduced by a third.
I entered every colouring competition I could find, especially if the prize was a bike, but the newspaper contest was the main game. You could win points for funny stories, poems, jokes -- I didn't do jokes, much -- and, of course, consistent colouring excellence. It was challenging to make an impression in the days before fluoro, glitter or gel pens, so a champion had to use smarts and primitive equipment to catch the judge's eye.
Over time, I developed a signature style. It involved a bold texta line around the outside of each shape -- a 'blurring of the lines' or 'muddying of expectations' if you will -- filled in with soft pencil shading. Striking to look at, it had the additional benefit of concealing errors and is, indeed, a style I have adapted successfully in a broader sense in the 40 or so years since I put down my Derwents for good.
I'd scarcely thought of my once-loved hobby over the years. Until, like sleeping beauty, I awoke to find my daggy old pastime had become Prince Charming. Grown ups were colouring pictures and it was cool. In top-selling-book-lists cool. Displayed-in-the-window-of-my-gorgeous-local-bookshop cool. Slagged-off-by-Russell-Brand-in-an-angry-YouTube-tirade cool.
It was astonishing and just a bit weird. Like finding the nerdy boy with the acne from school has, four decades later, morphed into a lantern-jawed internet entrepreneur with an actress wife, a sports car and Facebook friends in the thousands.
And so, an experiment. Well, not so much an experiment -- with hypothesis and method and discipline -- as an indulgence with scrounged gel pens and pencils. Could colouring make me mindful? Calm? Would shading shapes succeed where yoga, champagne, long-distance swimming and meditation had failed?
I did an attractive mandala and it was nice, even though I had to sharpen my own pencils. Tranquil, really. Mindful, I think, for a while, despite the niggling sense that the world was going to hell as I coloured. But then the competitive adrenalin surged back and I was desperate to enter my picture in something -- anything.
I was, predictably, swamped by the earthly desire for validation, applause, free movie tickets or maybe even a bike! No point in the rainbow, it turns out, without the pot of gold.