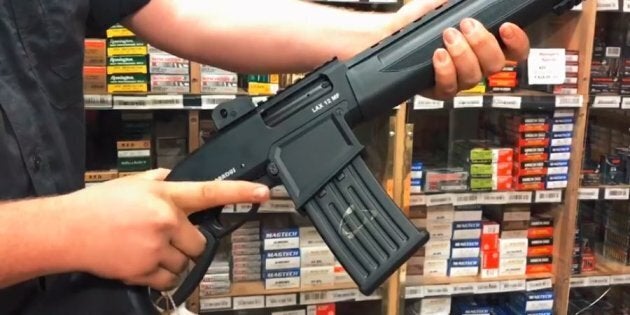 A shotgun with an assault rifle-like magazine, described as "more dangerous" than the controversial Adler weapon, needs far heavier regulation according to Greens politicians and gun control advocates.
NSW Greens state MP David Shoebridge and federal Greens senator Lee Rhiannon have come out against the Pardus LAX 12 MF shotgun, which is now available in Australia. MF stands for magazine fed, referring to the detachable ammunition magazine which can be quickly detached from the firearm and a new one inserted. The shotgun is advertised on the company's website as having "the feeling of a more tactical usage as well fast loading with detachable magazines with different capacities".
The Pardus is similar to the Adler shotgun -- which sparked intense and protracted debate in Federal Parliament before being moved into the most restricted firearm category last year -- in that it is a lever-action weapon. The Greens and Gun Control Australia say the 12-gauge Pardus is of more concern than the Adler due to its magazine feature, which means the gun can be reloaded faster than a conventional shotgun.

"The magazine is the concern for this one. It's quick release, you push the button on the side and the magazine drops out then you feed in another one. It's the same magazine as an AR assault rifle," Samantha Lee, chair of Gun Control Australia, told HuffPost Australia.
"The Adler had a tube magazine, the magazine is a tube inside the firearm. But with this one, you drop out the magazine and replace it. It can be a five or ten-shot magazine. There are very little restrictions on the purchasing of magazines."
Videos posted online claim the Adler shotgun and the Pardus LAX -- the predecessor to the LAX MF, which does not have the same assault rifle-like magazine of the MF but instead a tube magazine like the Adler -- were very similar in terms of speed and ease of reloading.
A video posted by a Hunter Valley gun shop marvels at "how fluent (sic) this action and mag system work", showing how the weapon's magazine can be detached and a new one inserted within just three seconds.
Lee said most states had categorised the Pardus MF as a category A weapon, the least restricted category, while NSW, Queensland and the ACT had classed it in category B as a general hunting rifle. She said she would like to see it moved to the higher and more restricted categories of C or D, which would vastly limit the shotgun's availability.
The most recent data available from the Australian Institute of Criminology suggested there were 2.5 million registered firearms in Australia, belonging to 731,567 individual licence holders.
Senator Rhiannon said the Greens wanted far tighter limits placed on the Pardus MF, while Shoebridge claimed it was "more dangerous" than the Adler.
"Its a threat to public safety. It's effectively a semi-automatic weapon because it's such a rapid fire weapon that loads so quickly," Rhiannon told HuffPost Australia.
"It's at least as dangerous as the Adler. It certainly looks like an automatic weapon and for some people buying these guns, the look is very attractive. The fact it's designed to look like an assault rifle, and how quickly it fires, shows how the gun lobby is running rings around the Federal Government.
"This is a very dangerous weapon."
David Auger is the manager of Queensland Gun Exchange, one Australian retailer which stocks the Pardus. He denied the weapon was as fast to reload as was claimed, saying it was "a bit awkward" to reload, and that it had legitimate uses for game hunting.
"I wouldn't say you can quickly replace [the magazine], I'd say it's quicker than the tube magazine but it's not that quick...we're talking not much quicker," he told HuffPost Australia.
"Lever action shotguns have been around for over 100 years. It's nothing new. This is emotional rubbish,"
When asked why someone would need to reload five or ten rounds into a shotgun as fast as the Pardus design allows, Auger said:
"Think about it. If you're pig shooting, and you've shot five pigs and there's five more pigs, you want to keep shooting."
"People like different things, some people like a [Ford] Falcon and some like a 4WD. Why do you need it? Because individuals like the look of different things."
Rhiannon said she would be pushing for the Federal Government to take action on the Pardus at a national level, and criticised both the Coalition and Labor for presiding over what she saw as a weakening of Australia's gun laws.
"Between the Adler coming into Australia, now this Pardus, the gun lobby has had a very successful year in 2017. You hear the Prime Minister go out there after the recent massacre in Las Vegas saying we're proud of our strong gun laws, but they're now riddled with holes due to the weak position his govt has taken," she said.
The influence of the Shooters party has grown to the extent that former Prime Minister John Howard wrote an open letter to country NSW voters ahead of planned state by-elections in Murray and Cootamundra this weekend, urging them not to vote for that party.
"The Shooters first priority is to fundamentally weaken our existing firearms laws, introduced by the Howard-Fischer government after the Port Arthur tragedy. We can't take a risk on a party with such dangerous policies," Howard and his former deputy PM Tim Fischer wrote.
"All the parties have been responsible for cosying up to the shooters and not confronting these issues," Rhiannon said.
"The next stop will be in Senate estimates, to dig into how this decision was made and really looking at the inconsistencies around the National Firearms Agreement, to explore the loopholes allowing this to occur.
"We have a very serious problem that the big parties say we've got world best practice but no state has fully implemented the agreement and since 1996 we've seen states allow legislation that has weakened it."