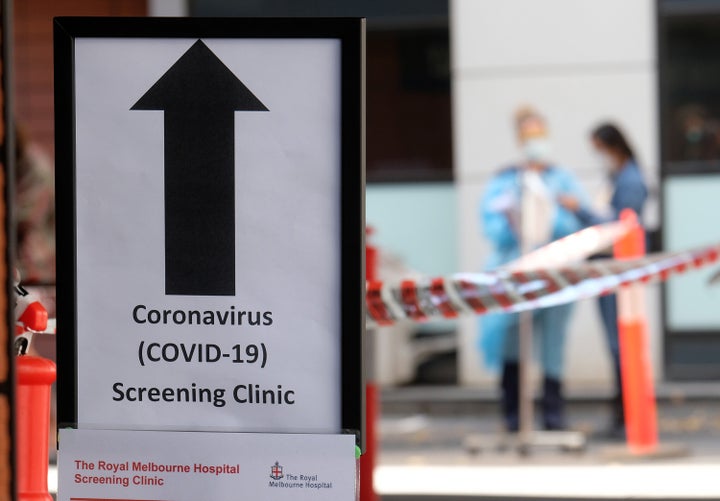 More Australians are asking to be tested as coronavirus spreads across the country.
As the Morrison government introduces its $2.4 billion health package that includes fever clinics and cost-free facilities, there's important information to know if you're concerned you may have COVID-19.
At least 378 people in Australia have tested positive while five people have died after contracting COVID-19, one in WA, three in NSW and one in Queensland.

The virus has killed more than 4,000 people worldwide and continues to spread at a rapid pace.
Am I Eligible To Get Tested For Coronavirus?
Many Australians experiencing flu-like symptoms have been trying to get tested in recent days only to discover they're not eligible.
Sydney man and actor Tysan Towney said he's had the flu for the last few days along with "a tightened chest" and "clenched throat" that affected his sleep. He decided he wanted to get tested for COVID-19, but after trying to contact his doctor and hospital over two days, he visited the Royal Prince Alfred Hospital in Camperdown.
He was asked to provide details and clean his hands before being given a mask.
"Everyone is seated roughly a metre away from one another or in their family/relationship clusters they arrived with. After two to three hours waiting, they explained to me they were not testing people who had not been overseas or only people who had contact with people who were 'confirmed cases'," Towney told HuffPost Australia on Wednesday.
"Potentially I was in a room full of people who either had symptoms or had recently been overseas. Surely, they could have tested me to be sure. I was advised to go about my daily business and if I have complications to go see an emergency department."
Towney said he was worried that testing has "only tracking existing cases and doesn't account for people who may not know they are a carrier or are ignoring isolation procedures."
However, Australia's chief medical officer, Brendan Murphy, said in a news conference on Wednesday that "there is no point being tested at the moment if you have not travelled or if you've not been in contact – even if you have flu-like illnesses".
"We are not saying to people who get acute respiratory symptoms, a cold or a flu, to go and get tested for COVID-19. We are saying that if you're a returned traveller or you've been in contact with someone who has been a confirmed case, then you should be tested.
"But all other Australians do not need testing and all they are doing is putting an unnecessary burden on the testing."
What Is The Coronavirus Test, And Where Can I Get Tested?
The main way of testing in Australia is by taking respiratory samples by swabbing the nose or back of the throat, and the patient is then asked to self-isolate.
Australians are being advised to contact their doctors before presenting to a testing clinic if they have reason to believe they have contracted COVID-19. Though some general practitioners are conducting the tests themselves, more testing is being conducted in pathology labs or hospitals that have the testing kits. National and state hotlines have also been set up.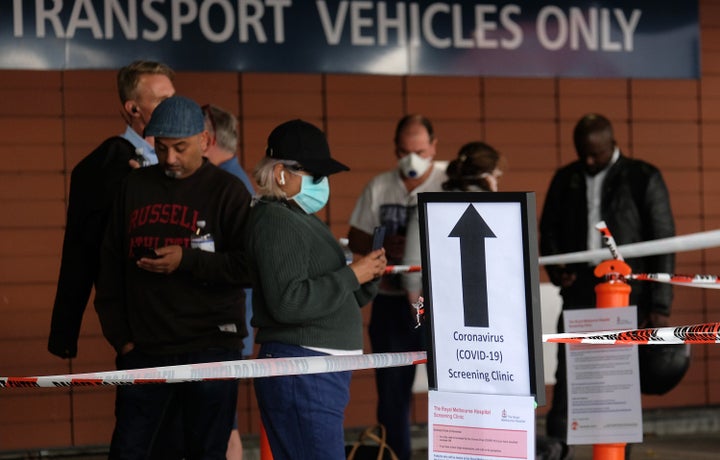 The Epworth, a Melbourne private hospital, has been conducting coronavirus tests for $350, reports The Australian. The hospital has reportedly told patients they will receive results within 48 hours.
A drive-thru testing service has also been set up in South Australia at Adelaide's Repatriation Hospital.
"This service is really specifically for patients who have already seen a GP and not for people to have a clinical assessment," SA Pathology clinical service director Dr Tom Dodd told the ABC.
He explained that patients are able drive to the side of the hospital, wind the window down and have the specimens collected by SA Pathology nurses wearing appropriate protective gear.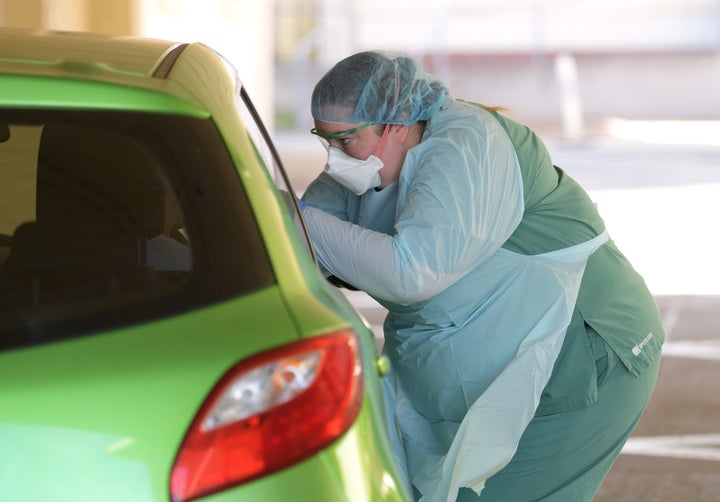 Will The Government's New Coronavirus Health Package Help Me?
Prime Minister Scott Morrison's health package includes the free clinics and a system in which people can consult doctors over video calls, known as Telehealth calls.
Australian Medical Association (AMA) President Tony Bartone said the rollout of these facilities and services will mean more Australians can eventually be tested.
He said concerned patients would then "make contact with your doctor who will then, potentially through one of these Telehealth consults if you don't want to come down to the clinic, be able to take a much more thorough history and see if you fit any secondary or tertiary reasons why you would consider further testing".
Dr Bartone told ABC's Radio National on Wednesday that the locations of the bulk-billed clinics are yet to be determined but that they will be close to hospitals in case patients are found to have more serious illnesses.
How To Cope With Coronavirus Anxiety
"The spread of COVID-19 has already generated changes in Australians' routines, plans and, of course, brings uncertainty about the future," Professor Greg Murray, director of Swinburne's Centre for Mental Health, told HuffPost Australia. "It is quite understandable that some people might feel anxious about this situation."
If you don't fall into the categories recommended for testing but are still anxious about the coronavirus outbreak, Murray said there are three strategies you can use. He called these the powers of planning, perspective and being present.
The power of planning involves identifying "exactly what you are concerned about, what solutions you can think of, and then trying one and review".
The power of perspective aims to address fears of catastrophe. "Instead of actually looking for solutions to a problem, we ruminate on the worst possible outcome and forget that we actually have coping resources and supports that would come into play if things didn't work out the way we want," said Professor Murray.
Lastly, the power of being present involves using simple meditation exercises or even laughing, to help "stay in the actual present moment rather than flying into an imagined frightening future".
Australian Coronavirus Helplines:

HealthDirect – Helpline 1800 022 222

HealthDirect – Coronavirus 1800 020 080

Victoria – DHHS 1800 675 398

Queensland – 13HEALTH 13 43 25 84

Tasmania – Public Health Hotline 1800 671 738