They were once reserved for the faces of the most coronavirus-prepared, those working on the front line against COVID-19 – the clinical blue and white oblongs a visual reminder to everyone at home that an invisible virus was looming.
Fast forward three or four nauseating months, and here we all are, habitually instructing our hands to loop two elastic bands behind our ears to secure our masks and face coverings in a daily routine that's now become as familiar as brushing our teeth.
Victoria has made wearing masks mandatory, while NSW Premier Gladys Berejiklian is urging people to also wear one in enclosed spaces such as on public transport, shopping for groceries, in areas of high community transmission, when attending a place of worship or while facing customers in a a hospitality or retail job.
In the meantime, a culture war has been waging between those happy or at least resigned to wearing masks and those who don't believe in enforcement – either because they question their efficacy in the fight against COVID-19 or because they see it as an infringement of rights to be told to wear one.
That same culture war is playing out in the US, fuelled by the whims of politicians and the great American public. Meanwhile, in other countries, particularly in parts of Asia where face masks and coverings have been commonplace for decades, people are bemused at what our problem is.
But like them or not, as masks have become normalised, they have also become personalised.
Inevitably, fashion and sportswear brands – looking to diversify their offering in tough economic times – have capitalised on our demand, with styles and fits available in all the colours of the rainbow. Meanwhile, indie makers have flooded site like Etsy with their own designs, as the DIY mask goes mainstream.
Our face mask or covering now tells the world who we are – they are reflective of our style and quirks; and they are statements of intent, solidarity and identity.
And while a lot of people are still wearing the surgical versions, others are drawn to more experimental designs, as we manoeuvre to find the style and feel that suits us best.
What mask will you choose?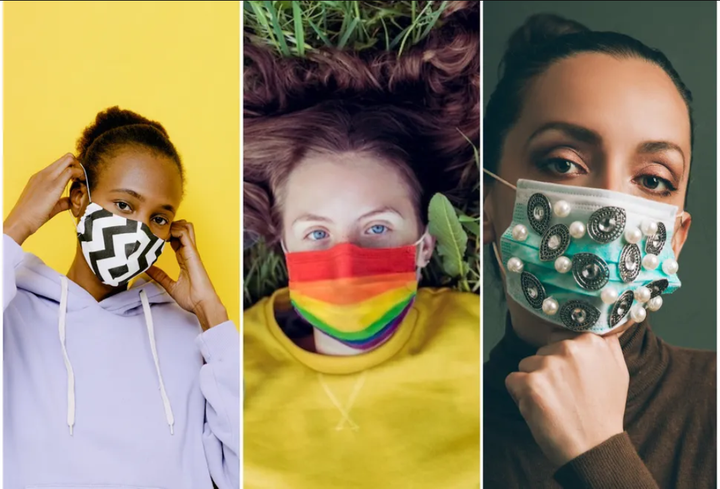 "The face mask movement can be split into a few categories," reflects London-based fashion designer Kervin Marc, who has pivoted from reworking vintage army kit to making face coverings during the pandemic.
"People who somehow could get hold of medical masks; people who wear DIY face coverings; people who have been wearing fashion masks which reflect their personalities; people who are literally wearing full on post-apocalyptic gas masks; and the most stand out trend in masks – the political statement masks due to all the recent protests, especially the Black Lives Matter protests."
Whether face obscuring and jet-black to protect anonymity at a protest or powder pink and covered in daisies for walks in the park, masks are now as individual to the wearer as piercings, jewellery or tattoos.
For his part, Marc says he is interested in "the warrior aesthetic" that a face mask can lend its wearer.
"Masks are a powerful symbol of defiance in their subversive imagery of the freedom fighter and the rebel," he tells HuffPost UK. "Masks seem to also be the perfect canvas for artists to make a statement."
An item ultimately designed for the most practical of reasons – to protect people close to you from the micro-particles of your breath and, ideally, to protect you from theirs, too – has the power to be both expressive and highly symbolic.
"Bring a mask" was the top piece of guidance given by those who organised marches in the wake of the brutal killing of George Floyd to those attending. Many of those masks were emblazoned with the Black Lives Matter message – enacting as well as communicating it by protecting the wearer.
A mask as creative or political statement becomes cathartic, a symbol of endurance against the oppressive tides of both coronavirus and of racism.
While masks and coverings have become a means of spreading messages of solidarity and individualism, they have also been commodified by brands.
In the commercial sphere, one label attempting to cut through a crowded marketplace is French brand Le Colonel, with its range of reversible masks.
"Now that it will be compulsory to wear a mask in certain circumstances, people don't necessarily want this medical blue square on their faces," says lead designer Rémi, whose collection features a variety of military, 90s throwback and animal print styles.
"People have the choice of what 'face' they choose to show on any given day or for different occasions eg. the weekend vs going to work," Rémi explains (just don't forget, presumably, to wash your mask before you flip it and reverse it).
"What we choose to wear everyday reflects how we want to present ourselves to ourselves and those around us," agrees Angela Morris Winmill. "Clothing is a reflection of who we are and our personalities, what we do and how we feel,"
The Australian-born, UK-based artist is behind a virtual art exhibition running at the M1 Art Gallery in London during lockdown, introducing a critical dialogue to discussions of the humbled face mask.
"The mask became my new canvas and it was exciting coming up with ideas using materials and resources from my home studio," Morris Winmill explains.
The masks on display in the exhibition were created variously using crushed up dollar bills, blooming flower and barbed wire. One, made from reclaimed computer parts, is priced at £1,000.
The gallery says that this makes it the world's most expensive face mask, but with the rise in masks made by luxury brands, can it really claim that crown?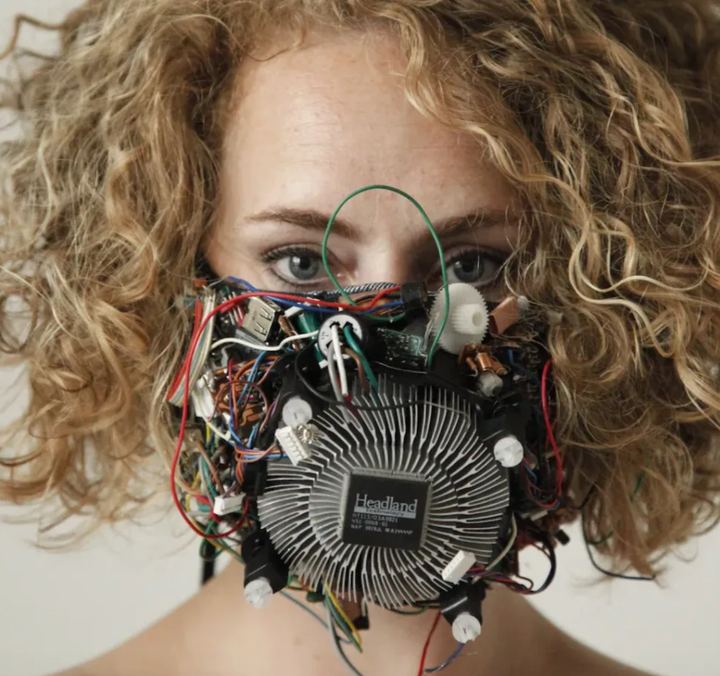 "The mask is a new tool for expression which can be conveyed through colour, print, design and embellishment. It is important to make it 'your own', especially if this becomes the new normal," says Morris Winmill.
"We have hundreds of facial expressions the human brain reads," she adds. "Our new expressions now include a face mask shielding from nose to chin and hiding what we would normally read of someone."
This idea of mindful presentation resonates with Maria Williams, a designer from Dallas, who carefully matches her handmade masks – which range in hues from gold to midnight blue – to her clothes and accessories. But for her part, she sees real positives in wearing them.
"When most people put on a face mask it likely makes them feel hidden. When I wear my designer face mask, I feel seen," she tells HuffPost UK of her styling.
"I feel like I am representing a creative expression of myself."
In her sparkling creations, Williams has extended the concept of the face mask beyond simply covering the wearer's nose and mouth – pairing the style and material she uses with complementary headdresses, capes and dresses.
She also likes the idea of emblazoning messages on her masks and coverings to play with the idea that masks somehow silence us.
"To me the face mask is a symbol that calls for us to speak less and listen more," she says, adding that masks allows us to "hear and understand" different cultural groups and stories outside our lived experience.
But as well as helping us understand each other as individuals, the wearing of face masks or coverings indicate we are going through a shared experience.
As Williams sees it: "Face masks and the Covid pandemic has truly allowed people to retreat, go within literally and figuratively, so that we can listen and observe what's going on in our world and can bring forth positive change."