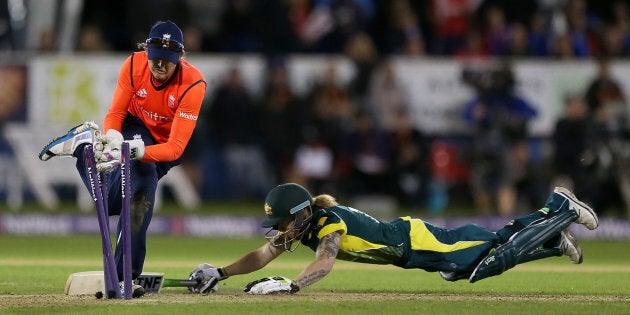 It's not every day you see a stumping off a pace delivery, but that's exactly what happened in today's Ashes Twenty20 in Canberra.
Katherine Brunt's delivery whipped past Australia's Elyse Villani and into the hands of Englishwoman Sarah Taylor.
You can watch the ball below:
This was one of the wickets that pushed England to their second win in the Ashes series so far. But even if the visitors capture another victory in the last match of the series on Tuesday, it won't be enough to get them over the line.
Australia has won three games in the multi-format series that includes three one-day internationals, three Twenty20 matches and a single four-day test match. A win in either a Twenty20 or a one-day international is worth two points, and a victory in the test match is worth four points. Because the test match was drawn, and the points divided equally, the current standings have Australia leading England 8-6. And because we won the Ashes series last year, even if we tie on points by the end of the series the title remains ours.
Australia needed 153 to chase down England's 6-152 total, and seemed on track after the first five overs. Openers Beth Mooney and Elyssa Healy started off the batting with a smooth-sailing 42 off five overs.
But it wasn't to be. A stellar bowling performance from England's Jenny Gunn, who managed to grab four wickets for only 13 runs, saw the Australian side fall short by 40 runs. At one point, the Aussies copped a brutal 4-7 in just 16 balls.
But there were some positive takeaways from the game ahead of the series closer on Tuesday. Australia's bowlers are looking to be in clean form -- check out this wicket from Jess Jonassen.
The last game in the series will be held on 21 November at Manuka Oval, Canberra.