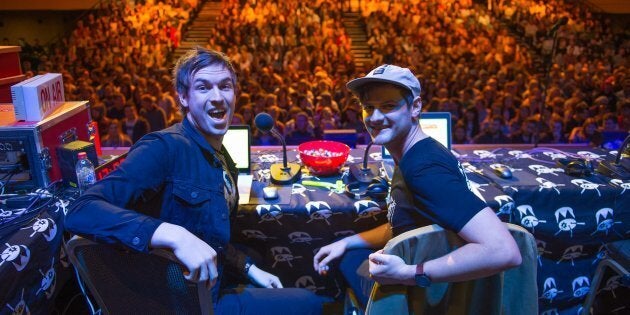 Triple J hosts Ben and Liam have opened up about the hate and criticisms they've received since taking over the radio station's breakfast slot, admitting to having "cried myself to sleep" some nights after vile messages and comments.
Ben Harvey and Liam Stapleton took over from Triple J's popular hosts Alex Dyson and Matt Okine last year, and have divided opinion with their presenting style.
The duo have copped a stream of criticism and abuse since joining the national youth radio broadcaster, and reports have emerged that listeners are turning off in droves. In honour of R U OK Day, Stapleton opened up on the abuse he and his radio co-host have received -- both online and in person -- and the effect it has had on them.
"Taking after a colossal show like 'Matt & Alex', it's tough. You don't expect everyone to like it — we still don't. We understand that. But it does get hard, there is sometimes a fresh can of hate that you've gotta open up every day, and it definitely wears you down. I think these days there's a bit of a disconnect, as far as some of these things go," he said.
"I've experienced it myself with artists, with anyone who's in the public eye in general. When people send things in, when people put things online, there's no repercussions of people's words, or at least they feel that way."
"We see when people text into our workplace, we see things. We see all the posts, we see all the comments. And I can honestly say I've had nights where I've cried myself to sleep because of stuff like that."
Stapleton, becoming clearly emotional at this point, continued to open up on the way it has made him feel around friends and family.
"I've had times when I've flown home back to Adelaide and just felt like a disappointment, a failure. Sometimes it's pretty relentless as well, like I've had times throughout the last eight months where I've opened messages to my personal account, even people quite explicitly telling me to take my own life," he said.
"I've felt things in the last eight months that I've never felt before, like feeling properly worthless, honestly. For mornings, for days, for weeks sometimes, and it's not just online, it's happened in person before."
He told a story of walking around late at night after a gig, and being abused in person.
"Some guys kinda cornered me and were telling me how hopeless they thought I was, that I'd never be Matt and Alex. I can honestly say I've never felt lower than that point. I felt absolutely pathetic, properly pathetic," he said.
"For a while there I got a bit scared to go out, 'cause I thought I didn't want people to judge me, I didn't know what people would say to me. I kinda got scared, and it takes a lot to keep your chin up from that kind of stuff."
Stapleton ended his emotional speech with a call for others to stay strong, to support their friends and take more care with how they treat others.
"I think sometimes you don't even realise others' struggle until they really open up and talk about it. We all do, we all have our points," he said.
"So in the spirit of R U OK Day, make sure you ask someone today, whether it's someone you're close to or someone you're not close to, ask the question all the same because it can give someone a voice who doesn't have a voice."
The segment attracted big support online, with many voicing their support for the duo's strength and resilience in the face of abuse.
Many said it should be a wake-up call for others who do not think of the consequences of their actions.
If you need help in a crisis, call Lifeline on 13 11 14. For further information about depression contact beyondblue on 1300224636 or talk to your GP, local health professional or someone you trust.