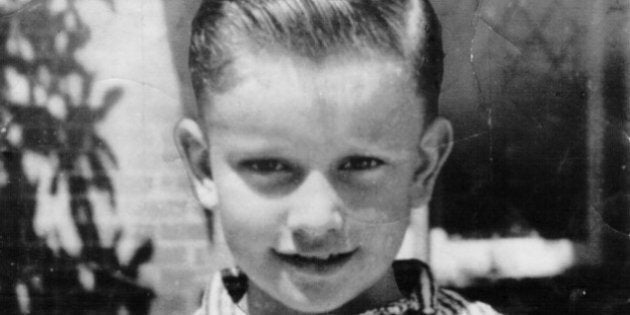 It was the crime that horrified Australia; the nation's only ever kidnap-for-ransom case.
What made the story so incredibly heart wrenching was not only that eight-year-old Graeme Thorne was kidnapped on his way to school in Bondi in 1960 but that his parents had recently been splashed all over the newspapers after winning the Sydney Opera House lottery. Bazil Thorne won 100,000 pounds -- equal to about $3.5 million today.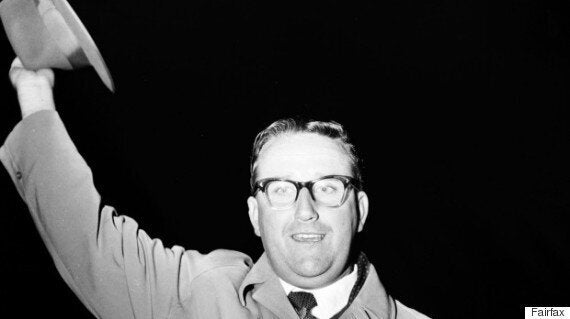 Bazil Thorne after winning the Sydney Opera House Lottery, 1960. Picture Fairfax
After seeing the newspaper article, Hungarian immigrant Stephen Bradley stalked the Thorne family and quickly discovered that on school mornings young Graeme was collected outside a local store by his mother's friend, who then drove him to school with her son. Bradley spent some time plotting the crime and then managed to persuade Graeme to get into his car by lying and saying his mother had told him to collect him. The boy was eventually drugged, gagged and thrown in the boot where he later died, after Bradley bashed him on the head to keep him quiet.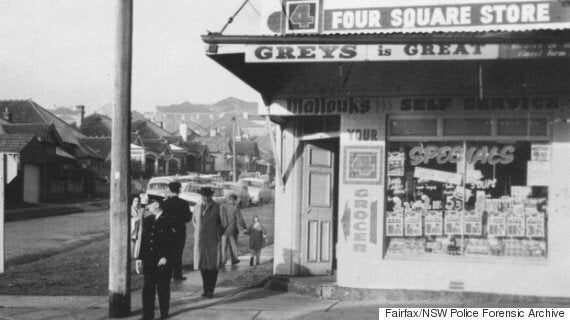 Graeme Thorne was kidnapped as he waited outside this Bondi store for his mother's friend to give him a lift to school. Picture Fairfax/NSW Police Forensic Archives
Bradley phoned the Thornes to let them know he had their son and demanded $25,000. He told them if they didn't pay, he would be 'fed to the sharks.'
The police kept a vigil at the family home, ready to take any phone calls from Bradley but, once the child died, the phone calls stopped. That's when the public took over -- the distraught Thornes had to deal with endless phone calls from people pretending they had Graeme and trying to get hold of their Lotto winnings.
Mark Tedeschi QC, New South Wales Senior Crown Prosecutor, has written a gripping book about the tragedy, Kidnapped, after relentlessly going through trial transcripts, police notes and witness statements. Tedeschi told the Huffington Post Australia most people were very supportive of the Thornes.
"But there were a few terribly cruel people who pretended to be the kidnappers, constantly calling the Thornes and wanting the reward. They had a lot of false calls from people claiming to have Graeme and, eventually, the Thornes would ask those callers to ask Graeme certain questions that only he would know, to prove that they really did have Graeme. But, of course, Graeme had already been killed by Bradley," Tedeschi said.
"Following the crime, laws were changed so that a Lotto winners' name is withheld from the public. But, in 1960, there was a desire for transparency so there could be no accusations that the lottery was rigged. So all the details of the winner was published, for the sake of transparency but, of course in the Thorne's case, it backfired so tragically."
"It was a dreadful shock for Sydney. I've given many talks about my book to community groups and libraries and every time people tell me that Graeme Thorne's kidnapping and murder changed their childhood. They tell me, 'I was allowed free rein to play in park and on the streets. But, after this I was only allowed to play in my back yard.' Parents become more protective. It was really the beginning of 'Stranger Danger' in Australia."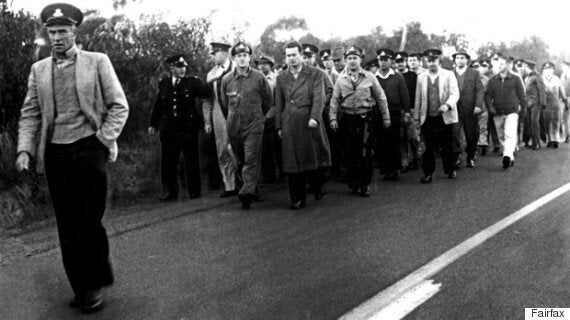 Hundreds of people joined in the search for Graeme Thorne. Picture Fairfax
Little Graeme's body was found a month later by schoolboys on a vacant block of land. Bradley, fled overseas with his family, but was soon arrested by Australian police officers and extradited to Sydney to face trial.
At first, Bradley confessed to police. But following a stint in custody, he changed his mind (after realising what lay ahead of him in prison) so he recanted his confession.
"After his initial imprisonment, Bradley realised his confession wouldn't win him an acquittal on the murder charge. He then said it was a terrible accident and it wasn't his fault Graeme had died. Then he told police that after he snatched Graeme from the street, the boy sat patiently in the front seat until they arrived in his garage and, only then, managed to get the gag on him, tie his hands and drug him. Of course the police did not accept this version," Tedeschi said.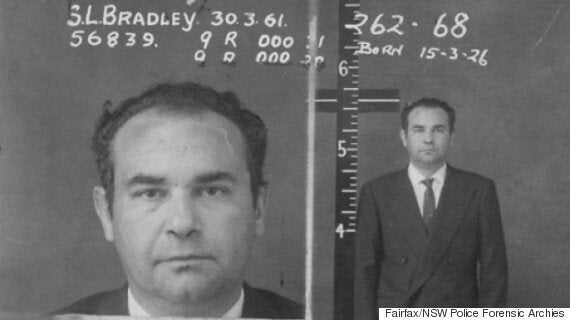 The murderer of Graeme Thorne, Stephen Bradley. Picture Fairfax/NSW Police Forensic Archives
"Bradley was a most unlikely kidnapper. He was a father -- he and his wife had three children between them, and his daughter was just one year younger than Graeme. He had a pretty colourful past; he engaged in financial irregularities and his previous wife had died in suspicious circumstances. But when it came to the kidnapping and murder of Graeme, Bradley was totally deluded. He thought he had every avenue covered."
"Yet he made some extraordinary mistakes. For example, Bradley actually went to the Thornes' house and knocked on the door, pretending to be looking for somebody. So they were later able to recognise him and also pick his accent. It was a very bold, foolish thing to do but he thought he could get away with it.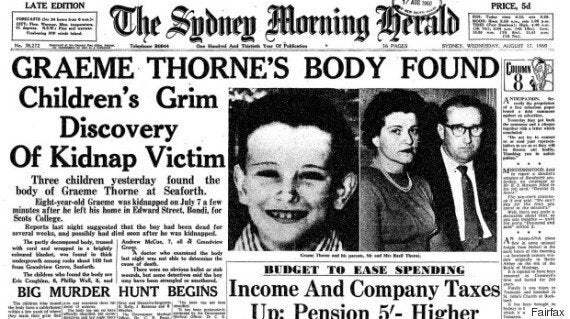 The Sydney Morning Herald reported on the discovery of Graeme's body. Picture Fairfax
In March 1961, a jury found Bradley guilty of murdering Graeme and he was sentenced to life imprisonment. Yet Tedeschi said Bradley never showed even a slight hint of remorse. He died in Goulburn jail in 1968.
"The case really marked an end of innocence in Australian life, particularly for families who were suddenly fearful their own children would be kidnapped. Yet Bradley never showed any remorse whatsoever. Even in the time when he was confessing the crime, he repeatedly said, 'It wasn't my fault. It was no fault of my own.' Later, when he changed his confession, he still denied responsibility for the kidnapping and never showed any sorrow at all for ending a young boy's life."