A far-right group is planning "the biggest Aussie pride rally this country has ever seen" to "commemorate" the 10th anniversary of the infamous Cronulla riots, with busloads of counter-protesters intending to stand in opposition to the rally.
Party For Freedom, which describes itself as "a patriotic conservative alternative to the major treasonous political parties", has been mail-dropping flyers and posting online ads for its "Cronulla 10 Year Memorial" event on December 12 at a Cronulla reserve.
The Cronulla riots, one of the ugliest episodes in recent Australian history, was the culmination of a long-bubbling undercurrent of tension and ill-will between mostly young Caucasian and Middle Eastern men in the southern suburbs of Sydney, which resulted in a day of fighting, intimidation, vandalism and mob violence on December 11, 2015.
Party For Freedom's political policies include a "halt to Muslim and third world immigration", doubling military spending, abolishing the Human Rights Commission and withdrawing Australia from the United Nations Protocol on Refugees.
"It is time for the government to APOLOGISE to the abused and battered Cronulla locals who cried out for help but were ignored and ridiculed," a Facebook event for the rally stated.
"The upcoming tenth Cronulla Riots anniversary is a fitting time to bury multiculturalism."
It is unclear how many people will attend the memorial rally, but Shermon Burgess -- self-titled as "the great Aussie patriot," until recently leader of controversial far-right group United Patriots Front -- on Tuesday posted a video online claiming busloads of people from Melbourne and Canberra will be travelling to the event, and claimed it will be "the biggest Aussie pride rally this country has ever seen".
Aside from Burgess, flyers for the event advertise a veritable who's-who of Australia's far-right scene as guest speakers on the day:
"In the interest of multiculturalism we will hold public stoning of homosexuals, female genital mutilation, chopping off hands, terrorism and honour killings in accordance with sharia law," read a (hopefully tongue-in-cheek) comment on the flyer posted by Party For Freedom.
The flyer goes on to detail "police have asked if patriots could arrive from 11am onwards. Police will also be present at both Cronulla and Woolooware train stations... For the purposes of your safety it is highly recommended travelling in groups".
The Huffington Post Australia submitted a set of detailed questions to NSW Police about the event. However, a police spokeswoman told HuffPost Australia that police were "not going into individual [media] requests" on the event and that "there will be an opportunity for police to speak to media" at a later date.
HuffPost Australia also attempted to contact Sutherland Council with similar questions around approval or knowledge of the event, but several calls were not returned. We also tried to contact Nick Folkes, but he did not return several calls for comment.
The online shop on Party For Freedom's website is advertising several Cronulla-themed items for sale, including a sticker set and t-shirt proclaiming "Sydney is fun, Cronulla is a riot".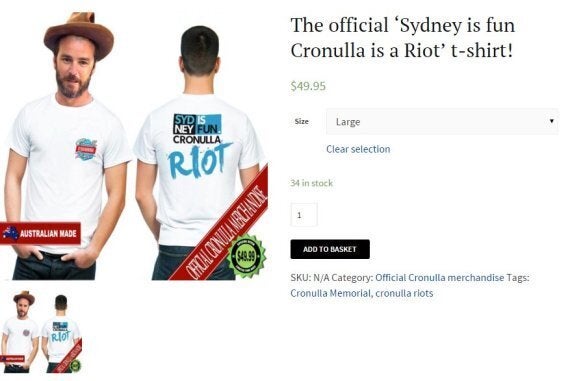 Already, opposition to the rally is springing up. Omar Hassan, organiser of a group called 'No to Racism, No to Fascism, No to Islamophobia' told HuffPost Australia he and other associated groups were planning to bring buses of their own to counter-protest opposite the "memorial".
"We heard about it and were pretty horrified. The Cronulla riots were a horrific racist spectacle and the fact people want to celebrate and memorialise it is pretty concerning," he said.
"We're planning a peaceful convergence, a national mobilisation. We've got people coming from Melbourne, Canberra and other places, to send a strong message that things on that day should never be repeated."
In Burgess' video, he said "patriots" had the "home field" advantage in Cronulla and would "remove the Left out of the suburb by force" if provoked. Hassan said the counter-protesters were unsure of what to expect on the day.
"It's not clear exactly whats going to happen, but we'll be gathering close as possible to their activity," he said.
"The far-right in Australia are increasingly organised. They've been able to pull of consistent mobilisations of hundreds of people in major cities across the country [during the Reclaim rallies]. We're concerned about this growing movement, that they're using using the atrocity of the Cronulla riots to intimidate Muslims."