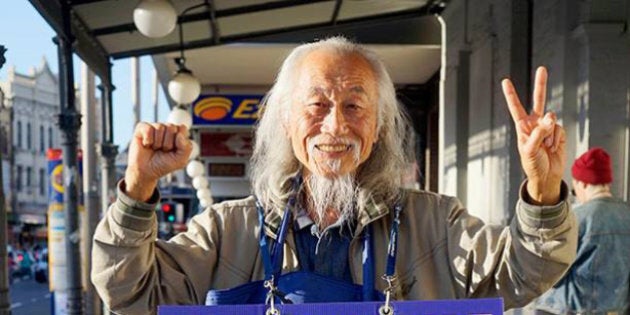 A colourful identity known for wearing provocative sandwich boards on Sydney streets has been fined after calling Tony Abbott an offensive word, but the internet has come to his rescue.
A crowdfunding campaign formed overnight to assist Sydney icon Danny Lim after he was fined $500 for using the "c word" in a sign describing the prime minister.
Lim, known around the city for the sandwich boards he wears while wandering the streets, was fined by police at Edgecliff on Monday for his latest board, which read, "Peace Smile, People can Change, Tony You Can't." The 'a' in "can't" was written upside down to hint at a much ruder word.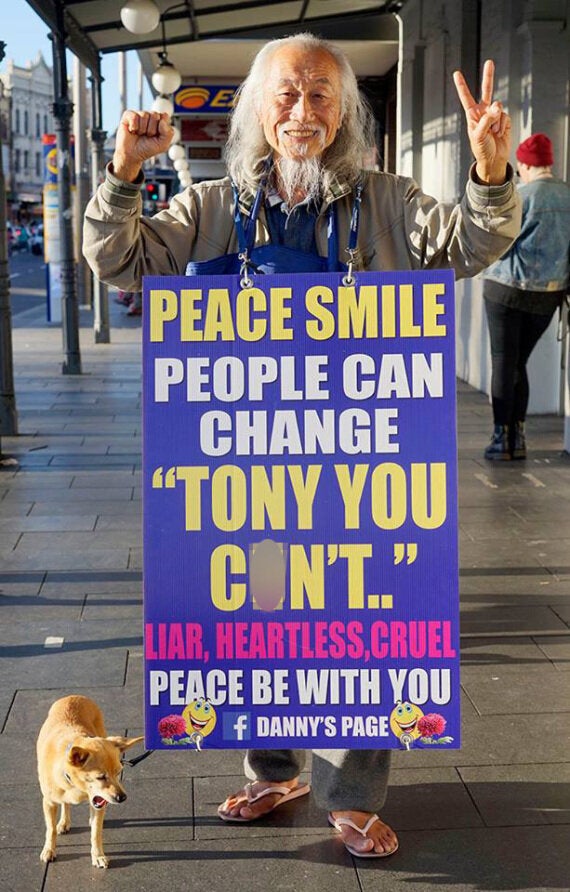 Lim with a similar sign to the one he was fined for (Supplied/Humans of Newtown Facebook)
Rose Bay police said Lim was issued a $500 fine and a move-on order for "offensive behaviour," prompting Lim's legion of online fans to step in.
"We posted the story on our Facebook, and someone said she'd love to help him out. It gave me the idea for a crowdfunding page," said James Brechney, of LGBTI group DIY Rainbow.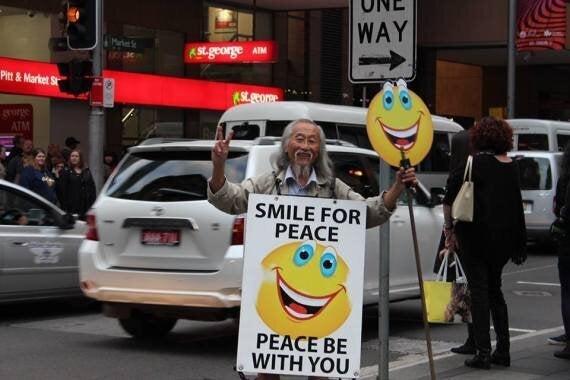 An earlier, less offensive, sign (Supplied/Facebook)
"We should be celebrating Danny. It's sad he got fined for expressing his freedom of speech. I don't necessarily endorse everything he says, but the general vibe is that he should be able to wear the board," Brechney said.
"He spreads so much happiness. All the cars beep as he goes by, he waves along the streets with positive affirmation. He's fabulous. it's such a feel-good buzz."
Brechney said he found Lim at Edgecliff on Tuesday morning to tell him the news. He said Lim was "overwhelmed by the generosity" but planned to fight the fine.
"He'll likely want to go to court to get the fine cleared. He wants the money to go to charity," Brechney said.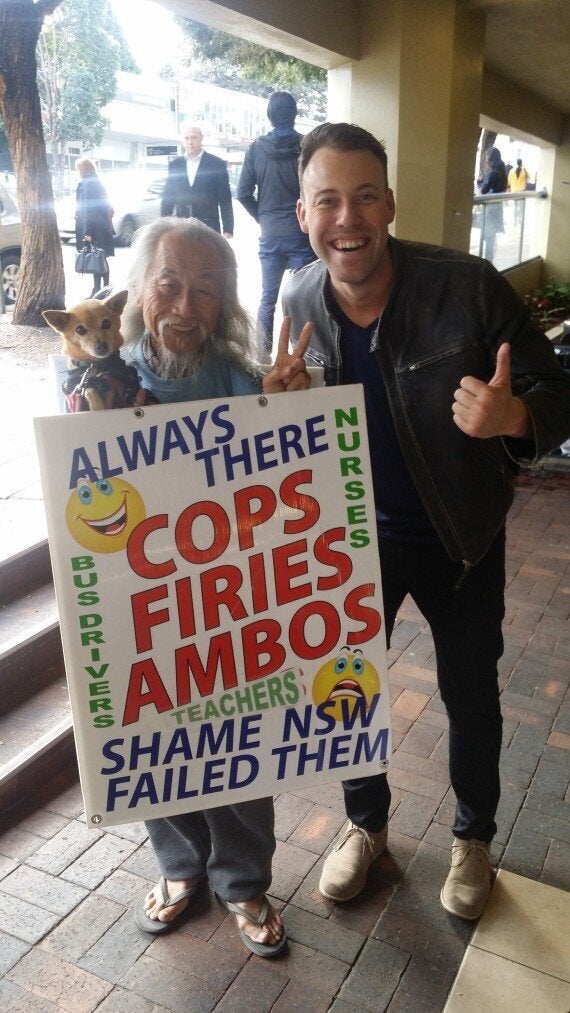 Brechney and Lim at Edgecliff on Tuesday (Supplied/James Brechney)
Lim's Facebook page shows this is not his first outing to spout anti-Abbott sentiments, having made several similar signs in the past.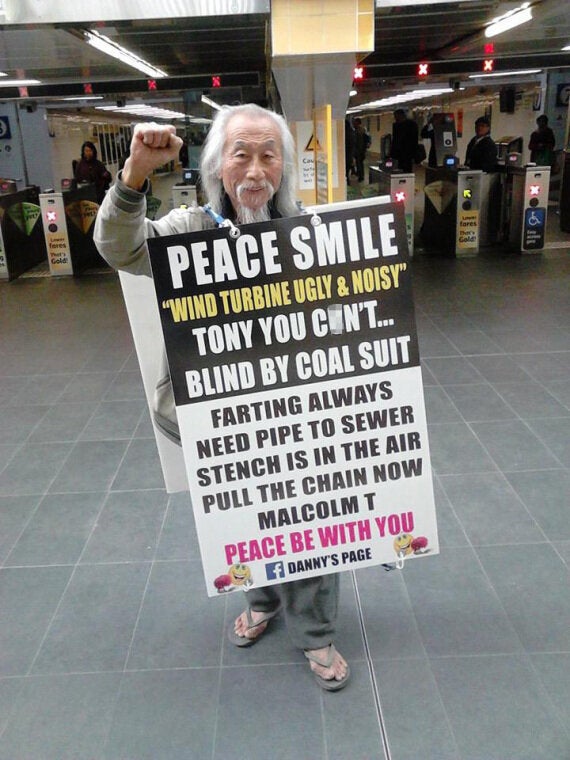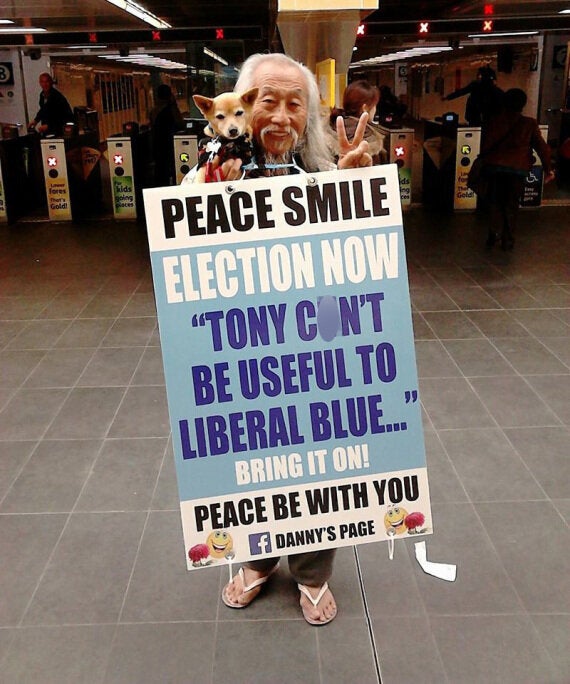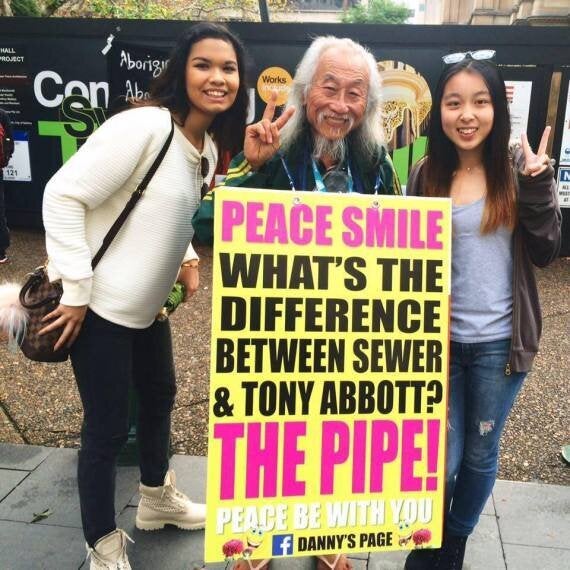 But Lim is probably better-known for his positive, sunny signs.