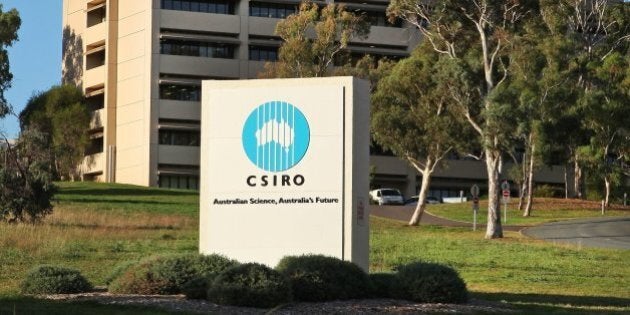 A drop in funding from outside sources has been blamed by the boss of the CSIRO for its planned massive job cuts, which reportedly will be even higher than first reported.
Senior staff from the Commonwealth Scientific and Industrial Research Organisation fronted the Senate Scrutiny of Government Budget Measures committee on Thursday to answer questions about the agency's recent announcement that deep cuts to the Oceans and Atmosphere, Land and Water, and climate change divisions will be made.
Initially, 350 jobs were said to be on the chopping block, but the CSIRO Staff Association claimed on Wednesday the number would be closer to 450.
"The 450 potential job losses comprise of 100 in Land and Water, 100 in Oceans and Atmosphere, 70 in Data61, 40 in Agriculture, 40 in Manufacturing, 40 in Mineral Resources, 20 in Food and Nutrition and 40 in Research Support," Staff Association Secretary Sam Popovski said in a statement.
"CSIRO staff have lost confidence in the Executive management and morale is at rock bottom."
That executive management was grilled by senators in Canberra. CSIRO chief executive Larry Marshall said the job cuts and scaling back of research was due to a dwindling in external funding the organisation received.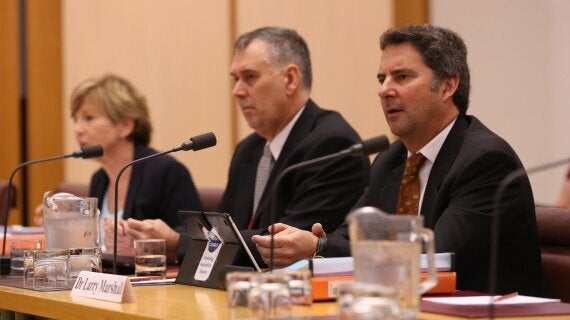 Dr Larry Marshall (right), Craig Roy and Hazel Bennett of the CSIRO, at the Senate committee hearing
"An immediate issue is CSIRO is not in a financial position from its appropriation funding to make up a shortfall in external funding," he said.
"Does this decision result from CSIRO prioritising CSIRO's own commercial returns above a more appropriate use of appropriations for public good research? The answer is no. But as I've explained, the ability to fund the research with the necessary contribution from external revenues is a very practical reality."
Marshall said the organisation was experiencing a "shift of market support" and downsizing decisions had been made "taking into account funding support for our research".
He also levelled blame at media for presenting what he said was "incomplete information, and in some cases incorrect information" about CSIRO's future.
"The last few months have been very disruptive for our staff. Our people have a deep enduring pride in the CSIRO. That pride is built on what were tasked to deliver for our nation through our world class, impactful science... our focus is on giving them certainty about the changes as soon as possible," Marshall said.
"Reports in the media that we're moving away from public good research are very disturbing and confusing for our people, not least because it is not true."
When asked directly about whether a decision had been made on the total number of job cuts to come at the organisation, Marshall said "no".
The CSIRO Staff Association said in its statement it would be appealing directly to Christopher Pyne -- Minister for Industry, Innovation and Science -- for "an urgent intervention" to the funding and downsizing issues.
"The Staff Association is calling on Minister Pyne to suspend the cuts and instigate an independent inquiry into CSIRO's management structure and processes," Popovski said.
"The Staff Association has never formally requested that a Government or Minister intervene to stop a proposal of the Chief Executive; however with the CSIRO jobs crisis only worsening, we have little choice but to seek the help of Minister Pyne to fix the problem."
"We urge Minister Pyne to direct CSIRO to suspend these proposed cuts until after a Federal Election is held this year... Let the public consider if cuts to CSIRO jobs and the abandonment of public good research – including on climate change – are in Australia's best interest."