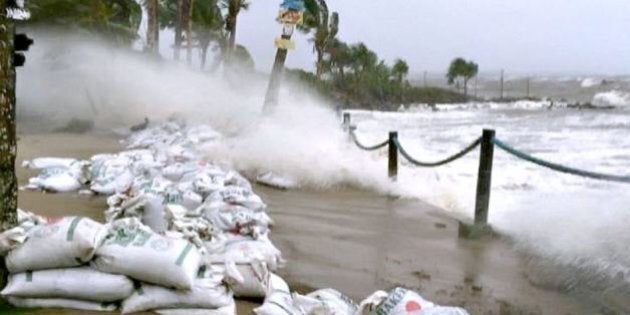 Disaster management services are assessing the damage and emergency aid personnel are on standby in Fiji to respond to the trail of destruction left by Tropical Cyclone Winston.
It has been hailed as one of the Southern Hemisphere's most powerful storms on record.
Tropical Cyclone Winston hit the main island of Viti Levu on Saturday at winds of up to 230 kilometres.
The severity of the storm was later up-scaled to category five, with reports detailing widespread devastation and mass- evacuations.
Local media reported an elderly man died on Koro island in a roof collapse but the death toll is expected to rise.
Prime Minister Frank Bainimarama declared a 30-day state of emergency and a nation-wide curfew on Saturday evening.
Locals and emergency personnel have woken up this morning to scenes of destruction.
CARE Australian spokeswoman Anna Cowley is on hand in mainland capital city, Suva.
"It was a pretty hairy night here in Suva. We could definitely feel the cyclone passing. The power had cut out pretty early on so we were sitting here listening to the wind...the noise was incredible," Cowley told The Huffington Post Australia.
"For the people along the north coast of Levu, the situation would have been much worse."
Concerns have been raised for outer-lying islands, particularly those in weaker housing, as Cyclone Winston continues to move across the region.
According to the latest situation update from the National Emergency Operation Centre, it was located approximately 180 kilometres west of Nadi this morning, and is moving west.
Cowley reported significant damages to communication with broken down power lines and damaged highways maintaining a power outage across the mainland.
"The roads in the north have been hard hit, which makes it difficult for teams going out to make assessments.
"This usually happens in the aftermath of a cyclone. It takes time for information to come in."
The National Emergency Operation Centre will be holding a meeting later this morning to brief standby emergency agencies.
Foreign Minister Julie Bishop said the Government had offered Australia's support to Fiji.
"I have been in touch with my counterpart [in Fiji] and I have offered Australia's support and we have in place pre-position supplies in Suva that are available," Ms Bishop told ABC's Insiders.
"I have also offered the ADF to send a P-3 Orion so we can carry out aerial surveillance, particularly in the outer-lying islands and do a needs assessment.
"At this stage, I believe, the Fijian Government is coming to terms with the damage. We know there has been one fatality and our thoughts are with all the Fijian people at this time."
About 1300 Australians are registered with the Department of Foreign Affairs and Trade as being in Fiji, although the actual number is thought to be much higher.
Australians who are unable to reach their friends or family in Fiji and hold concerns for their welfare are urged to contact the Consular Emergency Centre on 1300 555 135.