Cynthia is the first black contestant to appear on the Australian version of Love Island.
The 23-year-old model, who was born in Liberia, west Africa and moved to Australia at age seven, was rejected by Matthew when she showed interest in him, only to then be matched with Sam as they were the last two standing solo.
"One good thing to come out of this is the producers give us the opp to discuss inherent racism in Aus. Would have loved to see less tokenism. Cynthia is brave to put herself out there," one viewer wrote on Twitter.
"Women of colour not getting picked. #diversity #LoveIslandAU," wrote another.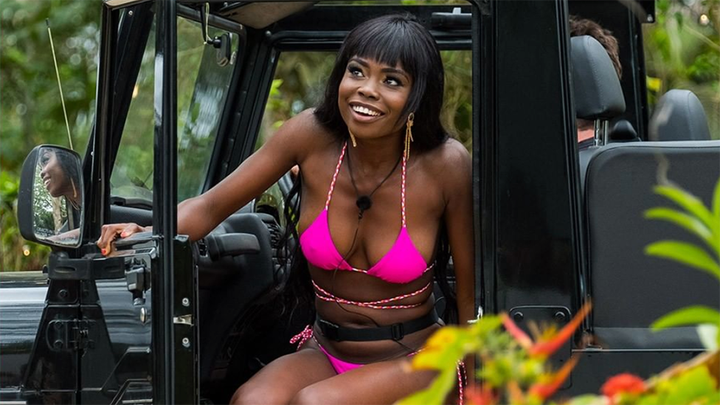 HuffPost Australia has contacted Channel Nine for comment.
Cynthia is proud of her cultural heritage, and having entered the Love Island villa Monday, there's a critical part of her identity that she isn't showing off.
The model from Brisbane has been vocal about the challenges she's faced with her Afro-textured hair, admitting showing her natural hair leaves her feeling "vulnerable" as "it's letting the world know who I really am, and stripping off the layers is confronting."
Cynthia arrived at the Fiji filming location sporting shiny brown locks with a bold front fringe – a very different look to her naturally curly black hair which she's presented in a previous blog post.
"Growing up in Australia, I always envied my Caucasian friends' hair – the texture, the length, and the ease of maintaining their hair," she wrote for Ascension magazine in 2017.
Cynthia initially came to Australia with her biological father before moving in with her aunt, and it was during her schooling when she experimented more with her hair. She wore her hair braided with extensions or clip-ins up until high school, before wearing a "full set of weave" or "relaxing" her natural hair, which involves chemical straightening.
"Extensions were always the easier option, and from a young age I associated long hair with beauty. I couldn't see the beauty of my natural hair; it was like a rebellious child I could never quite tame," she wrote.