Darío Ramírez met his fiance, Maryangel Espinal, in church a year and a half ago, so it made sense to him to propose in a religious setting.
He did that ― and then some ― on Sunday, when he used his audience with Pope Francis as an opportunity to ask Espinal for her hand in marriage, according to Inside Edition.
Ramírez is a former lawmaker and political exile who left Venezuela in 2014 and is now living in Panama. He and Espinal were at the Vatican as part of a delegation of Catholic legislators from around the world.
Ramírez spent a few minutes chatting with the Argentina-born pontiff about the political and economic upheaval in Venezuela before changing the subject to something happier ― a surprise for Espinal.
"She thought we were just going to talk about Venezuela," Ramírez told the National Catholic Register. "But I then said to the pope: 'There's a third thing I want to ask you.'"
Espinal was shocked and feared he might ask the pope for a selfie, Ramírez said.
"I explained to the Holy Father that the woman next to me is the woman of my life," he recounted. "I met her in church, that God put her in my life, and I want to propose to her. So I got down on one knee and asked."
Pope Francis was impressed, saying, "Wow, in front of the Pope!" according to Ramírez. The pontiff then addressed Espinal, who had been quiet.
"She's not speaking — he asked you to marry him, what do you say?"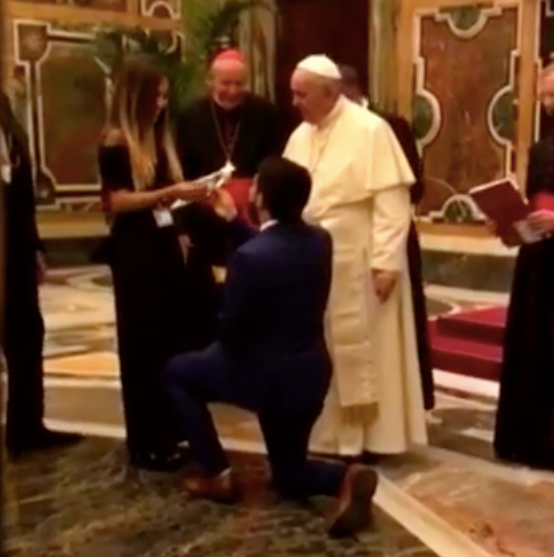 Once Espinal got over the shock of being proposed to in front of the pope, she replied, "Yes, of course."
The couple then received a blessing from the pontiff, according to The Telegraph.
The crowd of other delegates cheered the proposal.
"The African delegates made the loudest noise, singing and cheering," Ramírez said, according to Inside Edition.
Although both the pope and Espinal were shocked by the proposal, Ramírez said he obtained permission in advance from a cardinal.
Ramírez and Espinal celebrated their engagement by going on a short trip to Paris, according to The Associated Press.