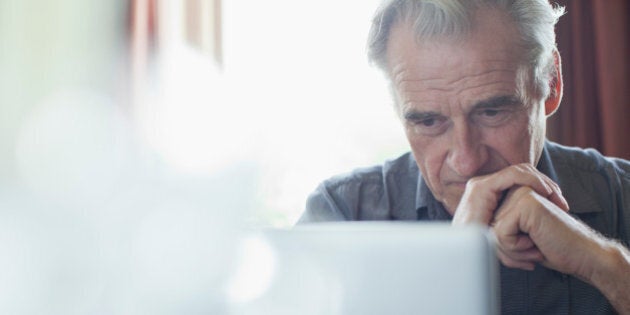 Like many of us, Jan Marshall thought she would be the last person in the world to fall for an internet dating scam. That was until, in 2012, she met a man online and started a relationship which would ending up costing her over $260,000.
"I had people warning me about the relationship in the early days, but I didn't think too much of it, to be quite honest," Marshall told The Huffington Post Australia. "I'm an intelligent, positive sort of person. I didn't think it would happen to me."
Marshall met the man -- who said his name was Eamon -- on dating site Plenty of Fish. In a bid to be closer to her family, she had just moved from Brisbane to Melbourne and wanted a companion to explore her new city with.
"That's when somebody in Canada got in contact with me," Marshall said. "I wrote back to him saying 'I'm over here in Australia,' but he replied that he would go anywhere for the right person."
"There was a month of increasing sharing, increasing intimacy, and increasing professions of love. He would say things like 'this is special' or 'this is meant to be'. After about five weeks he obtusely asked me to marry him, and I said yes."
Then came the requests for money.
"At that time he was taking a contract to do engineering work in Dubai," Marshall said. "And he said he needed some help with some taxes he needed to pay. I really wanted to be in partnership with this man. I thought 'my money is your money' and so I gave him a large sum.
"I did, at that stage, believe it was a loan and I would get it back. I just thought he didn't have access to his funds at this particular time."
Over the coming weeks the requests didn't stop -- there were materials needed for his building, he was robbed -- to the point where Marshall one day received a phone call from a woman purporting to be a nurse in a Dubai hospital.
Eamon had been in a car accident, Marshall was informed. The driver was dead and Eamon was in intensive care and required money for his medical bills. Once again, Marshall forked out.
"In total, I paid out over $260,000," Marshall said.
"I just didn't believe it could be a scam due to the level of intimacy that been developed.
"I didn't think a scammer would be interested with me in that way, or would be so intimate with me -- and that's including cyber sex, by the way. It was quite a shock when there was no more contact."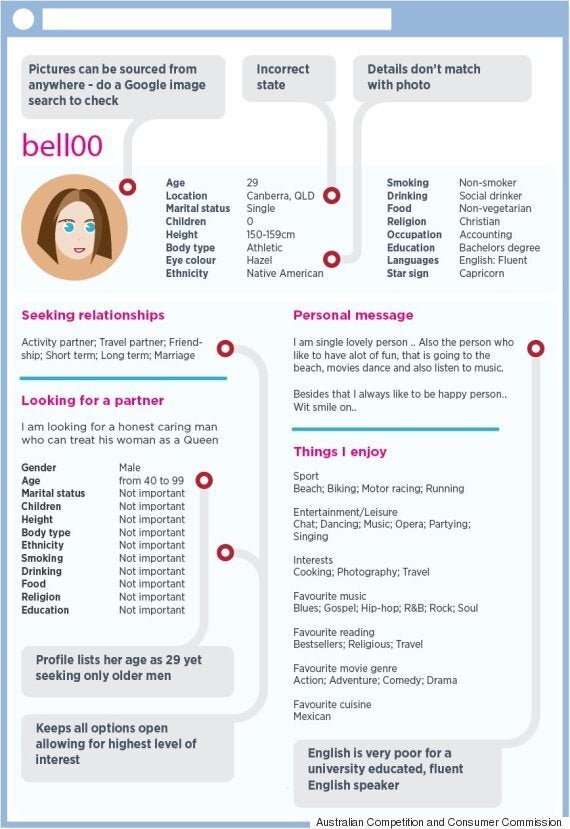 Tips on how to spot a dodgy profile page.
Though Marshall's story seems extraordinary, dating scams are more prevalent in Australian society than you might expect, particularly in the age group of 45-55.
In fact, according to Scamwatch, they have cost trusting Aussie romantics $14,834,205 already this year. As of October 12, there have been 1,755 reports made to Scamwatch about online relationship scams, with 33.8 percent of those resulting in financial losses. The 45-54 year age group is the highest by far, with 295 reports filed this year.
And those are just the people who have had the courage to come forward. According to Delia Rickard, Deputy Chair of the Australian Competition and Consumer Commission, the real figure is most likely much bigger.
"This really is the tip of the iceberg," Rickard told The Huffington Post Australia. "We know in 2014, $28 million was lost from reported dating scams, but I think the actual figure would be much higher. We know it's under-reported, because people are too embarrassed to admit it happened to them.
"The age group of 45-65 is where we see most of the victims and most of the losses, across a fairly even split of men and women.
"I think there are a couple of reasons for that -- namely that demographic tends to have a bit of money and are close to retirement age. A scammer isn't going to go for a broke 20-year-old.
"Also it tends to be when kids leave home or divorces happen -- when people are feeling lonely."
One thing both Richard and Marshall stress is that a relationship scam takes a lot of effort on the behalf of the scammer -- more than people may realise.
"I think the term 'scam' is a bit of a misnomer," Marshall said. "A scam sounds like it's just a little trick. But with dating scams, it's much more. It's the deliberate and professional defrauding of people through emotional manipulation. People have no idea how professional they are at doing this."
"They are very patient. They wait until they are really confident they have love and trust from the other person," Rickard said. "They isolate the person from others -- saying things like 'this is our little secret world'.' They get inside the person's head.
"They will call every day, email every day, they'll send flowers. The first time they borrow money, they sometimes repay it, just to build that trust. These are very long term scans and they pay off in a very large way."
Sadly, Richard said even after the victim realises they have been scammed, they mourn for a relationship that never even existed.
"Even people who know they have been scammed say it was one of the most happy experiences in their lives," Rickard said. "They want so badly for it to be true."
"You're just devastated," Marshall said. "There are three layers of grief. One is the loss of that relationship, the second is the loss of the idealised future you were planning together, and the third is the loss of your money."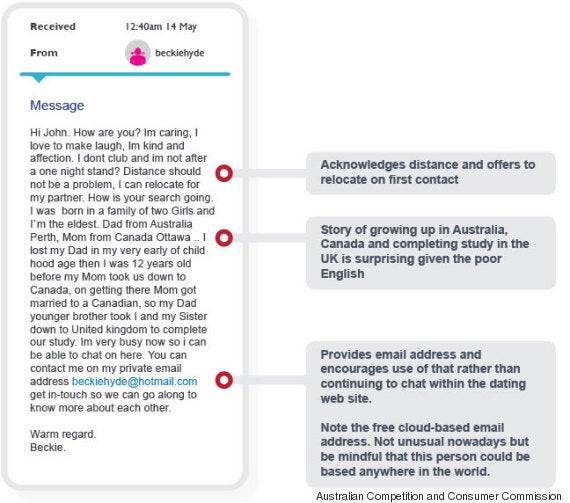 Of course, in today's tech-savvy world, online dating isn't going anyway. So how do you know if you're being tricked? According to Grant Langston, vice president of brand marketing at eHarmony and online security expert, one of the easiest ways to find out is to suggest meeting face-to-face.
"The best way to make sure you're not being tricked is to have coffee with the person," Langston said. "At the end of the day you want a relationship -- you're here for relationship -- not for a pen pal.
"They are almost never in the city they say they are in."
Langston also says to be aware of what kind of questions they are asking early on.
"They will try and get knowledge from you. Information on where you live, your address, your children's names and first pet's names -- things that people tend to use as security questions," Langston said.
"They will try to get access to your computer and your accounts. You definitely want to watch in the early days in terms of what you're sharing."
Rickard suggests turning to good old trusty Google to help determine if anything is suspicious.
"When it comes to the flowery language -- when someone is declaring their love for you, that type of thing -- type the words word for word into Google," Rickard said.
"There are entire scripts that have been written in order for a scammer to maintain lots of relationships at once. It's a big business. Other victims may have posted that's what they said after the fact."
Google image can also assist when in comes to double checking the authenticity of someone's profile picture.
Other things to watch out for include whether or not the person tries to get you off the site very quickly, profess their love very quickly, or have a webcam that is continually on the blink.
This last and most significant red flag -- the request for money -- is when you can be confident you're being taken for a ride.
"I think the best way to protect yourself is to understand that you don't know this person," Langston said. "You may have talked to them -- you may have had very intimate conversations with them via phone or text -- but they are total stranger to you. Keep that in mind.
"Whatever other details there may be, you can't ever give someone money to somebody you've met online. You just can't do it."
Another big no-no is sending said person any material which could be used for blackmail later on.
"Do not share intimate photos or videos of any kind," Rickard said. "Once the person finally realises they are being scammed and stops sending money, the scammer can use that material to blackmail a person into sending more.
"Quite seriously, people kill themselves over this. It's far worse than other scams which which cause financial devastation. People can find they have spent all their retirement money or become alienated from their families."
Do you think you've fallen victim to an online dating scam? Report it here.