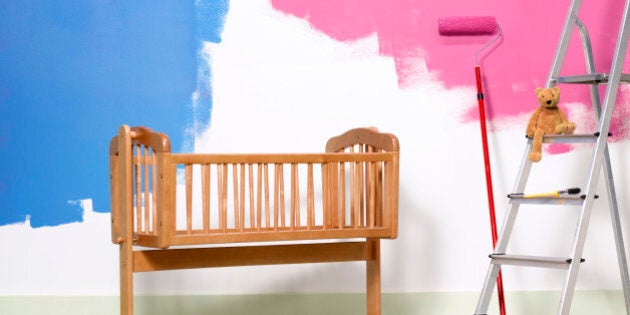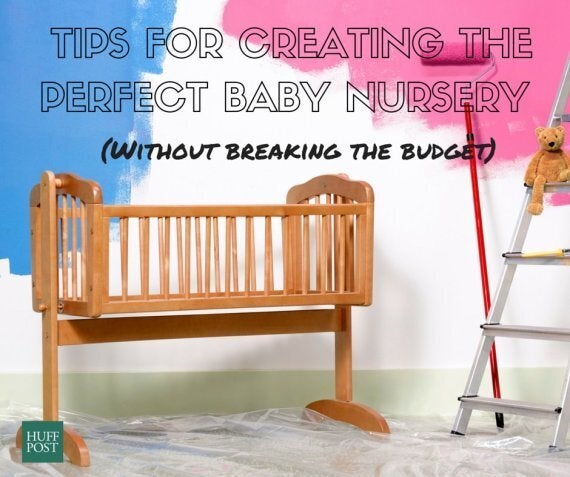 There are a lot of things to do when planning for the arrival of a little one. Breaking the news, choosing a name, adjusting to changes of both body and mind... and, of course, preparing the nursery.
But before you rush out and buy litres of pink, blue or "gender neutral" paint (seriously, though, put the Pantone guide down) you might want to invest a little bit of time planning how best to make your future baby's room not only aesthetically pleasing, but practical as well. (Fact: you will get more use out of a decent nappy bin than a giant fairy mural plastered across the wall.)
The good news is, according to Jen Bishop, founder of Interiors Addict, it's completely achievable and better yet, you don't have to break the bank. The blogger and mother-of-one took some time to share her tips and tricks for creating the perfect nursery.
What are some of the first things you should consider when planning a nursery?
"I think it's nice to start with a vague look and feel you're after (create yourself a mood board of sorts on Pinterest) but without getting too rigid about a theme or colour scheme," Bishop told The Huffington Post Australia.
"If I'm honest, I think most mums design nurseries for themselves rather than their babies, who are too young to care anyway! And I really don't think there's anything wrong with that. Planning the nursery is a huge part of getting prepared for and excited about your baby's arrival, practically and psychologically."
What should a good nursery have?
"It should be somewhere both mum and dad and the baby will enjoy spending time, have heaps of storage and all the practical things like somewhere to change nappies, dispose of nappies, put clothes and all the other things that come with babies out of reach of babies, who start crawling and walking before you know it!
"It also needs to be safe, so some considerations there would be making sure there's adequate ventilation around the cot, that nothing is hanging precariously on the wall over a cot, that there aren't loads of cushions and toys in a cot which could present a suffocation hazard, etc."
Does it have to cost an arm and a leg?
"Of course not! Many things can be bought secondhand or from places like IKEA. It really is up to you how much you want to spend. Other than making sure things are clean and safe, there's no need to have brand new. The one exception to that I'd say would be getting a brand new cot mattress."
Is there really such a thing as "gender neutral"? What colours and designs would you recommend for those not finding out the sex?
"You can definitely have a gender neutral nursery without it having to be yellow! The trend for monochrome nurseries is still alive and well if that floats your boat.
"Personally, I prefer a more calm feeling in a nursery with softer hues. Colours like mint green and grey are great, and you can add accessories later, in perhaps coral for a girl or navy for a boy. I think you can have whatever you like though and there's no need to have a preconceived notion of what's a boy colour and what's a girl colour."
What nursery items have you found to be invaluable?
"I think anything for storage is great. I have loads of baskets for toys and love these paper bags too; great for chucking soft toys in. I've also recently invested in a Sangenic bin (so glamorous!) which wraps smelly nappies! This is one of those things I thought would be a silly waste of money until I needed it."
On the flipside, is there anything you bought you found you really didn't need?
"In hindsight, living on one level, we haven't used the video monitor as much as we thought, but it's something nice to have for peace of mind anyway."
Are there any stores you would recommend?
Any mistakes you made you would like to share?
"I almost put the change table in the wrong spot, but my friend pointed out that you need to be able to access the end of it, not the front of it, for changing nappies!"
What is your favourite thing in your son's nursery?
"It's a tough call between his navy (my favourite colour!) cot from Pottery Barn kids and his custom mint change table from Incy Interiors."
What would be your general advice to a new mum planning her nursery?
"Have fun with it and enjoy the process. I spent a lot of time sitting peacefully and quietly in the nursery before Sebastian was born, getting my head around the big life changes ahead. I thoroughly enjoyed planning and decorating his room. It's unlike any other room you'll design in your home."
For more of Jen's style tips, follow her on Instagram. Or you can check out some other Insta nursery inspo below.