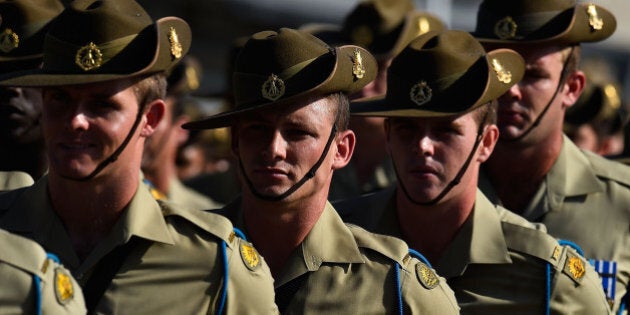 Defence spending will almost double by 2025, as Australia embarks on a major military spending spree including "the most ambitious plan to regenerate the navy since the Second World War".
The Turnbull government's first defence white paper was released on Thursday, outlining how almost half a billion dollars will be spent on the military in the next decade. Defence spending will jump from $32 billion in 2016-17 to nearly $59 billion by 2025-26, almost doubling expenditure in just 10 years.
The total military spending over that decade, around $448 billion, will include an additional $30 billion over previous defence spending plans.
Many of the headline-grabbing items have already been outlined, hinted at or leaked to media, but confirmation of the military hardware plans finally gives proper scope as to the government's defence priorities, which include replacing or upgrading ageing infrastructure and investing in new technology to keep at the front of the pack.
The 12 "regionally superior" submarines, replacing the older Collins-class fleet of six submarines, is being called "largest defence procurement program in Australia's history".
The white paper documents state that 25 percent of defence capability expenditure over the next decade will be dedicated to maritime capability and anti-submarine warfare, and while exact cost figures for the submarines -- to be built in South Australia – is not outlined, it is expected in excess of $50 billion will be invested into the 12 subs.
Nine anti-submarine frigates, 12 new patrol vessels, another seven Poseidon aircraft, upgrading our fleet of Abrams battle tanks, and new Chinook battlefield lift aircraft are also on the agenda.
Australian Defence Force bases are also up for upgrade, with "many" existing bases to be looked at and renewed.
The most significant upgrade is said to be set for Sydney's Garden Island base, a $700 million upgrade over the next ten years.
Australia is also looking to invest in a new long-range rocket system during the 2020s, with a range of 300 kilometres.
With new hardware, comes the need for new people to handle it. The ADF's permanent workforce is expected to grow to more than 62,000 by 2025-26, while the public service will take on 1200 new positions to deal with intelligence, cyber security and space-based capabilities.
"These new positions will be accommodated within an APS workforce of around 18,200", the paper states.
Looking more broadly at the country's defence situation, the white paper says that a military attack on Australia is a "remote" possibility in coming years, but notes increasing potential for threats from space and cyber space.
Also noted is that "Australia will continue to be threatened by terrorism at home and abroad," and that the defence force will provide "important capabilities" for domestic counter-terrorism.