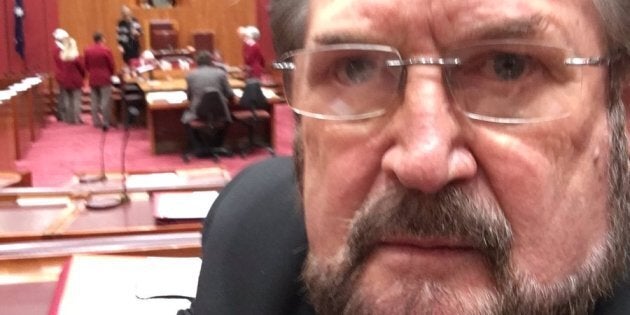 CANBERRA –- Less than 24 hours after being caught "resting his eyes" in the Senate, newly sworn in Senator Derryn Hinch is risking the wrath of the upper house gods by taking a selfie in the chamber and posting it to social media.
The rebellious act is against the Senate's very strict photography and filming rules which the Justice Party Senator is leading a charge to relax.
The extreme close-up selfie was posted with the words; "Taken the NoDoze. 1st person into empty Senate today. No cameras. Bugger."
The Human Headline is certainly spritelier than when he appeared during the Governor-General Sir Peter Cosgrove's 40 minute speech to open the 45th Parliament.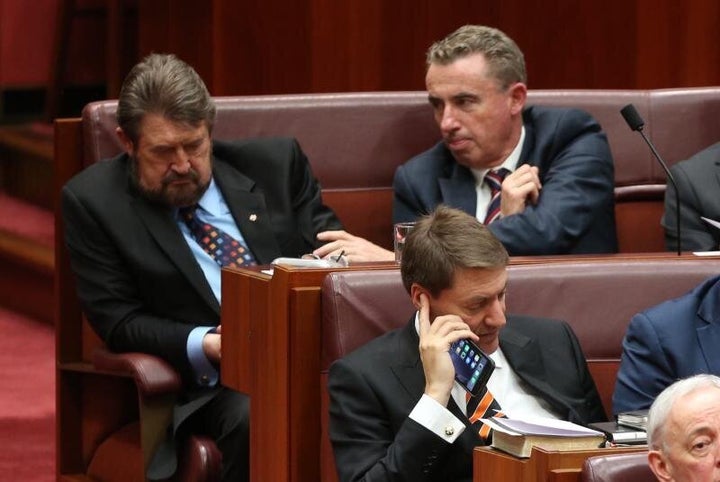 "Resting eyes" or completely nodding off during the speech written by the Prime Minister's office, Senator Hinch took it on the chin.
The Deputy Prime Minister Barnaby Joyce had sympathy for the crossbench senator, indicating he too struggled in the lengthy speech.
"He was not alone. Let's put it that way," Joyce told Sunrise.
"Go up and get a glass of water."
"Welcome to the Senate. It looks so good on Hollywood. But there is a lot of mundane grinding. It will test your patience and test your character."
Despite the "gotcha," Senator Hinch still wants the rules, that don't allow candid photos of Senators, relaxed.
"Yesterday, the rule was abandoned for one day so I became the first victim of the rule I want to impose," he told ABC News Radio.
"But I still want it, and I'm glad it was me in one way because if it was a senator who was opposed to it, he'd use that as weaponry saying to other senators: 'Don't vote for Hinch's bill because we'll all get caught doing this'."
The Usher of the Black Rod has been sought for comment.