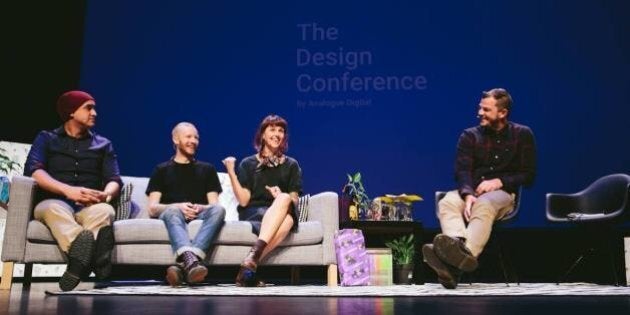 Brisbane is on the brink of change. At least, that's what Matthew Haynes, founder of Analogue Digital -- a start-up that brings the world's most innovative artists to the Sunshine State during an annual design conference -- will tell you.
The conference, which takes place in May is Hayne's passion project -- which aims to add an international touch to Brisbane's creative scene by curating a list of some of the biggest names in the industry. The headliners this year? British street artist, D*Face (an associate of Banksy) and New York typographer Jessica Hische.
"The primary reason for hosting The Design Conference is because I feel the creative industry here in Brisbane is somewhat fractured compared to other Australian cities like Melbourne, Sydney and Adelaide," Haynes told The Huffington Post Australia.
"We want to glue the creative leaders in Brisbane to the next generation of creatives, binding them together over a common love for creative business, design thinking and world class popular culture."
The project was conceived in 2009 and this year turned to the crowdfunding platform Pozible to raise additional funds as a means to pay the international artists on the roster.
"I quickly learnt you can't just pay world class artists a few hundred dollars because these people get paid that in an hour," Haynes said.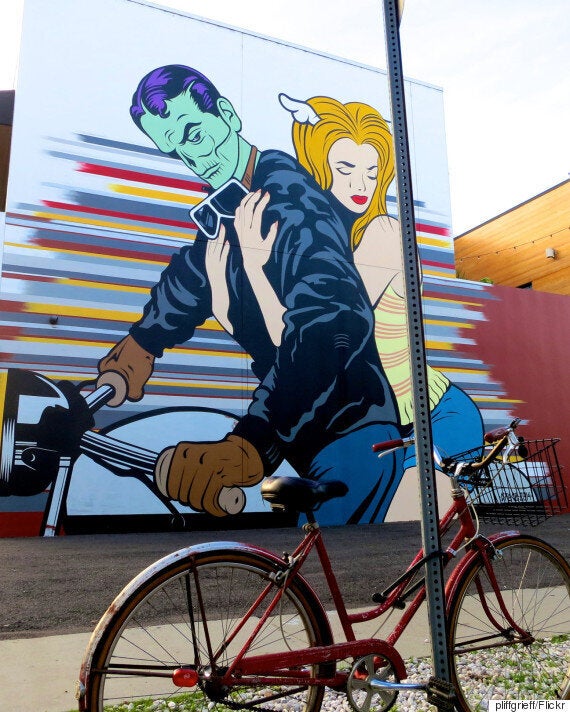 D*Face's 'Last Ride to Rocklyn' mural in Culver City, Los Angeles.
On Wednesday, the Pozible campaign reached $15, 000 as Haynes revealed Jessica Hische as the fourth international presenter with one more artist to be announced upon reaching the target of $20,000.
Ticket holders can expect two days where they'll experience presenters sharing ideas, discussing their creative philosophy, what keeps them up at night, their fears and ultimately, connect with the audience on a human level.
"When you have some of the best creative directors on stage dropping talks that are just mind-blowing -- it's pretty powerful stuff," Haynes said.
Haynes, who has a Bachelor of Graphic Design however describes himself as a "horrible artist" said he was on a mission to provide young people with the skills and knowledge to be able to build innovative products that made life more efficient, drove the economy forward -- and provided the people of Brisbane with a creative community they wouldn't want to leave.
Andrew Gibbs, creative director of Human Ventures explained there was a time when he felt as if all of his artist friends were leaving Brisbane for more opportunities elsewhere.
"I noticed a long time ago that certain creatives, when they got to a point in their career, would decide Brisbane couldn't offer what they want and leave for places like Melbourne or Berlin," Gibbs told HuffPost Australia.
This took a toll on what was once a thriving underground scene. It also coincided with the cease of the annual festival, Straight Out of Brisbane in the mid-2000s.
"It was a bit of a catalyst in my world -- things took a shift and it was everyone for themselves. There was no longer a community of artists and the creative scene became quiet," Gibbs said.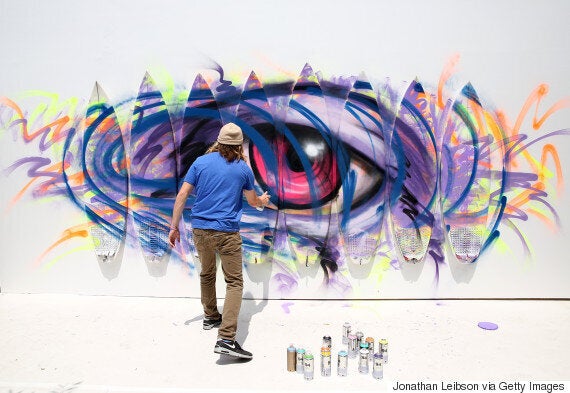 California-based artist Madsteez headlined last year's design conference.
But with the rise of social media and ease of access to technology, Gibbs said he believed that in the last five or so years Brisbane's art scene was reinvigorated.
"The line between experimental, underground and mainstream has been blurred nicely. It seems like now, underground artists are being valued and supported -- and the mainstream is interested in what they're doing," Gibbs said.
There's been a rise in one or two person teams starting events and festivals -- a lot of them, simply making it happen without grants or funding.
"This sharing economy approach of linking up venues with artists is becoming more and more popular -- and it makes sense," Gibbs said.
"But you can't just flick a switch and have a vibrant laneway community like Melbourne -- that took decades."
Of course, as the city continues to emerge and these events and festivals gain traction, Gibbs explains the importance of building a creative hub that's unique to Brisbane.
"Melbourne's the graffiti and street art capital of the world and there's always something going on in Sydney," Haynes said.
"But I think things are about to turn around in Queensland. I think Brisbane's best creatives are on the verge of saying 'you know what Sydney? We're not going to uproot our entire lives for the sake of your industry success. We're just going to try and make it happen here in Brisbane,'" said Haynes.