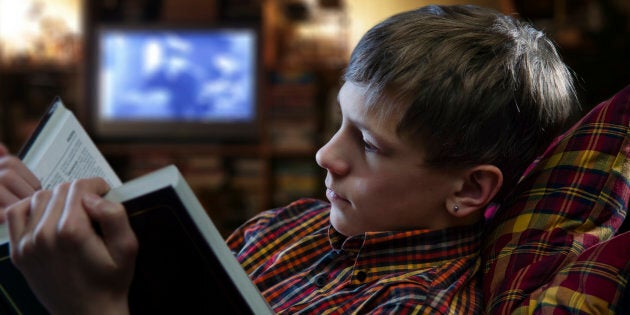 From 'Snapbook' to 'Tingram', streaming to gaming, augmented reality to reality TV, the way we are entertained is constantly changing. The next big technological advance emerges and then it's everywhere, happening so quickly that it can be hard to keep up.
But, watching the ballet recently, I was struck by the reverse. The costumes, the music, the story, the movement, all have changed remarkably little since audiences sat down to the first performance of Giselle in 1841.
While many forms of entertainment have evolved, leaving previous incarnations behind them, some continue to closely resemble those enjoyed long ago.
Despite the introduction of ebooks, and early predictions of the death of the hardcopy book, the way we read is another type of entertainment that has remained largely unchanged. We still love to read words printed on a page, smell the paper and feel the weight of a book in our hands.
And, while the stories might have changed, there is a certain sameness that continues to capture the reader's imagination. Just like in the world of ballet, some of the oldest stories remain our favourites, despite the passage of time.
In a way, it is comforting that while so many new entertainments might compete for our time, a love of reading provides a link between Australians then and now.
This year marks 200 years since Jane Austen's death, yet her books, most notably, 'Pride and Prejudice', are often cited as favourites by today's readers, and continue to attract new readers every generation.
Many books on The Guardian's list of the greatest books of all time were written over a century ago, yet more than a few remain familiar to today's readers, including: 'Anna Karenina' by Leo Tolstoy, 'Don Quixote' by Miguel de Cervantes Saavedra and 'Madame Bovary' by Gustave Flaubert.
Classic literature also endures for children, with 'Winnie the Pooh', 'Charlotte's Web' and 'The Very Hungry Caterpillar' enchanting today's young people in the same way they did their parents, and sometimes even their grandparents.
Researchers are exploring the reading habits of generations before us, revealing how much, and how little, has changed. In the UK, researchers have used the world's largest database of reading habits over the past 500 years to glean information about what, why, and how people read.
While books were more likely to be read aloud in public during the 1800s than today, there are many similarities in what we read, and the way we read, then and now.
For one thing, books proved to be a point of contention and conversation between readers, with opinions on the latest bestseller just as divided as they are today. The research has uncovered debate about the literary work of Charles Dickens -- while some working-class readers spent their small earnings on a copy of 'David Copperfield', others believed Dickens' works could turn a reader of books for life.
Similar differences of opinion greet the publication of many of today's bestselling novels, most notably 'The Da Vinci Code' and 'Fifty Shades of Grey'.
Closer to home, a study of the reading habits of regional Australians, conducted using library records from between 1860 and 1918, revealed a surprisingly cosmopolitan culture of reading. Those who used the library service had a varied taste in literature which took in the works of local and international writers. According to researcher Julieanne Lamond:
"These regional Australian readers were not as culturally isolated as you might expect -- they were very actively engaged with the latest fiction, especially the mass-market genres of the mystery, detective and thriller that were emerging with the birth of mass reading and best sellers at the turn of the century."
This research points to a strong tradition of reading among Australians, both in cities and regional towns, and some of yesterday's most popular genres remain bestsellers today -- just ask James Patterson, Lee Child or Patricia Cornwell.
In a way, it is comforting that while so many new entertainments might compete for our time, a love of reading provides a link between Australians then and now.
As Thomas Carlisle said: "In books lies the soul of the whole past time."
In reading them, we are connected not only with those who wrote them, but with those who read them before us. It is a slow, low-tech form of leisure that promises to endure long past the used-by dates of today's next big thing.
Of course, like new and exciting ballets, styles of literature evolve and take on new shapes, and different genres emerge; even the words we use and read change over time. Read 'Jane Eyre', 'The Way We Live Now' or even 'Anne of Green Gables' to see the way language has evolved.
Yet, the essence of reading remains the same, providing us with an experience of leisure that continues a long tradition. Perfected long ago, there is no need for change.
_____________________________________
ALSO ON HUFFPOST AUSTRALIA
Popular in the Community