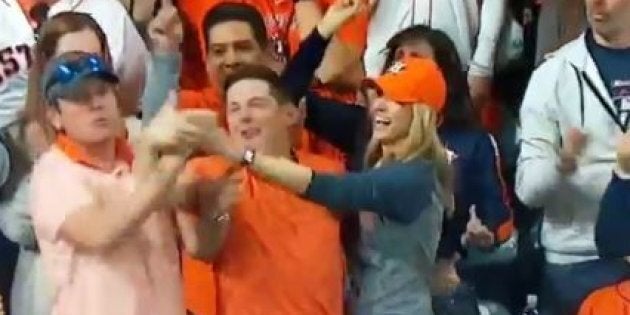 Game five of baseball's World Series between the Houston Astros and L.A. Dodgers was utterly engrossing. The lead changed no fewer than seven times, as the game went into extra innings tied at 12-12.
With so much happening on-field, you wouldn't think an off-field incident would generate all the banter. But that's exactly what happened, because what transpired in the stands was either terrible or fabulous, depending on your point of view.
The raw facts, as witnessed on television by this reporter and backed up by the likes of sportswriter Will Brinson, are these: Yasiel Puig of the Dodgers slams a home run into the crowd. Woman catches it. Man grabs it off her, throws it back.
Which was ungentlemanly and plain rude, right? Right.
Unlike at the cricket here in Australia, baseballs are fair game for fans to keep. World Series balls are especially prized, and have pretty solid resale value for collectors.
With all that in mind, you can understand why U.S. sports site Deadspin, which thrives on cool stuff like this, called it "Televised Larceny", and added the riff from "Been Caught Stealing" by Jane's Addiction for good measure.
As mentioned, however, there's a flipside to this argument.
Back in 1969, a Chicago Cubs fan threw back a home run ball as if to say "we don't want this here". It has since been regarded as a sign of true fandom to hurl the ball back if the home run was hit by a player from the away team.
Some thought that the act of the fan throwing the ball back on field was the act needed to appease the baseball gods and turn the match Houston's way.
The sensible middle ground seems to be this: that OK, sure, throw the ball back if you caught it yourself. But not if someone else did. That's just wrong.
The Astros have never won the World Series, and you can't help thinking it would be a nice cheer-up for a city that took such a major hit in hurricane season this year.