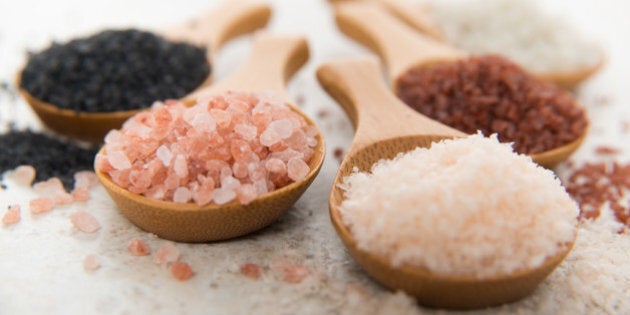 Himalayan Pink. Himalayan Black. Murray River Pink. Black Lava Black. Persian Blue, Peruvian Pink and Vintage Merlot...
Believe it or not, this is not a list of fancy-sounding colours from the latest Pantone catalogue. These are, in fact, types of salts (and we haven't even gone near truffle, chilli, chicken or garlic yet) -- but do we really need so many? And are they actually any different, or should we save our pennies and stick to our trusty SAXA?
According to senior manager of Melbourne's Gewurzhaus Herbs and Spices Merchants, Sadie-Jane Berinson, it's all about variety (it is the *spice* of life after all. #lol #sorrynotsorry).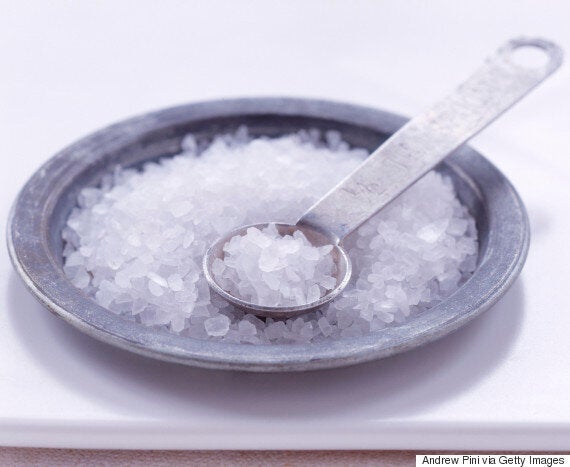 Plain old white rock salt.
"I think that with the range of salts that we have, it's really about the luxury of being able to display and offer a range from all over the world, and that clearly have visually different and exciting properties," Berinson told The Huffington Post Australia.
"If I'm being really analytical, yes, it's probably a bit of a novelty, but it's also really, really interesting that there are so many different kinds. Obviously there's salts from inland -- rock salts that come from the ground or under the ground and are mined -- or there are sea salts and lake salts that are harvested by hand and provide a totally different textures."
"In terms of demand, more and more people are becoming very interested in the different sorts of salts. I'd say it has definitely increased."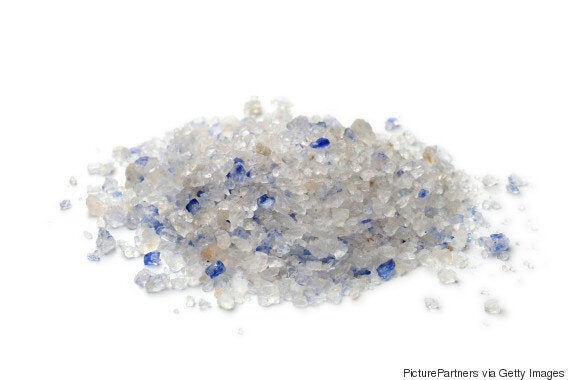 Persian blue salt. Fancy.
Berinson is quick to point out unless the salt is mixed with another herb, such as chilli or garlic, the differences in taste are very, very subtle. (I mean, let's be real. They're all salty.) However, there are other ways in which to differentiate the types of salt you consume.
"My way of identifying differences often has to do with texture, and the romance I suppose, of where each salt has come from -- the history, the way they are harvested and the application to cooking," Berinson said.
"They vary in that they are harvested differently and the way in which they are mined. Rock salt tends to be large crystal shape that needs to be ground into a more palatable crystal, whereas sea salts tend to be more flaky and delicate."
And in terms of colours -- what's the difference? Well, quite a lot, according to Berinson, even within each colour group. For example, black salt.
"There are quite a few different black salts. For instance, the Himalayan black salt comes from the veins that run through the Himalayan pink salt. They're from the same region, but it's how they were compressed over time that changes their colour. The black salt from the Himalaya region is higher in magnesium than the pink, however, and quite salty."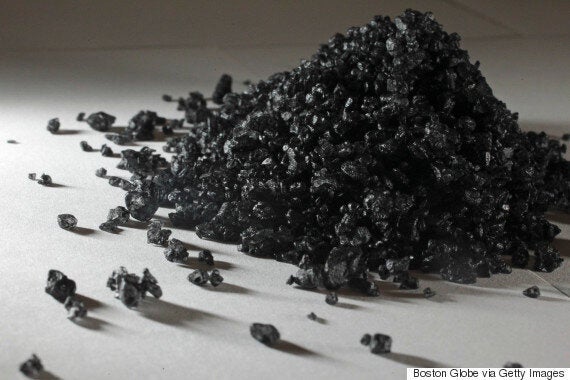 Black sea salt. Goes well with strawberries. Who knew?
"Then you have black lava sea salt from Cyprus. This tends to come in large course flakes you can crumbled between your fingers."
"There's also a sea salt which is activated with charcoal -- it colours your fingers when you moosh it. This is a wonderful garnishing salt, and bizarrely works really well with red foods and white foods. There is a very faint charcoal taste but the crunchiness is just divine -- it compliments strawberries and watermelon, which sounds strange, but salt enhances the flavour of food, so it actually brings out the fruit's sweetness."
"Another black salt is kala namak, which is an unrefined volcanic salt from India with quite a sulphuric flavour. When it's used in cooking it doesn't have the sulfurous odour -- it's mulled when it's cooked. It's used a lot in daahls and vegetables but, surprisingly, it actually looks pink. I don't know why it's known as a black salt but it is."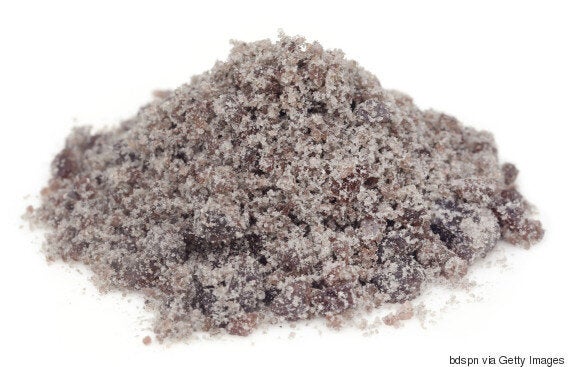 Kala namak salt. Black, but pink.
Speaking of pink salts -- they, too, have numerous differences.
The Himalayan pink salt is harvested from Pakistan, and according to Berinson, "actually has 82 or 83 trace minerals and electrolytes in it."
"Along with the Himalayan black, it actually mimics the composition of minerals in the human body. It's quite strange. That's why they are prized for their health properties."
Famed in Australia is of course our very own Murray River pink salt, which gets its colour from salt-loving bacteria that produces a red carotene pigment.
"It is a really beautiful delicate pink salt, with a lovely flaky texture. It's very popular and prized," Berinson said. "Another Australian pink salt which isn't as well known is from Mount Zero, which is harvested in Victoria's Pink Lake just past the Grampians. They work in collaboration with the local indigenous people to harvest a portion of the lake. I've been there and seen them doing it -- it's a wonderful process."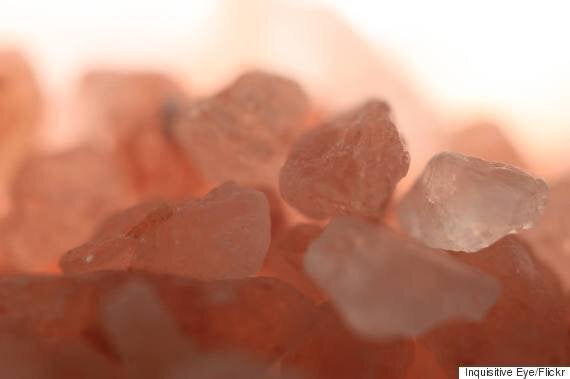 In terms of your flavoured salts -- yes, we're talking truffle, garlic and chilli here -- these are just white rock salts with the extra ingredients added in. An important exception is chicken salt, which Berinson says should be vegetarian-friendly. #NoChickensAdded.
"Chicken salt is flavoured with things like paprika, ground coriander and other herbs and spices. There shouldn't be any powdered stock, though, when you think about it, most stock powders and products are just made from a blend of herbs and spices. However the more processed ones will have fillers and anti-caking agents and flavour enhancers that we don't have."
And just when you thought there couldn't be any more colours or varieties -- let's talk red and blue.
"The Persian blue is a personal favourite. It comes from Iran and is claimed to have a much lower sodium chloride level than other salts," Berinson said. "It's in rock salt form and needs to be ground, but it has this really beautiful blue hue through it. It's actually an optical illusion -- the way certain crystals reflect the light because of the way it is compressed."
"Red salt is a Hawaiian clay salt. It's pretty amazing. It's very, very crunchy and great for using as a rub on meat or if you wanted to bake a whole fish and make a salt crust. It's earthy, non processed and comes from this reddish volcanic baked clay."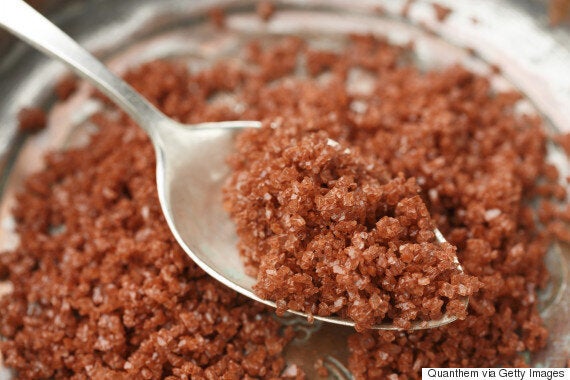 So there you have it, folks. The ins and outs of all your coloured salts. Just remember to take all of this information with a grain of...