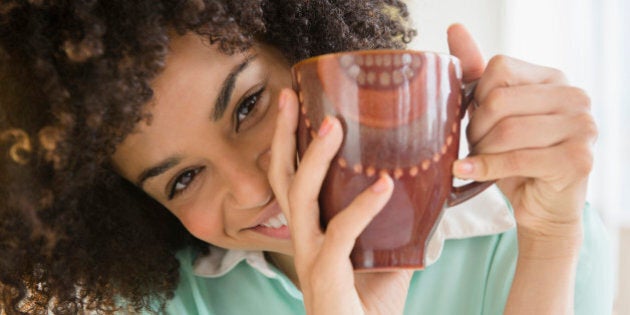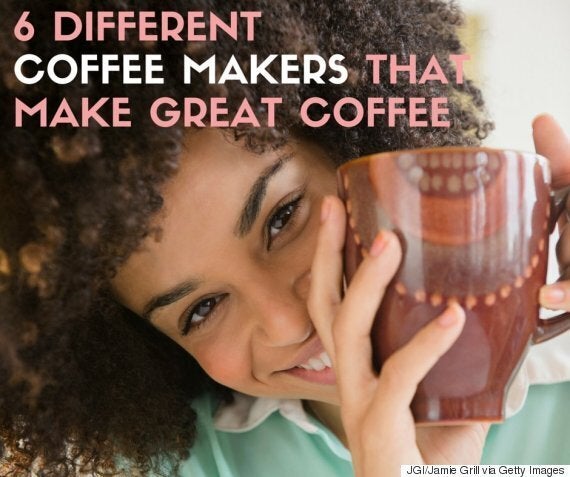 Coffee, sweet coffee. A cup (or three) is what helps us get out of bed in the morning and fuels our busy days. On average, we drink around nine cups of coffee each per week and if you've ever gone a day without one, you will have realised that we simply can't live without it.
"Australia has a rich tradition of coffee which stems back to the early Greek and Italian immigrants who brought in the first espresso machines in the middle of last century," principal of the Barista Basics Coffee Academy David Gee told The Huffington Post Australia.
"Australia is regarded as a nation where great coffee is readily obtainable," Gee said. "Daily coffee, for many, is also a personal reward or luxury. It also provides a good excuse to catch up with friends and socialise."
But over time, that $3 spent here and there buying coffee can get pretty spendy. So why not make it at home? You don't need a fancy espresso or pod machine -- you can make great coffee using classic methods and coffee makers.
"If you can make a great cup of coffee at home it will certainly save you money," Gee said.
Mastering coffee making at home doesn't only benefit the wallet -- it helps make friends, too.
"Importantly, you can also share your coffee with family and friends," Gee said. "Many home baristas now are so good that people visit just to have their coffee and share their knowledge. Some take it a step further and even roast their own coffee beans at home."
"We would suggest trying these various alternatives and see if any of those styles of coffee suit."
Here are Gee's top tips and directions for each.
"The Moka pot or Machinetta is a stove top coffee machine," Gee said. "It creates coffee by passing boiling water pressurised by steam through ground coffee."
Make sure the rubber seals and filters are changed on a regular basis.
Make sure the safety release valve is not blocked.
Do not clean in a dishwasher.
Fill the base chamber with water to just below the valve.
Fill the filter with ground coffee -- do not pack it down.
Screw on the upper part of the pot, making sure the rubber seal is in place.
Place on a stove on low heat.
When the coffee gurgles, take it off the heat.
Stir and serve.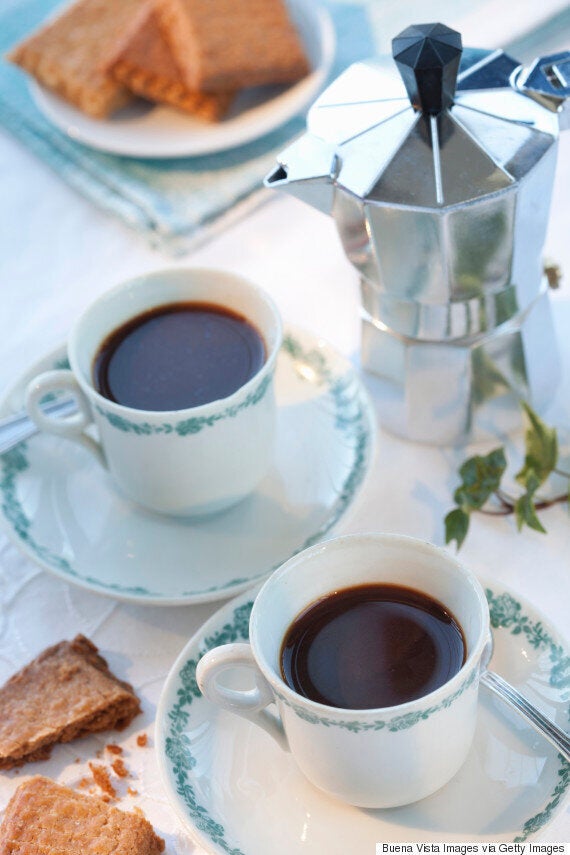 "A plunger, or French Press, produces a long black style coffee, which you can add cold milk to if desired," Gee said.
Always buy a plunger made from Pyrex glass. It will retain the heat better than non-Pyrex glass or perspex. The word 'Pyrex' is usually written on the exterior of the glass.
Store your ground coffee in an airtight container in the cupboard.
Keep your plunger clean. Wipe off the plunger head each time you wash the glass and use a scouring pad to clean the filter mesh -- otherwise you'll end up with a build-up of oil from the coffee which becomes rancid after a while and taints the taste of the coffee.
Boil your kettle. Pour boiling water into the plunger and leave it for a couple of minutes, then empty. This will heat the glass and help you to deliver hot, rather than warm, coffee.
Put the coffee into the empty plunger. A general rule is one scoop of coffee per cup. We put in one scoop less than the number of cups required, especially for larger plungers, or the coffee can be too strong for some people.
By now the water in the kettle will be just off boiling, which is integral to properly brewed coffee (even in a commercial espresso machine). Pour the rest of the water into the plunger, seven-eighths filling it.
Let the coffee stand for about four minutes before plunging downwards, being careful not to plunge at an angle.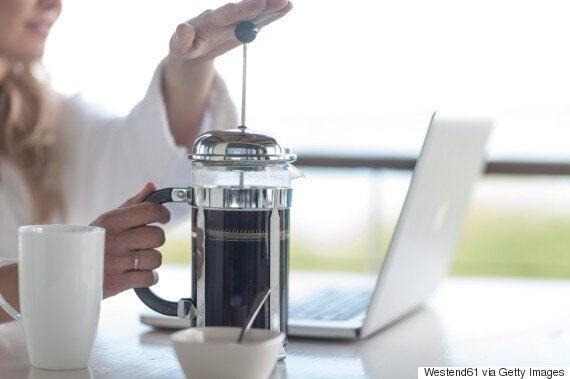 "Filter coffee is a good way to serve a large group of people," Gee told HuffPost Australia.
"For best results serve it quickly. A filter coffee will be good for about 20 minutes after it has brewed -- start daydreaming and your clients might think they're in America sipping a bottomless cup from Denny's several hours after it was brewed."
Store your ground coffee in an airtight container in the cupboard.
Buy the more expensive filter papers (e.g. Melitta) -- the cheaper ones can make your coffee taste a bit like paper.
The golden rule: one scoop of coffee per cup should always be used as a starter. You can go from there according to what your taste demands.
Don't use distilled water. For most locations, tap water is fine as it has minerals that will add to the taste.
Follow the manufacturer's instructions for brewing.
After the coffee has brewed it will be okay to drink for up to 20 minutes. It gets bitter after this time.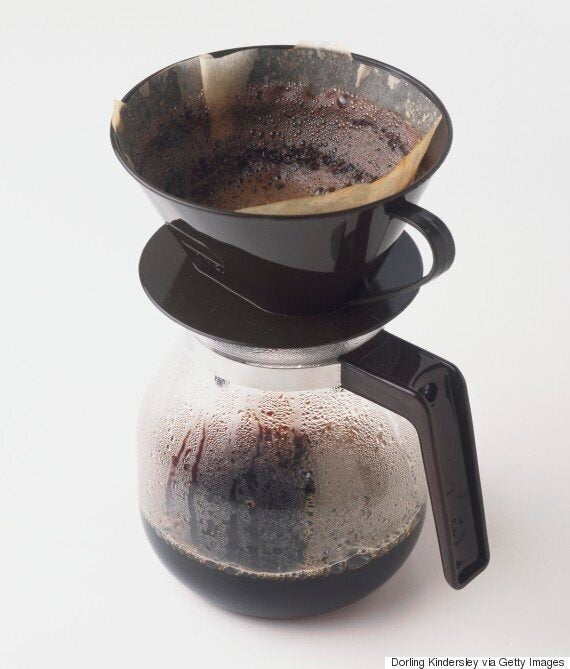 "The Chemex coffee maker is a filter paper-based coffee brewer," Gee said. "It has a glass body with a wooden collar and leather tie."
Only use Chemex filters as they are known for removing most of the coffee oils and give the coffee its special smooth taste.
Hold the Chemex by the wood on the neck of the bottle to avoid burns.
Heat up the Chemex by filling with hot water, then empty.
Place the Chemex filter in the top and pour hot water through it to rinse the filter.
Empty the hot water.
Add one scoop of coffee per cup (a scoop is about seven grams).
Slowly add some water and stir. This will moisten the coffee. It is called "blooming".
Continue adding water until completed.
Remove the filter and pour into cups to serve.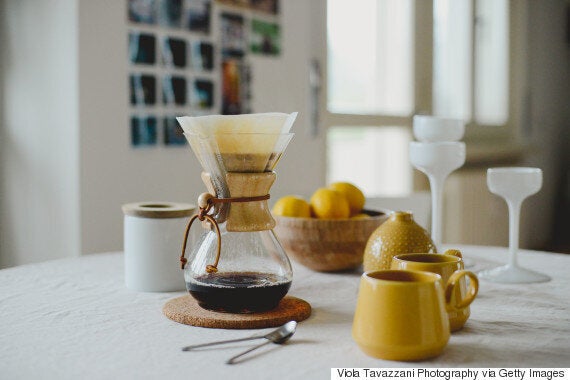 "The Aeropress is billed as the handheld espresso machine," Gee said. "It was invented in 2005 and is fairly new to the coffee world."
A finer grind than filter coffee works best.
You can also try the inverted method by placing the press upside down with the plunger in the column -- the coffee and water are added, stirred and allowed to brew. The filter is then moistened (so it sticks) and added to the cap, then screwed into place. It's then placed on the cup and plunged.
How to use (traditional method)
Place the micro-filter in the cap.
Twist it onto the chamber.
Place over a cup or mug.
Add one scoop of coffee per cup (a scoop is about seven grams) -- two scoops if you like it strong.
Fill with water just off the boil -- 95°C to 97°C.
Stir and wait for 10 to 30 seconds.
Slowly push the plunger down for 20 to 30 seconds.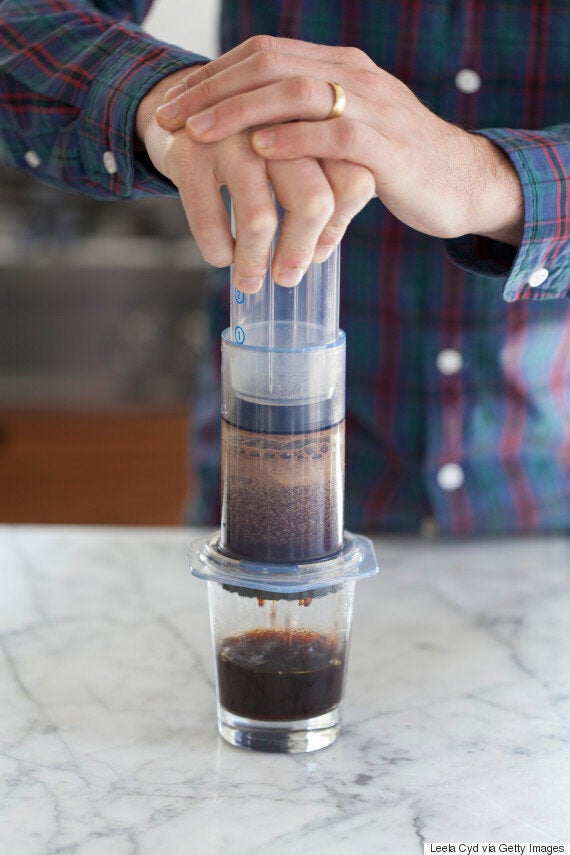 "The Atomic Coffee Machine was designed by Giordano Robbiati in 1946 in Milan, Italy. It was manufactured in a number of countries over the years and is still available today," Gee said. "Coffee fans love it not only for the coffee it makes, but also its timeless design."
Only use freshly ground coffee.
Use the double basket.
Less water in the machine is better as sometimes filling it can just create a jug of over-extracted coffee.
Some people remove the jug after the most of the coffee is extracted and leave another vessel there to collect the last drops, but it's not the best tasting.
Fill with water until the water is visible if you want a full jug (or just pour in enough water as required).
Fill the basket with fine coffee until full.
Tamp only lightly.
Lock in the filter holder tightly.
Place on the stove with high heat.
When ready, the coffee will start to come through the filter basket.
To froth milk, place a jug of milk under the steamer and turn on after the coffee has been extracted.