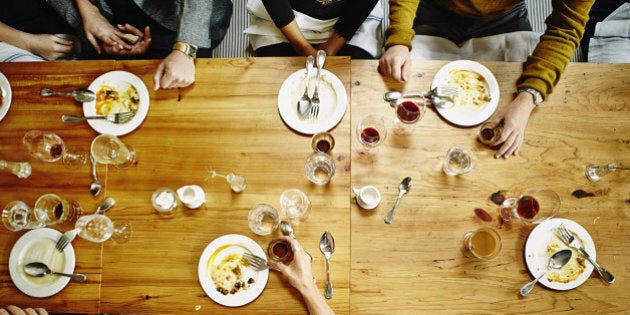 Picture this. You've just finished dinner with a bunch of friends at a nice restaurant. Plates are scraped clean, drinks have been drunk, and it's time to pick up the tab.
At the bottom of the bill, you notice a request for an extra two dollar contribution. But it's not a tip. It's a donation, to be distributed locally to help people who are homeless or at risk. Ask yourself -- would you fork out two dollars if it meant helping a person in need in your community?
CEO of StreetSmart, Adam Robinson, is hoping your answer is 'yes'.
In the six weeks in the lead-up to Christmas and New Year, DineSmart (a StreetSmart initiative) partners with participating restaurants nation-wide in a bid to raise money for those who are either homeless, or are at risk of becoming homeless, in your local community.
The price? A two dollar donation at the end of your meal -- one hundred percent of which is distributed locally to those who need it most.
"I just thought, 'what a brilliantly simple concept'," Robinson, who came across the premise in the UK, told The Huffington Post Australia. "When you're dining out, what's a couple of dollars at the end of the meal?
"I am a big fan of the micro donation principle -- if everyone just chipped in a couple of dollars, we could make a big difference."
Robinson first ran a "pilot" DineSmart in 2003, in order to gauge how restaurants and diners would react.
"We had 18 restaurants participate in Melbourne that first year. It was really great to have some industry people behind it," Robinson said.
"They really wanted to do something and, at that time, there wasn't really anything happening in that space.
"We found we had a really positive response from diners. Back then, I thought the contribution was a good opportunity just to chip in, but we've been rolling ever since.
"This year, we have 128 venues involved around the country. Last year we raised just under a quarter of a million, and this year we hope to hit the $250,000 mark."
To think of it another way -- around 250,000 people access homeless services in Australia each year. If Robinson was able to hit his goal of $250,000, that would be just a dollar per person. And it only costs you your short change.
"What we do with this money is we look to support local charities, where the restaurants are," Robinson said. "So if it's in a regional area, the money will stay in that regional area. The same goes for outer suburbs."
Robinson aims mostly to back the smaller homeless services who really struggle to fund-raise, yet do so much positive work in their areas.
"We certainly target the issue of homelessness and the work of the smaller agencies," Robsinson said. "Independent youth refuges, women's refuges -- so many of these fly under the radar and people aren't aware of the work they do.
"They don't have the marketing budgets of NGOs, which tend to dwarf the communication space and oxygen of telling the [homelessness] story -- so we just thought, 'how do we support these charities and organisations?
"DineSmart just seemed a really simple and effective solution."
Those wanting to track down a participating venue can do so on the interactive map featured on the DineSmart website.
Alternatively, you can make a donation here.