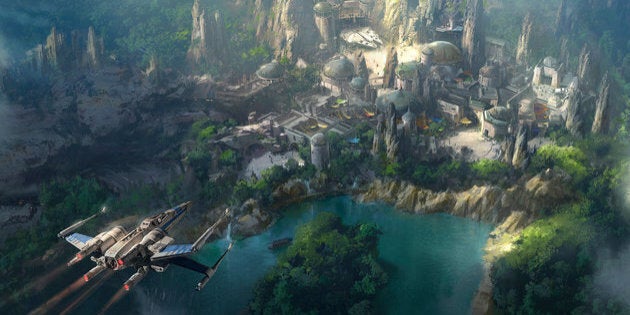 The wait is almost over! Disney has announced the opening dates for new theme park attractions based on the "Star Wars" and "Avatar" movies.
A "Star Wars"-inspired area is set to open in 2019 at Disneyland in Anaheim, California, as well as at Walt Disney World's Hollywood Studios in Orlando, Florida.
Meanwhile, the "Pandora: The World of Avatar" attraction will open on May 27 ―just in time for Memorial Day weekend this year ― as part of Disney World's Animal Kingdom. Disney CEO Bob Iger announced the dates during the company's earnings call on Tuesday.
The Avatar-inspired attraction will include floating mountains, bioluminescent plants, two new rides and shops featuring Na'vi art.
At 14 acres each, the two "Star Wars" ventures will be the largest single-themed land expansions at Disneyland and Disney World. The new attractions will resemble a remote trading post on an alien planet, and will include a ride that allows guests to pilot the iconic Millennium Falcon.
Details are still sparse, but guests can expect to find themselves in "the middle of a climactic battle between the First Order and the Resistance," Iger said in 2015.
The new land will open the same year "Star Wars: Episode IX" is expected to hit theaters.
CORRECTION: An earlier version of this article incorrectly stated that "Star Wars: The Last Jedi" will be released in 2019. "Star Wars: Episode IX" will be released in 2019. "Star Wars: The Last Jedi" will be released in 2017.