A young boy slamming a door on a girl as a "joke." A tubby tween being berated by his dad for throwing "like a girl." A tense argument in a car.
A woman cowering, terrified, on the floor as her enraged partner looms over her, venom in his stare.
It is the confronting new government ad campaign targeting domestic violence, urging Australian men to "stop it from the start" and stamp out potential steps toward violence before they can take root. It's the ad looking to eradicate even small and 'minor' disrespect, to remove the excuse that "boys will be boys."
The $30 million campaign was unveiled by Social Services Minister Christian Porter and Minister for Women Michaelia Cash on Wednesday. The TV advertisement, titled "Respect," travels between time periods in the life of a boy and girl, aiming to illustrate how disrespectful behaviour towards women can turn into something darker.
The government said the ad is targeted at "influencers" -- parents, family, teachers, coaches, community leaders, employers -- to "become more aware of what they say and do."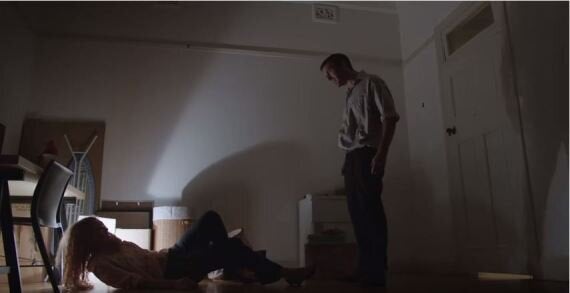 A still from the ad campaign
On average, one woman is killed every week at the hands of a current or former partner while one in three women has been a victim of physical or sexual violence since the age of 15, the government said.
"People know that violence against women is wrong; what they may not know is that we -- all of us -- can unknowingly excuse and therefore perpetuate the behavior that can lead to violence," Porter said.
"Our research shows that too often, adults believe that disrespectful or aggressive behaviour by young males towards young females is something that should be understood rather than judged and discouraged. Research shows adults often unwittingly excuse objectively unacceptable behaviour with notions such as 'boys will be boys.'
"It is also clear from our research that too often adults blame the victim by asking what a victim may have done to invite what should simply be recognised as unacceptable, disrespectful behaviour."
Cash echoed the sentiments, saying it was about setting standards for right and wrong "right from the start."
"This campaign will help role models realise the impact of what they say and help them start conversations about respect with boys and girls," she said.
"From early on, adults are a focal point for children to learn about respectful relationships between men and women."
Greens Deputy Leader and spokesperson for women, Larissa Waters, said she welcomed the ad but called on the government to "urgently reverse its cuts to crisis services and boost funding" which were instituted during the Abbott administration.
"We absolutely need to raise awareness and change attitudes about domestic violence and gender equality but doing so without boosting funding to crisis services, which are currently having to turn women away, is dangerous," she said.
"The Turnbull Government still has not reversed Tony Abbott's cuts to new refuges or housing affordability programs. It also hasn't overturned Tony Abbott's 30 per cent funding cut to community legal centres, including women's legal services which help women escape violence, scheduled for 2017."
Waters called for domestic violence services to be addressed in the upcoming federal budget.
The new federal Sex Discrimination Commissioner, Kate Jenkins, used her speech at the National Press Club on Wednesday to outline her priorities, and said domestic violence was one of her top priorities.
"We have to address the prevalence of violence against women and girls in this country. It is a disgrace. We must become a community that has zero tolerance for violence," she said.
"Australia has a disturbingly high rate of violence against women, whether it be domestic and family violence, sexual assault or sexual harassment in the workplace. And the fact is, and the research is now indisputable, that gender inequality lies at the heart of much of this utterly unacceptable violence."
The ad campaign will officially begin on Sunday, with television commercials, newspaper and magazine ads, public transport, cinema and digital.
Visit www.respect.gov.au for more information on the campaign, and copies of the advertisements. If you or someone you know is impacted by sexual assault, domestic or family violence, call 1800RESPECT on 1800 737 732 or visit www.1800RESPECT.org.au.