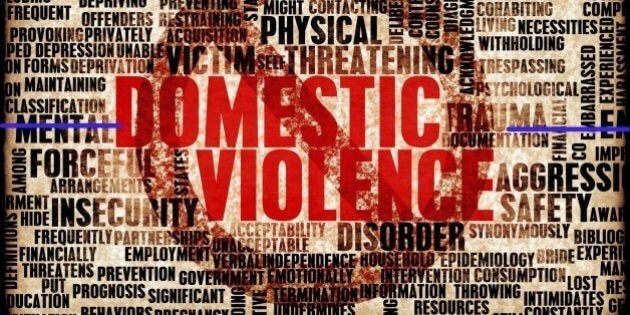 Billy wouldn't let Christina* sleep.
The pacing, insults, shoving her in the corner, the 200 texts a day, the financial control; broken only by endless nights.
"I'd known this guy since I was in primary school," she told the Huffington Post Australia.
"He was an alcoholic. He so was nice one minute and then the next he was so emotional -- he didn't let me sleep, so I was really sleep deprived. He pushed away all my friends.
"Being sleep deprived- - he had complete control over me."
Billy moved in to her home, and quickly moved from pushing her friends away to trying to ostracize her from her kids. He took control of the settlement money from her previous marriage. He turned up at her work and harassed her there. He threatened her kids.
Christina tried to leave him -- five times in all.
She found out only later he'd be getting high on dope and cocaine when her sleepless nights would end with him chasing her out of the house and into her Holden -- forcing her to take off to anywhere.
When it was finally done -- after a year -- she was left homeless.
Australia's national disgrace is a story told in blood and numbers.
Two women a week are being murdered, while one in three women and one in four children are affected by violence, said Australian of the Year Rosie Batty on Thursday.
63 people -- women and girls -- killed this year alone. Three this week in NSW.
There are other, frightening numbers. Experimental ABS data released on Wednesday shows that in NSW alone, there were 28,780 victims of family and domestic violence related assault offences recorded by police in 2014.
"We've seen this year in domestic and family violence an increase in awareness and profile things we haven't been able to get to for a very long time," said Megan Hughes, CEO of Southern Adelaide Domestic Violence Service.
In the last financial year, Hughes has been in contact with 570 women and children fleeing domestic violence.
In her 15 years working in the sector, she has heard many stories like Christina's -- where women try to leave numerous times before the final break is made.
"We know that it takes eight to 12 times ... to be able to leave the relationship entirely," she said, pointing out there are many factors that pressure women to sacrifice their safety.
"For many women, they've invested a lot in those relationships, they often have children in those relationships, and so most people want their children to know their father, and to grow up in a kind of traditional family setting.
"So most people will give that one or two or more goes at trying to be able to achieve that."
But the decision to leave brings with it threats of more violence.
"When a woman leaves a violent relationship it becomes the most dangerous time in that relationship, because men's behavior escalates and that can be threatening to kill themselves, harm animals, threatening to harm her and the children," Hughes said.
"That often draws them back into the relationship, to protect those things that are most dear to them."
Billy threatened Christina's children, and tried to fight her adult son. By then he'd alienated everyone in her life, she said.
"It got to the point at night time, if I didn't do something he wanted me to do -- let's say I wanted one of my children to come and visit and he didn't -- he'd start pacing the house," she said.
"I'd have to wake Kimmy* up at the other end of the house and grab my keys and get out because I knew he'd start having his meltdown.
"I had a Commodore and was able to get in the side door and lock it -- and he was already out the front door and I'd have to take off and I wouldn't come back until the next day. Then he'd ignite again."
Disrespecting women should be treated as "un-Australian", Prime Minister Malcolm Turnbull on Thursday, as he announced a $100 million package to tackle domestic and family violence.
"Violence against women is one of the great shames of Australia," he said.
Parts of the package are aimed at bolstering domestic violence alert training for police, nurses and GPs and also includes upgraded security for homes, as well as 20,000 mobile phones for at-risk women and the trial of GPS tracking for abusers.
Emily Maguire, CEO Domestic Violence Resource Centre Victoria, said research from the state showed 97 per cent of people who work with domestic violence survivors say technology, such as mobile phones, was used to stalk women.
"We often think technology is a new thing for family violence. It's actually not a new form of violence, it's just a new way of perpetrating violence," she said.
"It's something that is omnipresent in women's lives, which means the severity of violence they experience in terms of being there 24/7, instead of just being around their partner, makes it much more difficult for women," she said.
She said the phone scheme will help women collect evidence and keep them safe, but there needed to be a focus on intervening earlier.
"It's not necessarily intervening earlier to make technology safe, it's intervening earlier to make sure that men don't perpetrate violence in the first place," she said.
"Technology safety and acceptable technology use is something we need to start engaging men on, not just working with women on it."
But the government's spending package has its detractors as well, who say it doesn't go far enough and doesn't account for other planned cuts.
The Federation of Community Legal Centres said the federal government has locked in cuts of nearly 30 per cent to national community legal centre funding for July 2017, which they say will take $12.1 million from community legal centres and free legal help for women facing family violence.
On Thursday Minister for Women Michaelia Cash said community legal centres were running a "false and misleading campaign" about the funding cuts, after the government in March reversed cuts planned to take effect on July 1.
The charge angered the FCLC, who say the 2017 funding cut is still operative and makes little sense.
"A small number of selected community legal centres will be grateful that some women won't be denied the help they need, but the Federal Government continues to endanger thousands of others," FCLC executive officer Liana Buchanan said.
Others in the sector are happy the issue has been raised to national prominence - and for the funding.
Megan Hughes is pleased with the increased domestic violence alert training for police and in the medical profession, all of whom she says are front line services that need to have a good understanding of domestic and family violence.
"But I would emphasize we need support agencies present everywhere, in every council area, to ensure women can contact services that will assist them to move from relationships in a safe way," said Hughes.
One night, when Christina was home, Billy brought over a friend "who could hurt somebody." The two talked openly about Billy hurting his ex-wife.
Christina knows it was designed to intimidate her.
"I knew what he was capable of, so I ended up packing. He was going to get me through my kids," she said.
She returned the next day.
Two years later and Christina is now safe from Billy, and getting married to someone new.
She is enthusiastic about the mobile phone package announced by the government and believes it will help women fleeing their abusers.
"That's a really, really good idea," she said.
"In the space of a few hours I'd have 200 messages. (Billy would) make my phone run flat constantly. Call me, message me, email me -- it was constant.
She ended up changing her sim card.
"But he got that anyway," she said.
Like most women, she never thought it would happen to her.
Her year-long nightmare with Billy has left her with one piece of advice for other women.
"If I had stayed with him, he would have completely broken me," she said.
"If people aren't feeling right, get out. At the first signs of it."
* names have been changed to protect identities.