It is unclear whether Trump, who shared the message on his personal Twitter account, had been officially briefed about the attack at that time, the Guardian reported.
Around an hour later, the US leader went on to tell his followers: "We need to be smart, vigilant and tough.
"We need the courts to give us back our rights," he continued.
"We need the Travel Ban as an extra level of safety!"
Trump then went on to share a message of support with the UK, writing: "WE ARE WITH YOU."
In a tweet sent this morning, he went on to criticise Sadiq Khan, mayor of London, for urging people to remain calm following the attack.
He then prompted further fury by writing: "Do you notice we are not having a gun debate right now? That's because they used knives and a truck!"
Trump's tweets have sparked thousands of reactions from outraged Brits and Americans alike, with many accusing the President of using the terror attack to push his Muslim travel ban.
Earlier this week, the Trump administration asked the Supreme Court to revive the controversial executive order that intended to temporarily bar citizens of six Muslim-majority countries from travelling to the US.
It had previously been blocked by lower courts, which deemed it discriminatory.
Trump's order, a so-called "watered-down" version of his first attempt, seeks to ban citizens of Iran, Somalia, Sudan, Syria and Yemen from entering the US. A previous version of the ban included Iraqis.
The US Department of Justice said in a statement that Trump is not required to admit into America "people from countries that sponsor or shelter terrorism" until they are properly vetted by his standards.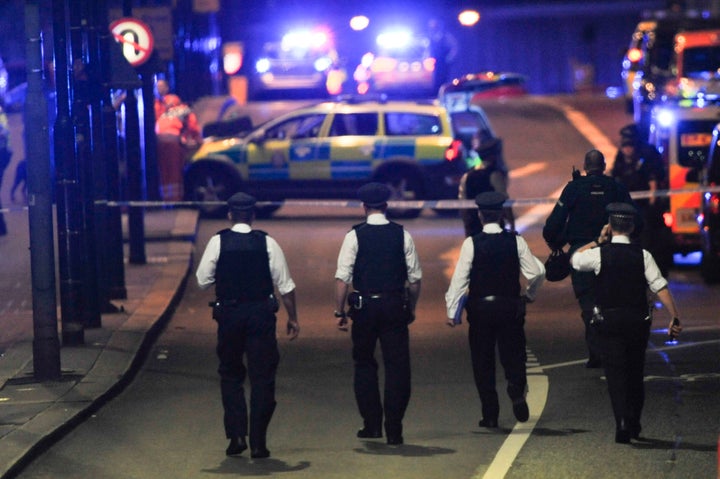 The London Bridge terror attack in the UK in the last three months. Less than two weeks ago, 22 people were killed in the Manchester Arena bombing, while there was another car and knife attack in Westminster in March.
Theresa May, who described the incident as "dreadful", is set to hold an emergency meeting of Cobra, the government security committee, this morning.
National election campaigning has been suspended today, but it is believed that the vote will go ahead as planned on Thursday.