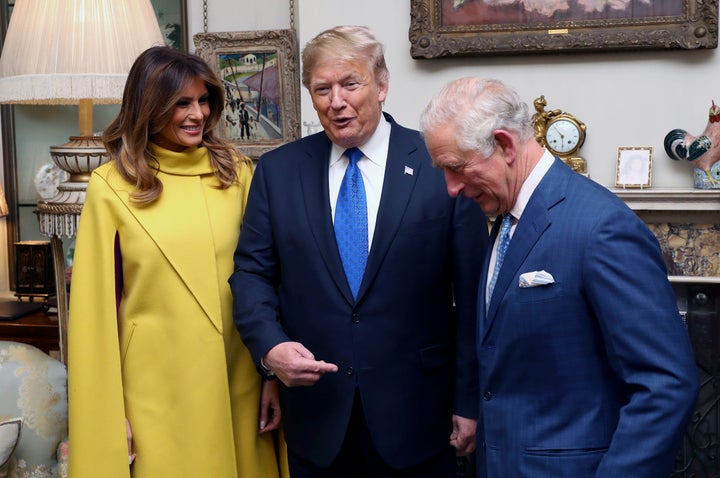 Donald Trump has been in the the UK for less than 24 hours and has already offered opinions that have left his indelible mark on British politics, the monarchy and the stock market.
Against a backdrop of street protests, the US president spoke to reporters in London at the start of the Nato summit, and later met the Prince of Wales for afternoon tea before a reception at Buckingham Palace hosted by the Queen.
In just a short period, Trump managed to get quite a few things wrong.
On the NHS
Trump insisted America wants "nothing to do with" the NHS - adding that "I don't even know where that rumour started".
Claims that the health service could be used as a bargaining chip in post-Brexit trade talks has been the centrepiece of Labour's general election campaign.
Asked if the NHS should be on the table in trade talks, he replied: "No, not at all, I have nothing to do with it. Never even thought about it, honestly."
So where did that rumour come from? Well, it was Trump himself.
Earlier this year, he said: "When you're dealing in trade, everything is on the table – so NHS or anything else, a lot more than that, but everything will be on the table, absolutely."
On Prince Andrew
Trump said he did not know Prince Andrew but that it was a "very tough story" when asked for a reaction to the royal's decision to step back from public life.
This is despite photos of the two taking a walk side by side in June, smiling at Westminster Abbey during the president's three-day state visit to Britain and attending at least one social gathering several years ago.
Just as Trump touched down in the UK on Monday night, Andrew's accuser Virginia Giuffre was telling the BBC she felt "ashamed" after allegedly having sex with the Duke of York when she was a teenager as she claimed "powerful people were my chains".
Giuffre explained to the Panorama programme how she was trafficked by the since-disgraced financier Jeffrey Epstein and forced to have sex with the royal in 2001.
Trump said on Tuesday: "I don't know Prince Andrew but it's a tough story, it's a very tough story."
Photos of the two men together soon began resurfacing online.
And a tweet sent from Andrew's official Twitter account in June suggested they knew each other better than Trump was letting on ...
On The General Election
Speaking to reporters, the infamously opinionated president was asked why he hadn't commented on the vote.
He replied: "Because I don't want to complicate it. I'll stay out of the election."
Trump then immediately complicated things by adding: "I think Boris is very capable and I think he'll do a good job."
On Predicting Brexit
In the same news conference, Trump said: "You know that I was a fan of Brexit. I called it the day before."
Trump has again and again claimed he predicted the result of the 2016 referendum the day before the vote took place, suggesting he was staying at his Turnberry golf course in Scotland.
However, the Brexit vote was on June 23, and Trump was not at Turnberry until the day after.
On The London Attack
Jack Merritt, 25, and Saskia Jones, 23, were stabbed to death by 28-year-old convicted terrorist Usman Khan on Friday near London Bridge. They were both working for a prison rehabilitation programme.
But Trump, while praising members of the public who intervened in the attack, suggested "three or four" were killed.
He said: "A terrible thing, a terrible attack, a lot of people very badly hurt, I believe three or four killed… so it's a terrible thing."
On The Markets
The FTSE 100, the index of the UK's biggest companies, plunged lower after Trump threatened to slap hefty tariffs on France and the EU.
The index slid to its lowest level since late October after the renewed threat of tariffs stoked fears that it could impact UK-EU relations.
London's top flight dived more than 134 points to 5,151 points on Tuesday afternoon, in its biggest decline for two months.
Global trading sentiment was also knocked on Tuesday as Trump raised fresh doubts over the US-China trade deal.
Over the past two months, the FTSE and major European markets had strengthened on optimism over a calm in trade tensions between the two global powers.
But Trump stoked new concerns at a London press conference, stating that he "likes" the idea of "waiting until after the election for the China deal".