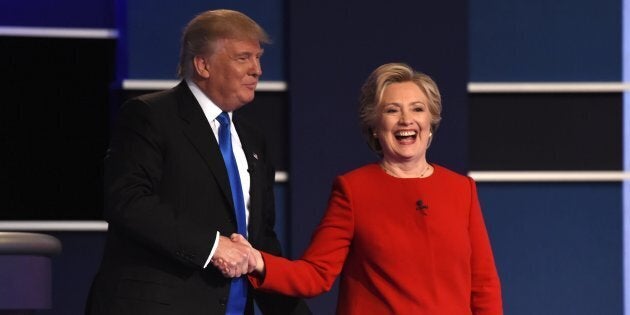 WASHINGTON ― After Donald Trump interrupted Hillary Clinton roughly 70 times throughout the first presidential debate Monday night, the first female presidential nominee of a major party found a golden opportunity to call him out for his sexism.
Responding to Trump's jab that Clinton "doesn't have the look or the stamina" to be president, the former secretary of state rattled off a list of offensive names the GOP nominee has called women during his career: pigs, slobs, dogs, "Miss Piggy" and "Miss Housekeeping."
"One of the worst things he said was about a woman in a beauty contest," Clinton said, referring to former Miss Universe Alicia Machado. "He loves beauty contests, supporting them and hanging around them. And he called this woman 'Miss Piggy.' Then he called her 'Miss Housekeeping,' because she was Latina."
"She has a name, she has become a U.S. citizen, and you can bet she's going to vote this November," Clinton continued, to loud applause from the audience.
Trump struggled to explain himself. He defended having called comedian Rosie O'Donnell a "pig" when the two were feuding ― "I think you would agree she deserved it, and nobody feels sorry for her," he said ― and then he complained about the ads Clinton's team has run against him calling out his sexism.
"It's not nice," he said of the ads. "It's inappropriate. But she spent hundreds of millions of dollars on negative ads on me, many of which are absolutely untrue. They're untrue, and they're misrepresentations, and I will tell you this, Lester, it is not nice, and I don't deserve that, but it's certainly not a nice thing that she's done."
When debate moderator Lester Holt asked Trump to explain his recent comment that Clinton doesn't have the "presidential look," Trump tried to deflect.
"She doesn't have the look or the stamina," he said. "She doesn't have the stamina to be president of this country. You need tremendous stamina ... You have to be able to negotiate trade deals. You have to be able to negotiate test sites with Japan, with Saudi Arabia."
Noting that Trump "tried to switch from looks to stamina," Clinton defended herself against the criticism.
"As soon as he travels to 112 countries and negotiates a peace deal, a ceasefire, a release of dissidents ... or even spends 11 hours testifying in front of a congressional committee, he can talk to me about stamina," she said, to loud applause.
Editor's note: Donald Trump regularly incites political violence and is a serial liar,rampant xenophobe, racist, misogynist and birther who has repeatedly pledged to ban all Muslims — 1.6 billion members of an entire religion — from entering the U.S.