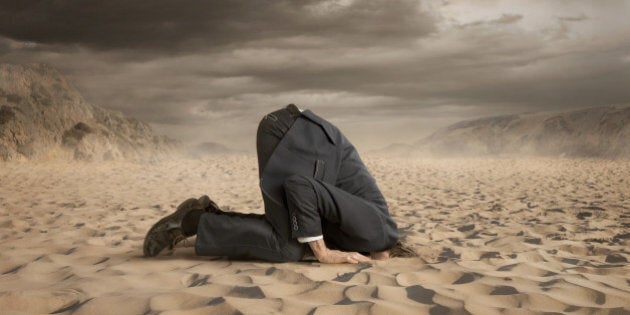 When it comes to the legalities of running a small business, about 80 percent of business owners bury their head in the sand and hope they never run into trouble.
Cloud legal service provider LawPath recently found that four out of five small businesses don't have one or more important legal documents in place because they either don't know what they need and/or are afraid of the costs and complexity of the solution.
Subsequent research found that more than 40 percent of businesses surveyed via the company's online legal health check did not have legally required employment contracts or contractor agreements (17 percent) and 19 percent didn't display a privacy policy on their website.
"All too often we've found that it's just a matter of small businesses simply not being aware of the legal requirements they need to adhere to," LawPath CEO Damien Andreasen said.
"Others avoid seeking legal advice entirely because of the cost and complexity associated with it. But the ramifications of not being compliant are just too big to ignore. It's important that all businesses -- big and small -- review their legals to ensure they are compliant."
LawPath legal product manager and lawyer Dominic Woolrych told The Huffington Post Australia that services such as LawPath help small business find quick, simple and cost effective ways to protect themselves and make their businesses more legally compliant.
He said LawPath offered more than 200 legal documents online that small business could access, as well as a support and advice network of 600 lawyers.
Here, Woolrych outlines the top 5 legal pitfalls for small business starting out and how to avoid them.
1. Your business structure
How you structure your small business has legal and tax aspects, Woolrych said.
"You can have a few different structures -- sole trader, partnership or company, and most people start off as a sole trader. But the tip is, as soon as possible, you want to create a company.
"The reason for that is that, from a legal standpoint, a company is actually seen as a separate legal entity, and therefore you're not personally liable for anything that goes wrong. If you're entering into any kind of contracts, and that includes employees or contractors, these, from a legal perspective, are seen as risks and if anything goes wrong, it's going to start coming out of your personal pocket."
Woolrych said structure also has tax ramifications.
"As a sole trader or a partnership, you pay tax at your personal income rate which could be as high as 48.5 percent. As a company, it's a flat rate of 30 percent."
Solution: Register your company online: "You complete the application, you list shareholders and directors, any information about the company, that's sent off to ASIC for approval. Then you get your certificate," Woolrych said.
"More importantly, software will draft all the documents you need such as constitution, registry of members, shareholders agreements -- there's about 13 you need all up."
He said small business can then add on an ABN so they can open a bank account or issue tax invoices.
"You may want to register for GST, you will need an Australian Tax File Number which is separate to your personal one and you may to register for PAYG if you have employees," he said. "You can do all of this online in five to 10 minutes. Firms used to charge $1500 just for lawyers to fill out the form and go down to ASIC, and now it's all done all online.
"It's roughly about $500 but it includes the $467 Government fee."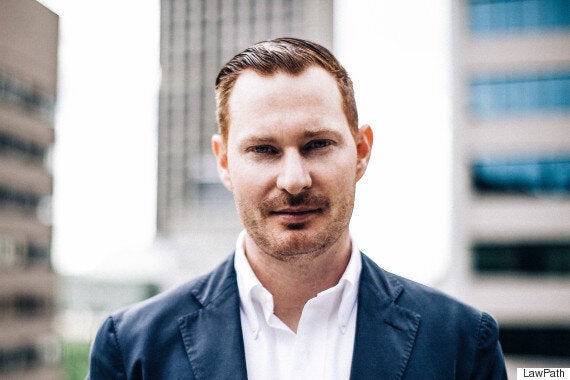 LawPath lawyer Dominic Woolrych helps hundreds of small businesses every week.
2. Employees and contractors
If you are running a small business, you may have one or more employees or use contractors.
"Under the National Employment Standards, you must have written agreements, it's the law," Woolrych said.
"It can lead to huge, huge problems (and) the penalties around employment law are very, very strict. You must have written agreements for anyone you're working with, especially contractors who may only be working for a short amount of time."
He said fines for non-compliance could be as high as a few thousand dollars.
3. Website terms of use and terms and conditions
Most small businesses have a website, and these should have two types of protection.
"The first is website terms of use," Woolrych said. "That's not required by law but covers you for copyright and how people use your website. (It) dictates how people can use the website, what they can do with the photos and what they can do with the information. It also limits your liability in case there's any information on the website that's wrong, which can be a problem if you're talking about technical issues and someone relies on the information."
He said the second type of protection was terms and conditions.
"This is a document that is required by law if you are selling goods and services online," he said.
"The only ones that fall outside of those categories are usually blog website or information sites where you actually do the transacting offline.
"(Terms and conditions) cover you under the Australian Consumer Law, especially around refunds and returns. You must have those return and refund policies on the site."
Woolrych said a privacy policy was also required by law.
"People are very conscious about what's happening with their information -- where's it being stored, especially around credit card information," he said.
"It's really important that you have a legal document on the website that explains what you're doing. A privacy policy says how you're collecting, what you're collecting, who you're sharing it with and where you are storing it.
"That will allow people to have some confidence that you're not on-selling their information and the credit card information is being stored securely, usually by a third party."
Solution to 2, 3 and 4: "Back in the day, you'd have to employ a lawyer and you'd end up paying $2000-$4000 for him to draw up these documents," Woolrych said.
"This is where the document software comes in. The fantastic thing about these documents is they are relatively standardised. We know what needs to be in a privacy policy no matter what kind of business you are. The software can create legally binding agreements for you. You download it and put up on your website straight away -- it makes it a lot easier, especially when you're starting out.
"These documents, using this software, will give you the basic protection. It'll definitely get you through your first 6 months.
"Then once you getting traction and revenue and customers, that's when you most likely want to come back and have a lawyer review it for you (to) customise it further to your needs."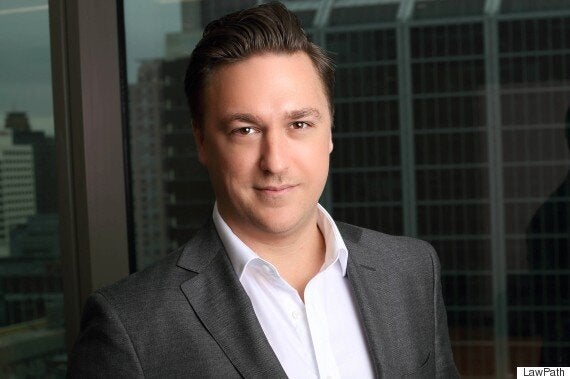 LawPath CEO Damien Andreasen founded LawPath to make legal issues easier for small business.
Perhaps the most important aspect of a small business that requires protection is the business idea itself.
"When you're starting out a business, you've got a new idea," he said.
"You don't have a store, you don't have bricks and mortar, you don't have cars -- your value is in that idea, it is so important that you protect that idea. And that idea is the intellectual property. "To protect that idea, you need to make sure it's not being shared with anyone in the wrong way; that anyone helping you with the business is assigning their IP into the company.
"A perfect example is using people offshore to build your website -- there are all these fantastic websites and marketplaces where you can go and say 'build me a website' and they'll all quote.
"Usually they're located in Bangladesh or India or Russia, and you can get it a lot cheaper than using someone here. What is so crucial, is that these contractors need to be assigning that website -- the design, the code, everything -- over to you."
Woolrych said intellectual property could only be assigned in writing.
"The first time you want an investor coming into your business, the first question they ask is 'who owns the idea, who owns the IP?'. If you don't have a written agreement that's transferring the IP into the company, you find that six months ago a developer in Russia built your website and he still owns the website.
"And then you have to find him and get him to sign it over to you. It can turn into them asking for a fee for signing over the IP."
Solution: Woolrych said you can avoid a tricky situation by always having an agreement in place with employees and contractors.
"If you haven't done that, there's a simple document you can get using the software called an Assignment of IP Deed, and you find the developer and get them to sign the IP over to you," he said.
"That only works proactively, then moving forward, make sure you have agreements in place. "You need to assign the IP to the company that you've created, not yourself. It's that entity moving forward, so that needs to hold all of that information."
Woolrych said LawPath offered small business a free online legal health check to see how legally compliant they were.
"We can see exactly what they need straight away," he said.
"It collects 220 points of data about your business and allows us to recommend one of our 200 documents or one of our services, or if you need to talk to a lawyer.
"It's great for small business as they can't afford to go and have these long legal consultations and sit down with a lawyer for hours. They come back every couple of months and take the check and update their business.
"It really is risk versus the cost of being compliant. To get all of the documents you need, through a LawPath account, it would take you an hour and you've given your business 80 percent of its legal protection."

Enterprise By Design founder Jinny Coyle says she saved thousands by using LawPath's services.
Jinny Coyle, who runs Melbourne-based design business Enterprise By Design, said she had benefitted from using LawPath's services and legal health check.
"For the last 15 years I've had my own design studio … during that period in order to grow, as a small business, you need a lot of legal documents, to cover your back basically, because you never know when something might go pear-shaped," she said.
"I have probably spent $3000 over the years on things like website privacy policy, contractors, confidentiality agreements, protecting my IP and my ideas and protecting my clients.
"That's an enormous amount of money for a small business. It's a little bit like insurance, sometimes that gets left behind because it's not in your face and you've got that 'it's never going to happen to me' attitude. But it does!
"My new business is about empowering women to take control of their brand through knowledge and expert training and (LawPath) helped me do that.
"I needed new documentation for this business and I didn't have the budget to go out and spend those thousands of dollars again. I came across it and I thought, 'Oh my god, this is just the most amazing resource'."