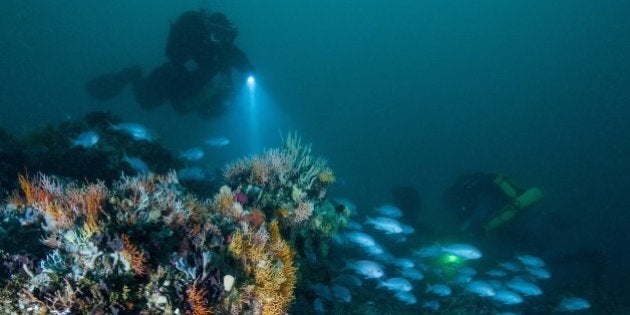 The Twelve Apostles are one of Australia's most iconic natural landmarks, the eight remaining limestone pillars stand up to 50m tall off the southern coast of Victoria and draw tens of thousands of visitors from all over the world each year.
However, it has been discovered that the eight pillars have another five companions that have refused to crumble, standing 4-6m tall at a depth of 50 metres below the water's surface and just 6km offshore from the Great Ocean Road.
These 'Drowned Apostles' are understood to be the first limestone stacks to have been found preserved in the ocean, according to PHD student Rhiannon Bezore who made the discovery alongside Associate Professor David Kennedy from the University of Melbourne's School of Geography and Deakin University's Dr Daniel Ierodiaconou.
"It was pretty exciting -- we weren't really expecting to find these drowned apostles at all," Bezore told The Huffington Post Australia.
"So seeing them we all had to kind of look at each other and re-confirm we were seeing what we thought we were seeing."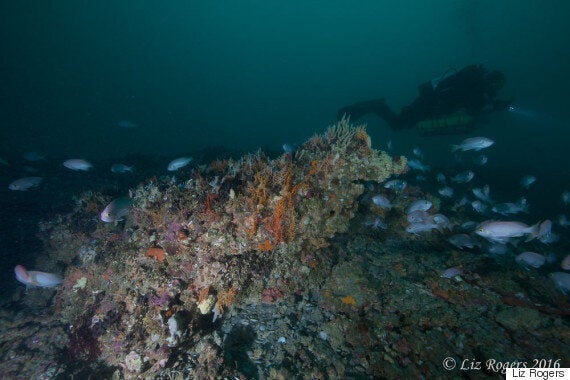 Bezore said that there was "a lot more life going on down there" than she had expected.
Just like the Twelve Apostles, the newest additions were once part of a larger limestone sea cliff.
Bezore, who made the initial discovery in the sonar data, said that these new additions had stood the test of time and would erode at a much slower rate compared to their above-water cousins.
"Sea stacks in general are very temporary coastal features," she said.
"Their lifespan is usually in the order of centuries and so to find some that were created as far back as these ones were, which we believe were 60,000 years ago is very unusual."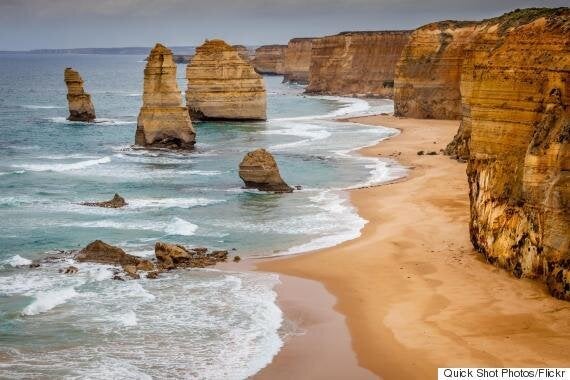 The 'Drowned Apostles' are much smaller than their above-water cousins but will erode at a much slower rate.
Kennedy was astonished that the stacks had been so well preserved, considering the crumbing fate of one of the apostles that was consumed by the ocean.
"Sea stacks are always eroding, as we saw with the one that collapsed in 2005, so it is hugely surprising that any could be preserved at that depth of water," he said.
"They should have collapsed and eroded as the sea level rose."
According to Bezore, the stacks have been able to remain standing because the sea level rose at such a rapid rate, preventing them from being eroded by waves and strong winds.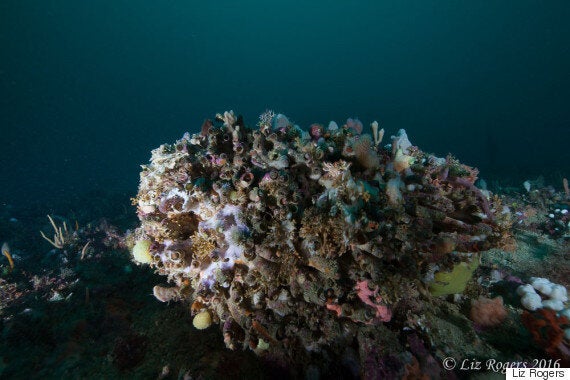 There is an abundance of marine life found on top of the limestone stacks
"The erosion will be slower now that they are submerged," she said.
"The reason why they have been preserved is that as the sea level rose and fell -- and then rose again -- over time since their formation, each time it rose it must have been rising at a very quick rate so that they were preserved and not eroded by waves and wind to a point where they collapsed and no longer existed, which is what we normally expect.
"[Limestone] is a fairly soft rock-type which is why they are able to erode out of the cliffs and create the sea stacks, but they have enough strength to withstand the weight of the column."
Ierodiaconou's sonar data was collected using the latest advances in multi-beam sonar technology and the team are continuing to fill important knowledge gaps aboard Deakin University's $650,000 research vessel, 'Yolla'.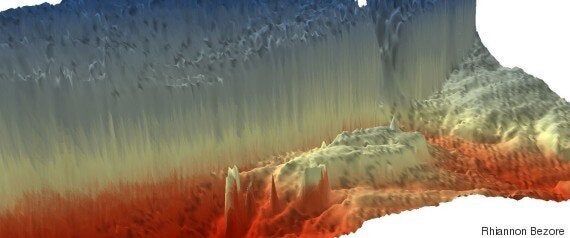 Bezore made the initial discovery in the sonar data
The data is part of a project to map the reef estate in Victoria which supports commercial fisheries for southern rock lobster and abalone.
"We are only just starting to understand the biodiversity value of these deep reefs which harbour diverse invertebrate communities, many unknown to science," he said.